North West benefits from £167m in regeneration grants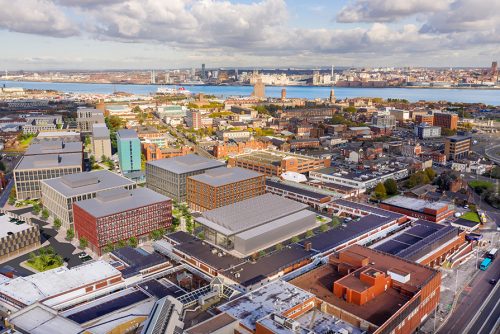 Ambitious plans to regenerate town centres across the North West have received a £167.6m boost from the Government's flagship Towns Fund today (December 2).
The package of investment totalling £2.4bn across the UK, will drive improvements to transport routes, lead to the creation of new cultural hubs, and provide enhanced educational opportunities for local communities.
Seven areas across the North West have been given the green light to implement plans to improve the look and feel of their high streets, strengthen transport links and create jobs for local people.
They were originally offered the funding in July this year.
Birkenhead, Crewe, Darwen, Nelson, Runcorn, St Helens and Millom have today signed their final deal agreements bringing total Towns Fund investment in the North West to £486m. These deals will help fund important work across the North West including:
£25m for Darwen to restore the modern market town with a new town centre providing a focal point for the community.
£25m for Birkenhead will improve connectivity between the town centre and the waterfront, supporting cycling and walking.
£22.9m for Crewe will support the Lyceum Powerhouse project which will deliver a fully accessible, state-of-the-art, creative production and performance centre. This will create training opportunities, particularly for young people and support creative businesses.
£25m will help Nelson through its Revitalise Nelson project which will transform empty buildings into new homes and commercial spaces.
£23.6m will allow Runcorn to invest in repurposing empty high street shops into a Creative and Digital Skills Centre, providing a home for local creative and digital organisations in the old town.
£25m for St Helens will build upon its creative and innovative history in glass making and foundation-industries to innovate and create new opportunities, including those from the city region, through the delivery of a new world leading medical glass research facility.
£20.6m for Millom to create a new park space across the Hodbarrow Reserve to join the Sea Wall. This will mix enhanced horticulture, ecology, heritage and arts to transform this section of coast. The area will be designed to encourage walking and cycling, providing people with the opportunity to experience and connect with nature, while increasing visitor numbers.
The 15 agreements signed today are the last of 101 deals to be put in place across the country. They can now develop pioneering plans, backed by £2.4bn from the Government's Towns Fund, to invest in transport and infrastructure, boost skills, create jobs and make their towns a more desirable place to live, work and visit.
Minister for Levelling Up, the Union and Constitution, Neil O'Brien, said: "I'm thrilled that all 101 towns can now drive forward their plans to create more vibrant towns that people across the country are proud to call home.
"In Runcorn this will mean turning vacant buildings into places to live and work, while in Crewe plans will bring fresh opportunities for local people in the creative and digital arts."