Irish trade delegation focuses on Liverpool opportunities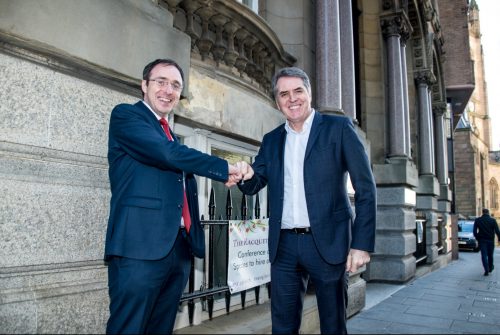 Irish Minister of State for Trade Promotion, Digital and Company Regulation, Robert Troy, led a one-day trade visit to Liverpool today (December 2).
The visit, organised by Enterprise Ireland, Ireland's trade and innovation agency, will further strengthen Ireland's relationship with the North West of England and in particular, Liverpool City Region, which is home to the UK base of a growing number of Irish companies.
Today's visit aims to highlight the commitment of Ireland and Irish companies to Liverpool and the North West and will explore opportunities for growth in the region. Liverpool and the wider North West region are particularly important, with Irish companies having a strong presence across a range of sectors and capabilities that serve industry in the region.
The UK remains Ireland's largest export market, with Enterprise Ireland companies exporting to the value of €7.5bn in 2020.
The delegation and Enterprise Ireland client companies visited the Port of Liverpool and UK ports operator Peel Ports, which will facilitate an opportunity for the companies to consider and explore business opportunities in the ports sector. The Liverpool City Region was selected as one of eight new freeport sites by the UK government in March 2021.
Stephen Carr, commercial director at Peel Ports Group, said: "Even back to its earliest day, the history of The Port of Liverpool is intertwined with that of Ireland. Right through to the present day the Mersey estuary has been a key gateway for trade between Ireland and Britain with the Mersey estuary handling 33% of all trade in goods.
"Whether it is containerised goods transhipping to global destinations, ferry traffic on trailers moving retail and industrial products, or bulk shipments of building materials and liquids, the Port of Liverpool is proud of the role it plays as a key enabler of the economy of Ireland."
Steve Rotheram, Mayor of the Liverpool City Region, and Minister Troy, discussed the historic and cultural ties between Ireland and Liverpool, and the strong partnerships and sectoral alignment that exist across industries.
Steve Rotheram said: "The Liverpool City Region has always been an open and outward-facing place. Ireland has a special place in the hearts of many of the 1.6m people who call our region home and, as we work to grow our economy, I want to build on our deep, historic links to help build a strong prosperous future for people on both sides of the Irish Sea.
"As a western-facing port, our region is uniquely positioned to take advantages of the opportunities Ireland offers. While the UK is still coming to terms with the reality of being outside of the European Union, I want us to be at the forefront of trade and investment – and our ties to Ireland stronger than ever.
"Ireland is a really important trading partner for our region. Over 600 local businesses export over £300m of goods, with a further 400 importing, too. It is fantastic to welcome Robert to Ireland's second capital today to discuss how we can build on those solid foundations."
The day also included a visit to two Enterprise Ireland companies operating in Ellesmere Port and St Helens.
The visit marked the official opening of CRS Refrigeration's new Ellesmere Port site. This is the company's second site in the UK, having already established a site in Bedfordshire. This expansion allows CRS Refrigeration to deliver its services and solutions faster to its UK customers, with the site holding existing stock ready for long-term hire.
The site will serve as a manufacturing, distribution and servicing hub, and act as a base for the on-call service team throughout the UK. John Tyrrell, CRS Refrigeration managing director, said: "The UK has always been an important market for CRS. We've been doing business in the UK for many years and opening a new UK facility is a natural next step in our growth journey. The new premises will also facilitate more investment in engineering capability for specialist products and will support enterprise level customers for complex temperature-controlled solutions."
Bevcraft Group is a 'craft can' business first established in Mullingar which now includes operations across Ireland, the UK and the Netherlands and handles more than 50 million cans per annum. It provides a range of services including mobile contract canning, can distribution, can decoration, testing, servicing and training. All services are unbundled so that craft beverage producers can 'pick and mix' the options that suit them.
Bevcraft Group opened a location in St Helens in 2019 to serve and grow its UK customer base. The company has now announced the opening of a new £5m advanced manufacturing unit in Peterborough where Bevcraft Group will operate the very first direct-to-can digital printing plant in Europe.
Ciarán Gorman, group co-founder and CFO at Bevcraft, said: "Entering the UK market is undoubtedly the best decision we have ever made.
"Two years ago, we were almost entirely focused on the Irish market – whereas in 2021 we will, for the first time ever, see the majority of our revenues come from international markets.
"A big part of this success has come from choosing the right location to establish an initial presence. Merseyside offered the perfect mix. It is very accessible from Ireland, has a competitive cost base relative to the rest of the UK and in its own right there are more people living within an hour of our warehouse than in all of Ireland."
Minister Robert Troy said: "Ireland continues to be a committed partner to the UK, and to the trading relationships that exist between our two nations. Our historical and cultural ties are strong in Liverpool and the North West of England, and this visit demonstrates Ireland's ongoing commitment to the region.
"Ireland has built on its representation here recently, with Enterprise Ireland now having an office in Manchester, and the opening of the Consulate for the North of England earlier this year. The Irish government encourages Irish companies to consider how they can work with UK businesses and authorities in the North West region to achieve their ambitious goals in transport, infrastructure and sustainability through their innovative capabilities and solutions."
Tom Cusack, head of international sales and partnering at Enterprise Ireland, said: "Enterprise Ireland is very committed to supporting our clients who wish to do business in the North West of England, having opened our Manchester office in 2019, and from where we continue to support both existing clients and clients who are new to the market.
"Many of these companies have strong capabilities across many sectors including engineering services, construction, materials handling and technology, therefore, this visit to Liverpool is particularly important.
"Across these and other sectors, Enterprise Ireland client companies continue to provide the capabilities and innovation that support the backbone of infrastructure and other projects in the UK."
He added: "Working with partner companies and authorities in Liverpool, the North West and beyond, we believe Irish companies are well positioned to provide these partners with the products and services they need that enable them to thrive and compete both domestically and globally. We encourage our Irish client companies to discuss with us the opportunities that are available to them in the region."
Other Enterprise Ireland client companies taking part in the visit included:
Buttimer Engineering: A diversified mechanical engineering company, specialising in bulk materials handling systems and high quality steel fabrication.
ByrneLooby: An international, award winning engineering and environmental consultancy with design and project management capabilities.
Combilift: The largest global manufacturer of multi-directional forklifts and an acknowledged leader in long load handling solutions.
Inland Coastal and Marina Systems: Manufactures and installs water access solutions for the marine industry, enabling boats of all shapes and sizes to moor safely and securely.
Net Feasa: A fully licensed and trusted wireless service provider, specialising in the design and deployment of IoT networks for the global supply chain.
Vilicom: Designs and implements innovative mobile connectivity solutions across a number of industries.
William O'Brien: Offers a full suite of services from crane hire and contract lifts to bespoke turnkey heavy lift engineering solutions across a wide range of sectors.