Scandinavian retailer set to create more UK jobs following record year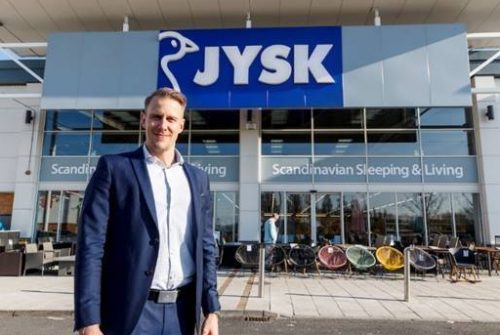 Danish furniture and home furnishings brand, JYSK has announced record results in the UK & Ireland during the financial year 2020/2021, with total sales reaching €68.9m, an increase of 67% on previous year.
This has led to staff receiving more than £2,000 each in bonuses.
Despite a challenging end to 2020 and start to 2021, 1.1 million customers – a 30% year on year increase – in the UK & Ireland chose to shop at the Scandinavian retail chain.
This, coupled with physical store expansion, an increasing number of focused marketing campaigns and a move towards investing in more brand ambassador campaigns has helped drive the in-market growth towards JYSK stores, both physical and online.
The chain's UK headquarters is in Stockport and eight of its 24 UK stores are situated in the North West.
Country manager JYSK UK & Ireland, Roni Tuominen, said: "We are delighted to be announcing today that JYSK is a retail success story.
"Whilst it was been another tough year for retail in many ways, we are very pleased with the results of our continued investment in growing JYSK's geographical – and digital – footprint.
"In Ireland, we were able to contribute positive EBIT for our second financial year in the row. In the UK, we have contributed positive EBIT for the first time which is a huge achievement considering five out of 12 months our stores were closed.
Following last year's turnaround project to merge the UK and Ireland organisations we have seen the initial trend for growth continue. Our investment in people and bricks and mortar stores remains our priority to make JYSK the UK's number one shopping destination for home decor and furniture."
He added: "It was also a great privilege to be able to implement our Industry leading retail reward scheme where all full-time employees received an average bonus payment of £2,397. It is rewarding to acknowledge their hard work throughout the year, especially during the challenging periods with extended lockdowns where they proved they were agile and flexible in helping us to find creative solutions to service our customers."
With such positive results, Mr Tuominen said JYSK will continue to push forward with the expansion plans of opening 14 stores in the UK and Ireland in fiscal year 2021/2022.
"We are very confident in both the UK & Ireland market, and we will continue with our expansion plans over the next 12 months. The appetite is there for home furnishing products amongst our customers, perhaps now more than ever as the nation continues to spend more time at home and invest in creating comfortable, 'hygge' inspired interiors that are synonymous with our Danish heritage."
The expansion plan also means the retailer is set to hire hundreds of new staff.
The positive results are part of a greater success global story for JYSK, which, in total, operates more than 3,000 stores in 50 countries.
The company once again managed to utilise the combination of physical stores and strong digital platforms to set a new record with a turnover of €4.3bn and an EBIT result of €605m.