New construction skills academy opens in bid to tackle industry shortages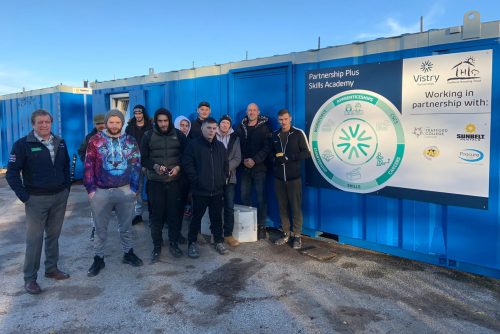 Regeneration specialist Vistry Partnerships has opened the doors to its newest Skills Academy at Heath Farm, welcoming its first cohort of 15 students.
The Academy in Partington, Trafford, is an innovative programme designed to combat the nationwide skills shortage affecting the construction industry.
The new centre sees Vistry Partnerships North West working in conjunction with joint venture partner Trafford Housing Trust, alongside Trafford College and Procure Plus.
It will provide training, work placements, apprenticeships and full time employment, designed to encourage local people who are currently unemployed, or are looking for a career change, to get into the construction industry.
It is a fantastic way to upskill local people and to support them into employment, enabling communities to prosper and thrive long term, providing a catalyst for economic growth.
The Skills Academy comprises bespoke two-to-six-week training courses designed to give learners over the age of 19 training on a 'live' construction site, as well as work experience placements, site visits and careers advice.
Learners are initially based in an on-site classroom studying construction theory and completing practical demonstrations before spending time with Partnerships' sub-contractors to further develop their practical skills through work experience placements and site visits.
In addition, all students who complete the course will be equipped with a CSCS H&S card which allows them to work on a construction site for five years.
As part of the local programme to champion regional talent, Vistry Partnerships North West has hired two local Partington residents to manage the day-to-day operations of the Academy.
Andy Lancey, who is overseeing the intake of students and their training, and Megan Renshaw, who has been employed through the kickstart programme, will be assisting Andy with the running of the academy.
Andy, 45, is from Partington, and prior to his role at the Heath Farm Academy was working in the local community for The Hideaway. He said: "This is a fantastic opportunity for local people in my community to gain employment in a sector close to where they live. I am looking forward to helping them through their journey of learning new skills and helping them into employment into the construction industry."
Vistry Partnerships' managing director for the North West, Ian Hilliker, said: "Due to the well publicised skills shortage within the sector, anything we can do to facilitate more people choosing a career in construction is appreciated.
"Our industry offers such a wide variety of rewarding careers, and we want more people to have an opportunity to experience them first-hand. We are passionate about creating sustainable communities as well as addressing the industry skills shortage and our Community & Skills Academy Hubs are the ideal platform to do so."