Education pipeline bolsters construction firm's portfolio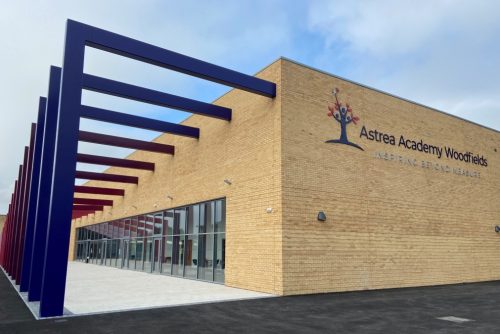 Warrington-based Triton Construction has completed works on four new school projects with a total contract value of £8m.
The successful completions reflect a boost in education sector work for Triton which has delivered 12 projects valued at £18m over the past 12 months.
Triton has completed a significant refurbishment and new-build teaching facilities at Astrea Academy Woodfield in Doncaster. Across two projects valued at more than £6m the works included the demolition of an existing classroom block to make way for a new 11,500 sq ft, single storey building with a specialist IT and technology room.
Triton also delivered a new assembly hall with remodelled school entrance and new dance and drama studios. The 16,000 sq ft block includes an impressive feature entrance with associated external works and drainage and new administration areas for teaching staff.
Works have also concluded at Feversham Primary School in Bradford where Triton carried out a major refurbishment and extension to the entrance, reception, main hall, roof and garden areas.
Challenges to the existing structures resulted in a number of redesign requirements. Extending works beyond the school holidays meant that Triton needed to install alternative 'back to school' measures to minimise disruption.
Triton has also recently completed refurbishment works for Hillocks Primary School in Sutton-in-Ashfield and Forest Moor School in Harrogate.
Paul Clarkson, Triton Construction managing director, said: "We are pleased to continue our successful record in securing great projects in the education sector for which we offer full turnkey solutions in construction, fit out and external works.
"The sector continues to receive much needed investment to improve learning facilities nationwide and our expertise and credentials stand us in good stead for the year ahead with a strong pipeline of new projects for Triton."
Triton Construction has extensive experience in all areas of the education sector with further recent projects including a new £3.5m teaching block for Chorlton Park Primary School in Manchester, a £2m extension block for Penistone Grammar School in Barnsley, a £2m extension for Bolton Muslim Girls School, and a new £1.75m extension for Sharples School in Bolton.
Triton's portfolio also includes a new library and further refurbishments for Leeds College of Music, a £2.3m High Needs Vocational Centre for Shipley College, a £3.5m science block and state of the art learning link for Bradford Grammar School, and a £4m transformation of a derelict building to house Norfolk Park Special School in Sheffield.
The business is a £70m turnover company providing design and build, civils, fit-out and refurbishment services. Established for more than 16 years it employs more than 80 people across offices in Yorkshire and the North West.