People: AG Project and Building Consultancy; JTAPE; Alcedo Care; LullaBellz; TalkTalk; Fieldfisher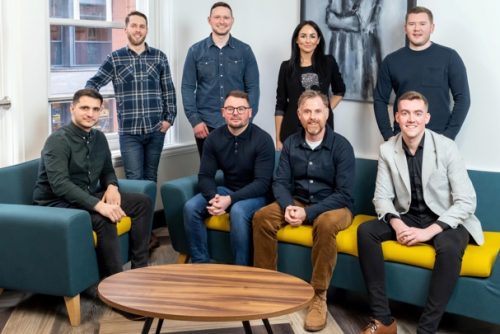 Preston-based AG Project and Building Consultancy has made a series of key promotions and appointments as it continues its expansion programme.
Dan Ashurst has been appointed as associate director, while Richard Chandler has been appointed senior chartered building surveyor and Tom Rigby, Michael Mirdad and James Cowan join the firm as assistant building surveyors.
Dan will be based at AG's Preston headquarters but will work across the North. He brings more than 10 years of experience and expertise in building surveying and was previously with CBRE's consultancy team for Asia and Pacific, based in Auckland.
While with CBRE, he worked on multimillion-dollar property schemes throughout New Zealand, Australia, and Fiji. He was the project lead on the private acquisition of an industrial properties portfolio valued at A$4.5bn.
Richard Chandler has been appointed as senior chartered building surveyor and will also be based at AG's Preston headquarters. He joins the commercial building surveying team following four years at Colliers in Leeds working across a range of commercial building surveying instructions.
Tom, Michael and James all join the firm's growing building surveying team in Manchester and will be working towards their APCs, which will see them secure accreditation as chartered building surveyors.
Meanwhile, Daniel Metcalf, who joined in March 2020, as a senior chartered building surveyor, has been promoted to director and will lead the commercial building surveying team from the Manchester office at Canada House.
Dan Whelan and Guy Crouch, also based in AG's Manchester office, have been promoted to senior chartered building surveyor.
Sarah Walker, who works at the firm's Preston headquarters, joined in February 2021 as BD and marketing manager, has also been promoted and is now BD and marketing director.
Jonathan Shaw, managing director of AG Project + Building Consultancy, said: "Dan and Tom are vital additions to the building surveying division of our business and will provide clients with the insights and knowledge needed to maximise their property assets.
"It's also fantastic to see colleagues developing their careers with us as the business expands, and we're delighted to acknowledge their contribution to the business by promoting them."
::
JTAPE, a Macclesfield-based specialist masking tape and protective film manufacturer, has appointed automotive industry specialist, Simon Dean, as its new key accounts manager. The role will see Simon working with customers in the UK and across Europe to provide specialist masking expertise to ensure they maximise the value of using the JTAPE range.
The firm's products are currently sold in more than 50 countries and as part of his role Simon will be responsible for supporting all JTAPE multi-site distributors as well as helping grow the business across Europe and beyond.
Oliver Jevons, JTAPE managing director, said: "Simon's appointment is an important step in the JTAPE journey. Our business has continued to grow, despite the recent pandemic, and he will be key to driving sales with both our existing key accounts and new customers as they start to use JTAPE."
Prior to joining JTAPE Simon took a sabbatical to undertake voluntary work in Malawi where he worked at an orphanage helping them raise vital new sources of income to enable them to look after more children.
::
With plans to recruit 1,000 care professionals in 2022, North West-based Alcedo Care has appointed John Townley as group head of recruitment operations.
Originally from Blackpool but now living in Little Eccleston in Lancashire, John joins Alcedo Care from CRG Homecare, where he worked for nine years as director of resourcing and mobilisation.
In his new role at Alcedo Care, John is tasked with managing the recruitment activity, leading the team of recruitment managers. He hopes to develop, expand and further train the group's existing team of recruiters, establishing good relationships across the business.
He said: "With such exciting growth plans in the pipeline, it was a great opportunity for me to utilise my experience in the home care sector in a 'family' business."
With a background in mobilising new contracts, sourcing suitable office space, recruiting staff and establishing relationships with local authorities and organisations on a national level, the company said John is well placed to enhance Alcedo's recruitment strategy, build new teams and develop its people.
Alcedo Care managing director, Andy Boardman, said: "2022 will prove to be big year for Alcedo Care – we are continuing to expand and with plans to recruit 1,000 new care professionals, we will double in size. John joining the company will ensure our recruitment strategy is the best it can be. His knowledge and experience will allow Alcedo Care to fulfil its growth plans, bolstering the team with the right new recruits as well as the necessary development with existing employees."
::
After another record year in 2021, Manchester-based online hair extension retailer LullaBellz has made internal appointments to support the business in its growth for what it plans to be a third year running.
Changes will come into place across warehouse operations, appointing new head of operations, Ian Skinner, who will be responsible for increasing the efficiency of the LullaBellz logistics processes, and orchestrating the move to a larger warehouse.
Ian has plans to streamline the current process and safeguard the company against any further shipping delays as experienced across the board in 2021. He will also be responsible for the staffing structure and improving the efficiency of the customer response team.
Ruairi Spence is the new wholesale manager. Ruairi said: "We know our customers and where they like to shop, so it's important for us to be listed in the places of similar interest to our target market, both existing and new."
LullaBellz adds to its expanding marketing team with digital marketing manager, Anne-Marie Odesanya, formerly at MissGuided and CurrentBody.
Set to oversee LullaBellz digital strategy, Anne-Marie will be working closely with SEO and paid media agencies to ensure customer retention and new customer acquisition. She will also be heavily involved in the appointment of a new PR agency to assist with the UK and US expansion.
Owner and CEO, Laura Smith, said: "LullaBellz has huge plans for 2022 on a scale like never before. We have made structural changes and are continuously growing and refining our customer experience. We also have so many exciting launches upcoming that will be completely different to anything we've done in the past."
::
Salford-based communications group TalkTalk Group has announced that Adam Dunlop is joining as managing director of supply and partnerships. Adam has held board and leadership roles within the telecoms industry for almost 20 years.
He joins from iD Mobile, the successful consumer mobile business at Dixons Carphone, which he has led since its launch. Adam will play a key role in accelerating TalkTalk's full fibre rollout, leading relationships with the UK's major fibre builders, as well as copper switch off. He starts on January 17.
Jan Collins, currently head of the business to consumer division, will take over the leadership of the group fibre development team, reporting to Adam.
TalkTalk chief executivde, Tristia Harrison, said: "Having someone with Adam's experience of building challenger brands in the telco sector will be of great benefit as we work with our build partners to accelerate our full fibre rollout, and I welcome him to TalkTalk. Jan's experience, too, will be a great asset to us as she develops our crucial relationships with fibre builders."
Adam Dunlop said: "I'm looking forward to leading TalkTalk's vital relationships with Openreach, Cityfibre and other infrastructure players. We are perfectly positioned to benefit from increasing build competition, so we can democratise full fibre for our customers and partners across the UK."
::
Law firm Fieldfisher Fieldfisher has appointed personal injury specialist Keith Cundall as a partner in its Manchester team. Keith joins Fieldfisher from Irwin Mitchell.
With more than 15 years' experience, Keith acts for victims of road traffic collisions, accidents at work, cycling accidents and injuries caused during 'adventure' sports. He is particularly known for taking on complex cases and for fatal accident claims, representing families at inquest and in subsequent civil claims.
Keith previously acted for those affected by the Didcot power station collapse five years ago and for success at trial on behalf of Prison Officers injured during the attempted escape of two inmates during a funeral escort.
Fieldfisher's head of serious injury, Jill Greenfield, said: "Keith is a perfect fit for Fieldfisher's growing Manchester team.
"His expertise and determination to fight hard for his clients exactly fits the ethos of our work where we intervene early following serious injuries to get the best outcome for clients to help them live their best possible lives."
Keith Cundall said: "I'm very happy to be part of the growing Fieldfisher Manchester team and I look forward to making a real difference to the lives of our clients."