Growth specialist unveils its own expansion plans including recruitment drive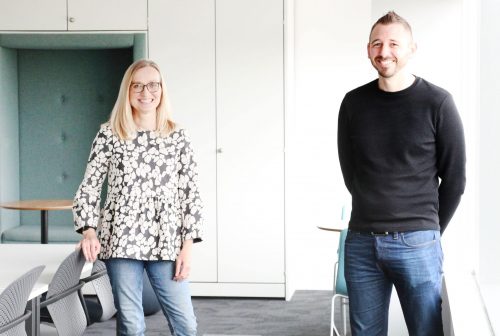 Fifteen jobs will be created through growth plans which aim to double turnover this year at revenue growth specialist Revolution.
The agency is looking to achieve triple-digit growth and expanding its Manchester base is central to its ambitious plans, it says.
Located in Piccadilly, Revolution has introduced a new management structure as it enters its next phase of growth.
Digital director Adam Blenkinsop is stepping up to become CEO, with founder Gill Burgess moving to the role of strategic board advisor.
Having joined the business in 2008, Adam has been influential in developing Revolution's digital transformation offer and in his new role as CEO is responsible for the overall running of the business and doubling revenue in 2022.
Adam Blenkinsop said: "This is a really exciting time for Revolution and I am delighted to be stepping up to the role of CEO.
"We have exciting growth plans and the expansion of our Manchester office is central to those plans.
"There are big opportunities for us to develop and expand our revenue-first model across the North West and grasp the commercial opportunities that the area has to offer. The North West is renowned for having a wealth of digital talent and we're looking forward to growing our team."
To help Revolution achieve its growth targets, Adam Catlow, Josh Tulip and Chris Glancey have joined the senior leadership team.
Adam Catlow moves to the role of chief technical officer, Josh Tulip has been appointed as chief growth officer and Chris Glancey has been promoted to the position of chief strategy officer. The Revolution leadership team provides strategic board level support to high growth, large SMEs and corporates.
Adam Blenkinsop added: "Over the last 12 months, we have achieved great success following new client wins. Our proposition of delivering revenue-first growth strategies has resonated with ambitious businesses and we are seeing fantastic results.
"The impact of our work is underpinning our strategy and is central to our growth ambitions. Throughout the next 12 months, we are looking to create 15 new jobs in Manchester as well as expanding in new territories. There is real opportunity to leverage our revenue-first approach and I am excited to see what the future holds."
The new changes come off the back of a bumper year for Revolution. Throughout 2021, revenues increased by more than 50% and seven new hires joined the team. This growth was accelerated by the acquisition of The Roundhouse Digital in January 2021.