£500k investment will lead to recruitment drive at life sciences firm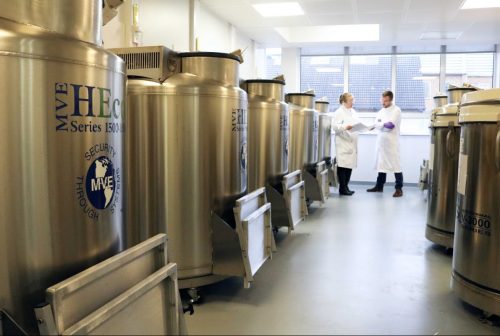 A Cheshire life sciences firm is set to embark on an expansion drive after being awarded £500,000 of investment from NPIF Maven Equity Finance, managed by Maven Capital Partners.
Macclesfield-based Cryoniss is a storage and logistics management services business providing storage facilities, knowledge and extensive scientific expertise to the life sciences sector.
Biological sample storage and biological research is a highly regulated field and the business provides support with regulatory compliance, enabling customers to focus on their core business. Cryoniss already supports a growing list of biomedical and biotherapeutics organisations with different needs including cell banking, bio banking, clinical trial samples, pre-clinical and bioreagent storage.
The funding will enable the business to create new jobs, expand its service offering and invest in green technology as it seeks to create new jobs in the North West and grow its customer base initially in the UK and Europe.
The company's long term goal is to build a global bio services business covering the full scope of storage and distribution activities for research samples and finished medicinal products.
With two fully operational sites at Alderley Park and The Heath, today's transaction will also allow Cryoniss to move a step closer to its objective to expand and create a world class service.
The business can address the storage and distribution requirements of a broad range of R&D and commercial applications across the bio/pharma industry. Each of these are multi-billion dollar revenue market niches, within which biological storage and distribution are critical outsourced activities.
Sonia Houghton and Phil Hargreaves founded Cryoniss in 2018 because, they said, they are passionate about storing biological samples, ethically and effectively. Having established a world class service internal provision for next day delivery of qualified cell lines to AstraZeneca's researchers and collaborators globally, Sonia and Phil had the expertise to set up a contract service organisation to provide the same expertise to global research institutions, pharmaceutical and biotech companies.
Gavin Bell, senior investment manager at Maven, said: "Sonia and Phil are both highly skilled operators and are complemented by an experienced board to help steer the growth plan. We look forward to working with them as they embark on an ambitious programme of growth."
Sonia Houghton, CEO at Cryoniss, said: "Cryoniss has always been passionate about enabling exceptional science – taking the headaches and the stresses away from the scientists at the bench, so that they can continue to put patients first. With this investment, we can extend the range of services we offer and broaden our customer base as a truly global provider.
"We plan to more than double our workforce, ensuring that sample integrity remains at the heart of what we do and that our standards are never compromised, and also to invest in greener technologies and sustainable solutions for our storage facilities. It's a massively exciting time for the whole team, who are looking forward to building on the strong foundation we've established in order to make Cryoniss a world class bio-service provider."
Sue Barnard, from the British Business Bank, said: "Cryoniss is the latest in a series of life sciences businesses to secure backing from the Northern Powerhouse Investment Fund. Operating out of Alderley Park – one of a number of hubs for scientific excellence in the North – this deal demonstrates how support provided by our fund managers can help to facilitate business growth in the region, create new job opportunities and catalyse innovation, in turn creating a more prosperous regional economy.