Entrepreneur Jennie Johnson's My First Five Years secures £1.4m funding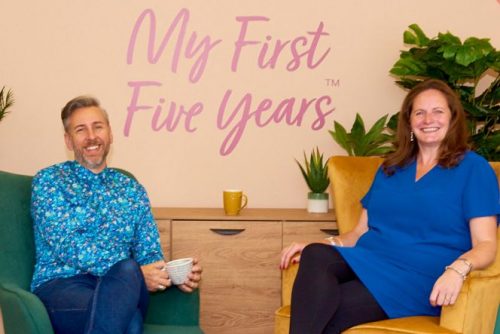 A parenting app launched by entrepreneur Jennie Johnson is targeting 250,000 users in the next three years after raising £1.4m investment.
My First Five Years is a personalised parenting guidance start-up offering advice to parents in the formative years of their child's life.
Founded in 2021 by Jennie and Alistair Bryce-Clegg, who both already have successful careers in education and childcare, it previously raised £200,000 seed funding last year.
The Manchester-based business has secured the funding from a series of investors including the Greater Manchester Combined Authority (GMCA) fund, which supports job growth in the region and five unnamed high-net-worth entrepreneurs and business owners in the North West.
Jennie said: "We've got ambitious targets for growth, including content and app development, and this funding is vital to helping us in the next stage of our journey.
"We're also pleased for the funding to have come from the immediate area and we were again oversubscribed.
"We pitched to 30 venture capital firms in the end and many firms do not seem to have the funds to invest in business at our stage.
"However, through the network and connections we have established, and the support received through the Exchange scale-up scheme, we have managed to secure the funds needed for us to continue to grow."
The app went live on Apple iOS store this week and the company will commission the development of an identical Android app this month.
Jennie continued: "We launched a beta version of the app to 1,100 users five months ago and we've been lucky enough to be able to shape the app's development based on their feedback and tune into what real parents have found useful, to create a feature-rich product earlier than we anticipated."
The early years edtech app also has more than 1,000 registrations from users interested in the product once it arrives on the app store and is targeting 250,000 users in the next three years following its latest round of funding.
The firm currently employs 14 staff and has plans to recruit a number of early years content specialists as it continues to develop its library of more than 2,600 skills and activity resources parents can use to support their child in their first five years.
The business is also recruiting for a technical role and product owner in the coming months.
Johnson added: "The app allows parents to marvel in the moments, not just the milestones. It helps parents to tune into their children's progress and what they're learning, and provide them with the knowledge of how best to support their children.
"It is a celebratory app – many products focus on concern and anxiety rather than what is happening and what is coming next. Our philosophy is to really change how parents help their child learn."
My First Five Years is part of Exchange, a digital and technology start-up support programme located at Department Bonded Warehouse in Enterprise City.
To hear more from Jennie Johnson, book onto our next Networking Lunch on 10 February. Tickets are still available here.