Everton owner invests £100m in latest share deal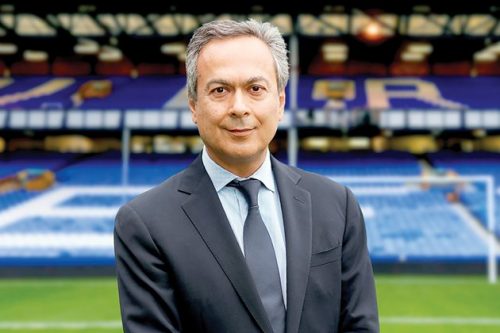 Farhad Moshiri, owner of Everton Football Club, has increased his shareholding in the Goodison Park side in a £100m deal.
The club revealed this morning (January 21) that he has acquired an extra 33,333 shares, through Blue Haven Holdings Limited.
The deal takes his shareholding in Everton to 94.1%.
The club said the acquisition represents the capitalisation of previous loans made by Mr Moshiri – "greatly strengthening the balance sheet."
Everton said: "The investment by the majority shareholder will ensure the club continues to navigate the significant financial challenges presented by the COVID-19 pandemic whilst progressing plans for the first team squad and the ongoing development of a new stadium at Bramley-Moore Dock."
Mr Moshiri first invested in Everton in February 2016, after selling his shares in Arsenal FC, taking an initial 49.9% stake in the club.
In a letter to Everton fans today, Mr Moshiri said: "I write to you to assure you that my commitment remains strong and focused.
"The club has announced today the conversion of a £100m loan to the club into equity which is a clear demonstration of my commitment and greatly strengthens the balance sheet.
"I am a private man and I do not speak publicly very often. But I promise you that my determination to deliver for Everton will not waver."
It was his first official statement to supporters since the dismissal of first team manager Rafael Benitez earlier this week, following a run of poor results.
Benitez is the fifth manager to be axed by Moshiri since taking over.
In his statement to fans he said: "It has been a difficult season to date – with results not meeting the expectations of anyone associated with the club. As a result, the decision was taken last weekend to part ways with Rafa Benitez as our manager.
"After a very disappointing run of results, it was the right decision for the club – although it is never one that is taken lightly."
However, unrest is growing among fans over his stewardship of the club and the high turnover of managers. The club is currently conducting a strategic football review and many supporters are calling for a change in the boardroom to improve overall governance.
Earlier this season some fans staged a walkout during the game on 27 minutes, synonymous with the 27 years the club has gone without winning silverware.
Mr Moshiri said in his statement: "I understand the frustration felt by everybody who loves Everton because of our inconsistent form in recent seasons, despite significant investment in the playing squad.
"The money that has been spent since 2016, not just on the playing squad but also on key projects including our new stadium, demonstrates my commitment to Everton.
"I write to you to assure you that my commitment remains strong and focused."