Government set to introduce Bill for next phase of HS2 extending line between Manchester and Crewe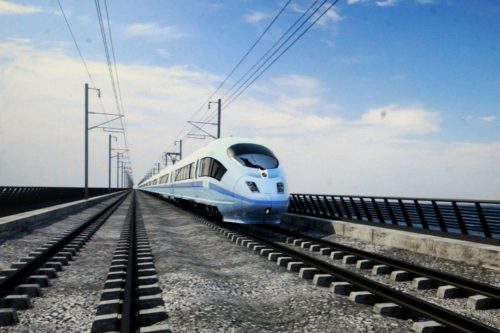 The Government will today introduce the Bill for the next phase of HS2, which will see the high-speed rail network extended from Crewe to Manchester.
Once approved it will allow HS2 to create a new "transport spine" across the North West and will cut travel from London to Manchester by around 55 minutes and Birmingham to Manchester by up to 45 minutes.
HS2's trains will also join the West Coast Main Line and serve towns and cities on route to Scotland allowing more people direct access to new high speed rail services.
It is also set to bring 17,500 direct jobs to Northern communities supporting the construction of the Crewe-Manchester leg and thousands of further jobs in the supply chain are expected to follow.
These include hundreds of highly skilled permanent jobs, including in rolling stock depots to be established north of Crewe as well as in Dumfries and Galloway.
But Greater Manchester Mayor Andy Burnham has slammed the new plans saying they are 'wrong' for the Northern region.
The introduction of this Bill marks the next chapter in a project that is already well underway by connecting three London, Birmingham and Manchester.
This next phase will also see new stations at Manchester Piccadilly and Manchester Airport.
Part of the new high speed line will also be used for Northern Powerhouse Rail services between Leeds, Manchester and Liverpool, helping cut the Manchester Piccadilly – Liverpool journey to 35 minutes and Leeds-Liverpool to around an hour and a quarter.
The plans are all part of the £96bn Integrated Rail Plan (IRP) and the first of three new high speed lines being planned.
Transport Secretary Grant Shapps said: "We are determined to improve transport connections and level up communities across the country and this Bill marks a landmark moment as we bring HS2 to Manchester and lay the foundations for Northern Powerhouse Rail.
"Our £96bn investment in rail in the North and Midlands and in connecting them to London will bring communities together, create thousands of jobs and make towns and cities in these key areas more attractive to business up to 10 years quicker than under any previous plans."
He added: "The IRP is the blueprint for the government's commitment to building better transport links, generating prosperity and opportunity across the North and Midlands bringing benefits up to 10 years sooner than previously planned, all while delivering on levelling up the country."
Andy Burnham, said in his view the current plan was "wrong" for both Greater Manchester and the North as a whole and that the region would be better with an underground station.
"Building HS2 on the surface at Manchester Piccadilly means the new station will be at full capacity from day one," he said.
"It means the new train services from Liverpool and Leeds having to reverse out. And it also means forever losing prime development land and the economic opportunity that goes with it.
"We also again have to ask again: why is Greater Manchester the only part of the country being asked to make a substantial financial contribution to the cost of HS2?
"We believe there is a better plan which would do much more to level up the North of England with the South.
"An underground station would be an investment in building a bigger Northern economy and would pay for itself over time. It could also help deliver an entirely new line between Manchester and Leeds, which is what we were promised."
The Bill has been welcomed by Northern leaders who have said HS2 will play its part in "levelling-up."
Clare Hayward MBE, DL, Chair of the Cheshire and Warrington Local Enterprise Partnership has welcomed the bill.
She said: "Ensuring all of Cheshire and Warrington is properly connected to the rest of the North West and the country as a whole, and delivering an integrated sustainable transport solution, is vital in ensuring our continued economic growth and delivering on our net zero ambitions.
"High speed links to the airport, and Manchester beyond are a key part of this, providing easy access to good employment opportunities as well as ensuring our vital industries, including net zero, are easily accessible and properly joined up to important infrastructure."
Damian Waters, Regional Director, CBI North West said: "Better transport links are crucial to growing the economy and we welcome the first step in bringing high speed rail to Manchester.
"HS2 is already having a positive effect on investment in other parts of the country before a single train has started running and business in the North West will see this as a vote of confidence in the region's future."
Mark Thurston, CEO at HS2 Ltd said : "HS2 has an integral role to play in levelling up and rebalancing Britain's economy, and this extension of the network fuels that role by bringing the country's economic centres in the North and Midlands closer together.
"Construction of the first phase of HS2 is already supporting over 20,000 jobs and spearheading investment and growth in major population centres along the route.
"This Bill is a vote of confidence in HS2's ability to help towns and cities in the North realise their economic potential."
Chris Fletcher, Marketing & Campaigns Director, Greater Manchester Chamber of Commerce, added: "The additional rail capacity HS2 will deliver could allow more rail freight and contribute to the attainment of net zero goals by reducing congestion on the roads.
"HS2, therefore, is not merely about reducing travel times. It is an essential part of 'levelling up' and Greater Manchester Chamber welcomes further progress on HS2."