People: Harrison Carloss; Santé Group; Lucky Penny Group; Robiquity; AG Project + Building Consultancy; LCRCA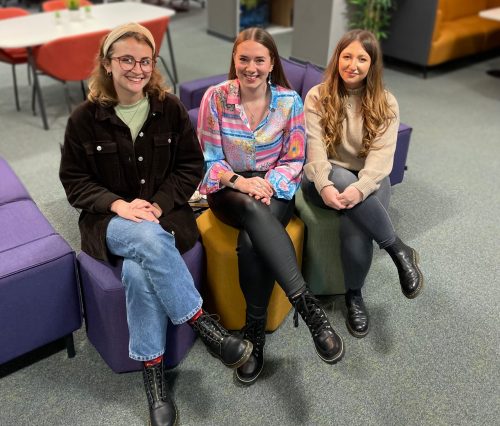 Manchester-based strategic marketing agency, Harrison Carloss, has hired two new team members and promoted a third.
Tayler Nuttall adds her abilities as a creative designer, Selina Talbot strengthens the client services line up, and Molly Boston receives a promotion to account manager.
Harrison Carloss managing director, Adam Mobley, said: "It's always a real pleasure to have talented and highly motivated people join us whilst also recognising our existing team, especially as with their help I know we can continue to deliver the very best for our existing and new clients.
"The past year has already seen us enjoy sustained growth with a number of significant client wins after we weathered the storm of the last couple of years, we are now looking forward to the future of Harrison Carloss. The business will also be turning 50 this year so for all of us this is going to be the beginning of yet another exciting chapter for the agency."
::
The Santé Group has promoted Tony Ford to its board of the group's life insurance business, Santé Life.
Ford, who started with Nugent Santé as a consultant in 2014 before moving into Santé Life in 2020, now receives an equity stake in the life insurance business.
Following his career in playing and coaching football, he developed a career in the financial services sector, amassing 18 years' experience with Chase Templeton and more recently Santé Life.
Santé Life sits within the wider Santé Group, which includes Nugent Santé a specialist health insurance and wellbeing business, broker support business ArchAngel and private medical insurance broker network, Santé Partners.
Santé Group chief executive, Paul Nugent, said: "I've known Tony from working together at Chase Templeton and was always impressed by his professionalism. Since joining us in 2014, Tony has contributed significantly to Santé Life's growth while also mentoring and developing younger members of our team. He'll play an essential role in developing the Santé Group of businesses as we look to expand our footprint in the North before growing the company nationally."
The Santé Group now employs 27 people at its Preston headquarters but expects headcount to treble over the next five years.
::
Liverpool-based hospitality group Lucky Penny Group has made city bar and restaurant manager, Adam Keegan, its head of operations
He will oversee the evolution of current sites and the development of new venues across the North West.
Adam has built up experience across the city over many years including at the three sites of acclaimed Middle East-inspired Maray, Tribeca Bars' Neon Jamon, Little Italy and Berrington's, and the former Baby Elephant in Woolton.
Lucky Penny Group is operated by Steven Burgess and Josh Moore who run Abditory in Liverpool's quirky Queen Avenue and BoBo, an authentic Iberian bistro on Castle Street, one of the city's main food and beverage destinations.
Adam Keegan said: "Lucky Penny want to expand on a big scale in the coming years and bring new venues forward with a range of concepts across the country.
"I've been in this business for a long time and Lucky Penny's philosophy chimes with my own in terms of empowering their teams, employing and paying their staff properly and making that necessary step change in the way this sector of hospitality is perceived as a career."
In addition to Abditory and BoBo, Lucky Penny has been involved in the success of Love Lane Brewery, while Steven Burgess co-founded the Camp & Furnace venue in Liverpool's Baltic Quarter, which is celebrating it's 10th year of operations in 2022.
Lucky Penny is also currently bringing forward multiple schemes across the region, including another two Liverpool venues and one in the Lake District.
Steven Burgess said: "With a background in managing some of the best venues in Liverpool, Adam brings a wealth of experience, food and wine knowledge and incredible customer service."
::
Intelligent automation (IA) service provider, Robiquity, has made several new hires on the back of rapid growth across the business in 2021.
The Manchester-based IA provider, which launched six years ago, has increased its headcount to 90 globally following a 120% growth in turnover in 2021 with significant growth also anticipated in 2022.
Lee Egerton has joined as global head of financial services, bringing deep sector experience from a career delivering operational improvements to national and regional FS clients with KPMG and EY.
Lee's appointment follows Fawaz Hassan who joins the business as an experienced automation consultant who takes the role of Microsoft Power Platform Practice Lead with the aim of capitalising on Microsoft's entry into the Robotic Process Automation (RPA) market.
CEO, Tom Davies, said: "We are seeing a real shift in the use of automation from basic cost efficiency to becoming a real enabler of growth, productivity, customer service improvements and employee satisfaction. Our clients are growing faster with streamlined, automated processes that release their people from mundane tasks. We are looking forward to the year ahead as we continue with our ambitious plans for continued expansion in the UK and globally."
::
AG Project + Building Consultancy (AG), located in Preston, Manchester, and Sheffield, has appointed Paul Westhead to lead its new development division.
The property consultancy, which operates across the UK, has seen demand increase for specialist development advice, leading to the new division being established.
Paul joins the business as development director, bringing more than 30 years of property expertise advising and working alongside local authorities, third sector, institutional investors, and private developers on property schemes.
He was previously with Trafford Housing Trust, where he was head of development, land and partnerships. He was responsible for delivering regeneration and property projects from conception to completion, including establishing joint ventures and partnership structures with key partners.
Paul said: "Working with the wider team here at AG, I am sure we will forge a reputation for our knowledge and insights that help add value and opportunity for clients existing and future portfolios. Not forgetting our work in helping regenerate areas of our towns and make them places of aspiration and not just need is a core objective of our work."
AG's managing director, Jonathan Shaw, said: "Paul is an excellent addition to the team, he is well known and respected in the property profession, and his industry expertise will be greatly valued. There's strong demand in the marketplace for specialist development advice, and Paul is the perfect person to help lead and grow our new division."
::
An inclusive growth and social enterprise champion, based at Liverpool City Region Combined Authority, has been appointed to the Board of the Institute of Economic Development (IED).
Dr Joanne Leek, who has been economic development manager at the combined authority since May 2021, having previously worked as an investment analyst, was formally elected at the Institute's annual general meeting. She brings nearly 15 years' professional experience across various sectors including financial services, business support and energy. Her expertise spans private and public sector, social economy and higher education.
Joanne said she felt empowered by "what the Institute stands for in terms of bringing understanding across the economic development base".
She said: "It is a undoubtedly an exciting time for the sector with lots going on politically around Levelling Up and discussion on what that means for left-behind places, which is aligned to a lot of my own work. Over the next year the IED has a key role to play in helping decode what Levelling Up means and responding to what is likely to be a quick turnaround on central government funding.
"How to access this funding, how to build business cases, these are the type of issues our members will need support with going forward. I want us to drive best practice and standards across the sector."
IED executive director, Nigel Wilcock, said: "This is a crucial time for economic development across the four nations and we want to draw on the knowledge, expertise and ideas from within our membership, public and private sector, to support our mission."