People: Red-Fern Media; Ultimedia; Focus Trust; SAS Daniels; LandAid North West; Irwin Mitchell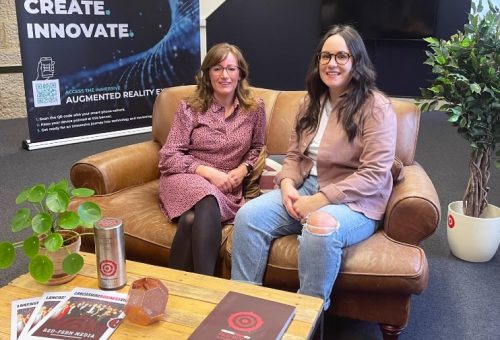 Burnley-based Red-Fern Media has welcomed two new members of the team, Sam Duckworth and Al Davies.
Sam joins the technology and growth marketing agency as a specialist UI/UX designer, having previously worked at software development company, Blue Wren, for several years.
Sam will help to drive the company's UI/UX design capabilities forward, allowing for more complex and bespoke built digital products and platforms, which Red-Fern is seeing more and more of. Sam will work closely with creative director, Alex Heeney, developing innovative ideas for clients and taking a lead on multiple projects.
Alex, said: "Technology is changing rapidly and we need to keep up-to-date with any new and emerging developments. Sam comes with a wealth of experience in UI/UX design, and her previous software development experience will bring a new perspective to our clients' briefs."
Al joins as marketing manager for the agency, bringing almost a decade of agency experience to the team. Al will drive the marketing offering at Red-Fern, managing the team as a whole and developing exciting strategies and campaigns for clients.
Head of client services, Luke Rossall, said: "Al is a great fit for the business, with the perfect character and personality to fit in with our culture. She brings a lot of experience from previous roles and has a broad skill set, which will help the team grow."
Managing director, Sean Redfearn, said: "We're ecstatic to have two new members of the team start at the beginning of 2022. It sets a precedent for the coming year, allowing us to bring on even more projects and watch our clients flourish. I'm looking forward to seeing Sam and Al make their mark on the Red-Fern brand."
::
Ultimedia, the Manchester-based digital agency, has appoined Hayley Bonnick as head of marketing to deliver the organisation's ambitious growth plans
The former Big Brand Ideas marketing manager, joins the Episerver (Optmizely) specialists to grow the firm's global presence and help deliver the organisation's ambitious growth plans. The agency says it is one of the world's leading Optimizely partners, with clients across five continents.
Hayley, brings experience in the growth and leadership of marketing teams, following her roles at UNRVLD (formerly Kagool) and Big Brand Ideas. Having spent much of her career in the technology space, Hayley has extensive knowledge of multichannel B2B marketing in the Digital Experience Platform arena.
Ultimedia was the UK's first Optimizely Partner (formerly Episerver) and is part of The Remarkable Group, a family of digital consultancies that are recognised as global leaders. The group works with ambitious brands to deliver digital experiences with Digital Experience Platforms.
Ultimedia CEO, Craig Johnson, said on Hayley's appointment: "Her talent is widely regarded in the industry and her experience in the sector is second to none. Hayley's appointment will enable us to reach new audiences and communicate the great work that we do for organisations across the world wanting to get the most from the Optimizely platform."
Hayley said: "I'm excited to be joining Ultimedia and the Remarkable Group team. I'm fortunate to have the chance to work with an incredibly talented group of people that specialise in the DXP space and complement my passion for digital and growing businesses."
::
Focus Trust, a multi-academy trust based in Oldham, has appointed experienced HR, community regeneration and business management advisor Natalie Harris in the newly created role of chief operating officer.
Working as an integral part of the senior leadership team, she is tasked with championing high quality strategic leadership and the sharing of best practice across the trust's 15 schools, which are located in Greater Manchester and West Yorkshire.
Natalie will also be instrumental in building on Focus's existing reputation as a 'trailblazer' academy trust and ensuring the ongoing improvement as it looks towards the future following what has been a challenging couple of years for the sector as a result of the pandemic.
Chief executive, Helen Rowland, said that the trust would "benefit immensely" from Natalie's wealth of experience across the education and wider public sector, having previously worked within HR, community regeneration, business management and finance roles throughout her career.
She added that the creation of the COO role formed part of Focus Trust's continued efforts to ensure the learning of all children and adults is continuously valued and promoted.
A charitable organisation, Focus Trust's vision is 'learning together, making the difference'.
During the pandemic, it made the decision to publish all of its educational articles, blogs and resources on its 'Learning Together' website in a bid to help others across the industry – promoting a collaborative approach following what has been "an extraordinary year".
Natalie says she is looking forward to applying her "pragmatic" and "solution-focused" approach to the role, and to playing an integral role in evaluating and planning the future opportunities for the trust.
Helen Rowland said: "Natalie's expertise and experience will really complement the existing skills that we have within our senior management team here at Focus Trust.
"She is incredibly passionate about what she does, and about the wellbeing of our children and colleagues and so we know she will really help to champion our collective values, and to deliver on our shared vision of 'learning together, making a difference'."
Natalie said: "Even in the short period of time I have been with Focus Trust, I have witnessed their core values in play – every decision they make is about what's in the best interest of the children, staff wellbeing and wider community."
::
Law firm SAS Daniels is bolstering its team with the appointment of 10 recruits across its four North West offices.
The property teams are being boosted with five appointments including Chris Hughes, who has been taken on as associate solicitor in the residential team in Congleton. Anna Thompson joins the Chester office while Jonathan Riddaway and Suman Sahi join Stockport as conveyancing assistants.
Meanwhile in the commercial property team, Jyoti Mehta joins the Stockport office as a solicitor.
In other teams, Amy Hayes has been taken on by the firm as a solicitor in the private client team in the Congleton office, while Sikander Ellahi joins as a litigation paralegal in Stockport.
There have also been recruits in the central support team with Andrew Swain joining from Verastar as the firm's new facilities manager, Vivien McNulty recruited as an administrator in Macclesfield and Rebecca Stubbs as an administrator in Congleton.
Jeremy Orrell, chief executive, said: "We have experienced a 13% growth in turnover over the last year reflecting the increased demand for our legal services as the economy has been recovering from the disruptions caused by the pandemic.
"We have recruited over 30 legal and support staff during this period in a difficult recruitment market and we are continuing to grow the teams across our four offices in line with demand for our services.
"Our latest recruits bring a wealth of industry experience and knowledge to the firm. It is a very encouraging sign for the year ahead that we have been able to make this number of appointments at all levels so early on in the year."
SAS Daniels is a full service law firm with offices located in Chester, Congleton, Macclesfield and Stockport.
::
Nathan Cornish has been named as the new chair of the LandAid North West board.
Nathan is group board director of Manchester developer Urban Splash and a well renowned and highly respected figure in the property industry. He has been responsible for some of the country's most iconic and groundbreaking schemes including Fort Dunlop, the 'upside down' houses in Salford and New Islington in Manchester.
LandAid, the property industry's charity, works to end youth homelessness in the UK. The North West board was originally established in 2018 and is made up of volunteers from the property industry including Mark Beardwood (DLA Piper), Dominic Pozzoni (Colliers), James Onions (Paragon), Chris Brown (Chancerygate), Stuart Rogers (Faithful+Gould), Peter Kershaw (Addleshaw Goddard), Christian Gilham (Leach Rhodes Walker Architects), Carly Jones and Joe Stockton (Muse Developments) and Anna de la Perrelle.
Nathan said: "I was incredibly honoured to have been asked to chair this board. This is an important initiative, and I am keen to build on the good work already achieved. Obviously, it has been challenging to maintain momentum during the pandemic, but we have a number of exciting new initiatives that we are looking to launch this year, starting with our first in-person SleepOut event that takes place on Thursday, 10 March at the Mayfield Depot.
"I want to push our Northern reputation for doing things differently and make sure we make a real effort in tackling youth homelessness in the region and this starts with the LandAid SleepOut."
Rob Bould, chair of LandAid, said: "His focus, energy and passion to address to address our mission to end youth homelessness working with the NW board will further build on the work of his predecessor."
::
Law firm Irwin Mitchell is expanding its property division in Manchester with the recruitment of two new senior associates.
Jill Crawford has joined the planning and environment team and Sarah Swann has been recruited into the real estate transactions team.
Both provide a strong boost to Irwin Mitchell's property team in Manchester where head of planning and environment, Claire Petricca-Riding, construction partners, Edward Davies and Richard Allan, transactional partner Stelios Coutsavlis and real estates dispute associate Ben Gildea are also based.
Jill Crawford joins from BLM where she was a senior associate. Jill has a wide experience of advising on environmental legal matters including advising in relation to enforcement actions and investigations undertaken by the Environment Agency and local authorities in respect of environmental incidents, prosecuting environmental offences and advising in relation to criminal investigations including evidence gathering and interviews under caution.
She also advises businesses in defending against enforcement action and environmental prosecutions by local authorities and the Environment Agency, including appealing against enforcement notices issued by the Environment Agency such as stop notices, suspension of environmental permit notices and revocation notices.
In this Jill also has considerable experience in advising business on effective environmental risk management systems and ongoing compliance, advising insurers in relation to public liability policy extensions to cover limited environmental liabilities and advising internal law departments in relation to environmental due diligence and transactional support for real estate and corporate transactions.
She advises on the contaminated land regime and advises and defends in relation to breaches of nature conservation law, licensing and habitat/species protection.
Claire Petricca-Riding said: "Jill is a great addition to our planning and environment team and swiftly follows on from the appointments of senior associate Tracy Lovejoy and associate Victoria Tague just before Christmas, enabling us to expand our environmental law offering to clients."
Sarah Swann has joined Irwin Mitchell's Manchester office from Knights in Manchester. She joins the transactional team which recently recruited Stelios Coutsavlis as a new partner, also from Knights. Sarah has considerable experience in all real estate transactions, but predominately acts for corporate investors and occupiers.
She advises both landlords and tenants with acquisitions and disposals of both freehold and leasehold properties, including pre-lettings. She also deals with general asset management and secured lending.
Sarah has expertise working in the retail and leisure sectors, but her experience extends to dealings with all types of commercial premises..
Thomas Freeman is also joining Irwin Mitchell's national real estate disputes team and will be based in the Sheffield office.
Commenting on all three arrivals, Adrian Barlow, partner and director of legal services, real estate at Irwin Mitchell, said: "All three new joiners are a great addition to our property team and will enhance the firm's real estate offering in the North and around the country.
"Both Jill and Sarah will particularly provide a strong boost fo our team in Manchester, where we now have five property partners and have been heavily recruiting. Thomas is a welcome addition to both the growing real estates disputes team and our Sheffield office.
"All our new senior associates come with great hands-on experience and good reputations and will be great assets to our national property practice – playing an important part in helping us to fulfil our ambition to provide first class advice to clients.
"The new appointments take Irwin Mitchell's property division to 28 partners and 150 qualified lawyers."
Both planning and environment and real estate disputes sit within Irwin Mitchell's property division. Planning and environment is now a team of 10 and real estate disputes a team of 20.