People: Liverpool FC; McGovern & Co; Savills; Clarion Wealth Planning; Local Solutions; Innova Solutions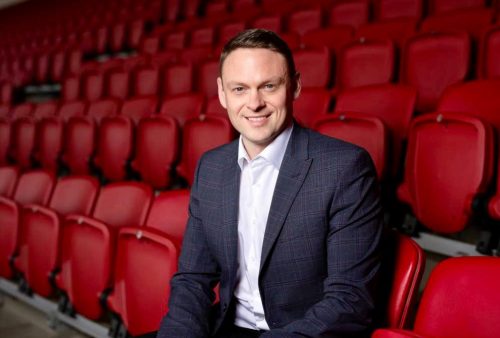 Liverpool FC has welcomed back Ben Latty as commercial director to lead the development and growth of the club's commercial business.
Ben returns from Bristol Sport where he held a board position of group commercial director. During his previous spell at LFC he held a number of positions in the commercial team over an eight-year period.
His primary focus will be leading the partnerships team, while developing opportunities to grow commercial revenues. He will also be a member of the club's executive team.
Ben said: "It's an exciting time for the club on and off the pitch and I look forward to working with my colleagues to continue to accelerate the club's commercial growth."
Billy Hogan, chief executive, Liverpool FC, said: "Ben has always been held in high esteem by colleagues and external stakeholders alike and was responsible for some of our most significant partnerships during his time. He will continue to drive our commercial business forward and we're really looking forward to him reconnecting with the team here."
Ben will take up his new role towards the end of March 2022.
::
Sustainable building materials supplier McGovern & Co has appointed Steve Ruddick as commercial manager to support its expansion into the North West.
Ruddick joins from Marshall's bricks and masonry division, whose products are stocked by McGovern & Co, which holds more than two million bricks at its depot in Gateshead, for delivery to customers across the North of England.
Managing director, Andrew Pickersgill, said: "It's a really exciting time for everyone connected to the business and Steve's passion for sustainable building materials matches McGovern's ethos of People, Planet, Profit – in that order. We've been established in the North East for more than 70 years and are now looking to offer our extensive product range to customers in the North West.
"It's a busy time for the construction industry and we're delighted that Steve has joined us to help with our continued expansion and growth plans."
Ruddick has almost 20 years' sales and specification experience in the building materials sector. Based in Penrith, he will be responsible for expanding the company's customer base across the North of England including architects, builders, homeowners and builders merchants looking for sustainable building solutions from industry experts in a business with more than 70 years' experience.
McGovern & Co was established in 1949 and was acquired in 2020 by the Alpaca Group.
::
International real estate advisor Savills has appointed UK board director, James Evans, as head of national office agency.
James is currently head of Savills' Manchester office, a role which he will also continue, and has been with the business since 2006. Specialising in providing both disposal work for local property companies and larger institutional clients and acquisition advice to a number of key regional and national clients, James has been involved in a number of significant office schemes in Manchester including St Peter's Square, First Street, Mayfield, The Lincoln, 125 Deansgate and Circle Square.
Jeremy Bates, executive director and head of transactional services at Savills, said: "The growing strength and depth of Savills' 50-strong national office agency team is underlined by the unrivalled presence we have in each of the key cities across the UK.
"We have great confidence in the resilience and future performance of these and continue to invest in innovating our services for investors, occupiers and developers across the UK. I am very pleased to have James leading the team to further build on this success."
James Evans said: "The regional office markets have been through a period of fundamental change over the last two years as occupiers and landlords adjust to the impacts of the pandemic. With the office world returning to greater levels of activity it is a very exciting time to be a part of this market and I am very much looking forward to working with our already strong national network to provide the best service to new and existing clients."
::
Clarion Wealth Planning has a newly expanded team.
The Alderley Edge firm has improved its financial planning power by 20% with four new appointments – chartered financial planner Ella Davies, associate financial planner Jebun Kazi, Robin Townsend, Clarion's first compliance director and, joining the adviser client support team, Isabelle Spencer.
Ella, who specialises in complex retirement and estate planning cases, said: "My personal objective is to help more female clients take control of their financial future. Female advisers are few and far between and female Chartered Fellows even more so. I think this is part of the reason women are less likely to seek financial advice so hopefully, I will be helping to change that."
Jebun, who will be working alongside Ella, achieved her Level 4 Diploma in Regulated Financial Planning from the CII last year and is now aiming for Chartered Status. She said: "Financial advice is just a part of a whole bigger picture for us, and I am excited to be working alongside Ella and to be part of the Clarion team."
Isabelle Spencer, who joins the team from Royal London and Robin Townsend, add further experience to the raft of appointments.
Robin said: "Clarion attracted me as a company because of the type of clients with which it works and the top quality service it strives to offer."
Isabelle said: "I enjoy being part of the Clarion team and finding positive solutions to any challenge given. I believe that the method of how we tailor the financial plan, to also include personal goals and not just financial ones, is unique and this was just one of the things that first attracted me to Clarion."
Clarion founder, Ron Walker, said: "Clarion Wealth Planning is going from strength to strength, and these appointments ensure that we will continue to provide a superlative service. We are delighted people of such calibre have become part of the Clarion Wealth Planning family."
::
Local Solutions, a Liverpool charity enterprise, has appointed a new chief executive as it looks to accelerate and expand impact help more disadvantaged, excluded and vulnerable people.
The charity, which launched in 1974 to focus on serving communities in the city region and North Wales, selected Tom Harrison to take over the role and he is now embarking on an ambitious project to further assist people in leading fulfilled lives and realising their full potential.
Tom will oversee a wide number of charity services in his new role. Services are diverse and are designed to empower and enable a broad cross section of the community. They provide support and accommodation for young people enabling them to develop independence while increasing the safety and security of children through Bullybusters and support victims of domestic abuse through counselling, support and our Worst Kept Secret helpline.
Local Solutions also improves the health and wellbeing of the elderly through its domiciliary care provision and provide independence and freedom through its Shopmobility and employability programmes. In addition the charity provides respite to carers from across the city through the MyTime scheme.
Over the past 15 years, Tom has worked at Local Solutions in a variety of roles, combining operations and development. He said: "To lead through this new and exciting phase, with support from so many skilled and committed colleagues, is a great privilege.
"These are exciting times for Local Solutions, and I am looking forward to pushing ahead with our new vision for a dynamic, engaged and thriving organisation, fully focused on empowering people and communities."
Prior to taking up his new role, Tom spent time as the interim chief executive after leaving his role as a director of programmes and innovation.
A spokesperson for Local Solutions' board of trustees said: "Tom took on the role as an interim post last year and worked with us as we looked at the structure and vision for the charity. His leadership throughout this period of change has been crucial in reassuring colleagues about our future direction and in energising the organisation."
::
Innova Solutions, the manufacturer of high strength bonding and sustainable adhesives, has appointed Liam Dunleavey as commercial director to help drive the Lancashire firm's target of £10m revenue in five years.
The business traded well during the global pandemic, and during this time Liam, 31, accepted new responsibilities and his appointment as commercial director recognises his role in helping the company win new business in new areas at a time of rapid expansion.
Liam will hold overall responsibility for UK field sales, marketing, and technical functions and will work closely with sales director Spencer Kelly.
Managing director, Glenn Dunleavey, said: "I'd like to congratulate Liam on his appointment and thank him for the impact he's had on our business. Liam has been with us for over seven years in various roles and his presence on the board maintains a level of energy and sharpness that positions us well for continued growth. Now is the right time to inject new blood into the business as we celebrate the past 20 years and set ambitious new targets for the next five."
Liam Dunleavey said: "I'm thrilled to have earned the role of commercial director and look forward to taking on the challenge and helping to deliver Innova Solution's next growth phase.
"The past two years have been a challenging time for many, and our focus is now firmly on the future. One of my first tasks is to address current pressures on margins – created by strain on the wider UK economy – so we can pass savings on to our customers."