Business graduate has a taste for success with restaurant opening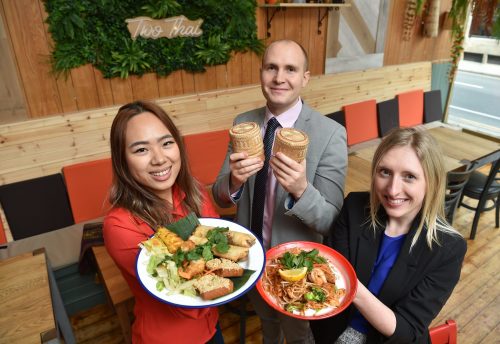 A business graduate from Lancaster University is mixing her skills with her heritage after opening a Thai restaurant in the heart of Lancaster.
Jing Pongwisaitat has created TwoThai restaurant in the city centre's China Street.
She seeks to offer an authentic Thai street food menu and market atmosphere.
A Thai native, Jing joined Lancaster University in 2015 to study MSc Entrepreneurship, Innovation and Practice.
Initially, having completed her degree, Jing set up a business making and selling Thai 'street food' and travelled across the region with a fellow Thai student, selling their food at market stalls and food and drink events.
However, her business partner returned to Thailand, so Jing switched to the production of Thai table sauces. But, after deciding to settle permanently in Lancaster, she decided to go one step further and open a restaurant.
TwoThai has capacity for more than 30 diners and will also offer take-away options. Once operating at full capacity, Jing will have a five-strong team, including full time waiters, chefs and front of house staff.
Jing received support from Lancaster-based law firm Harrison Drury in establishing the new venture.
Jack Stephenson, senior associate solicitor in Harrison Drury's corporate and commercial team and Laura Bradley from the commercial property team, assisted with the acquisition of the business.
Jing said: "My vision is to create a fun, casual atmosphere that reflects the hustle and bustle of a Thai street market offering a traditional menu, with dishes including Pad Thai noodles, a range of Thai curries, papaya salad and Tom Yum soup.
"I want it to be a special place to visit and experience Thai food, but also a fun place for people to 'hang out'."
Jack Stephenson said: "Jing has a true entrepreneurial spirit and a determination to make the restaurant a success.
"The location on China Street is perfect as it had previously operated as a Thai restaurant, so it ticked all the boxes. It's another exciting venture in this popular area of Lancaster and she has worked very hard to convert it to reflect her own vision."
Laura said: "It is always a pleasure to help young entrepreneurs with the enthusiasm to set up a business and go it alone."