Chancellor needs to provide reassurance to business owners like us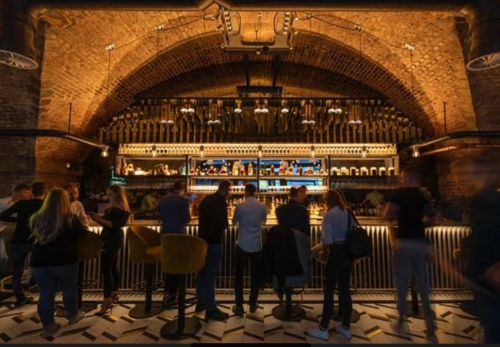 By Jen Heeley-Wiggins, co-founder, The Spirit of Manchester Distillery
It's been two years since the Prime Minister told people not to go out, kickstarting a pretty difficult time for businesses like ours.
At The Spirit of Manchester Distillery, we produce a number of award-winning spirits, including our widely popular Manchester Gin and One Eyed Rebel rums. Our cocktail bar, Three Little Words, is also based on site, underneath the arches of Manchester Central.
Having launched in 2019, just before the pandemic hit, we have been luckier than most that our independent business model has allowed us room to breathe, as did our great relationships with our landlords.
When Three Little Words was forced to temporarily shut its doors during COVID lockdowns, we were able to maximise our off-trade element and concentrate on pushing our retail sales – independently selling our products online, striking store deals with the likes of M&S, Co-op and Selfridges, and doubling down on our exports through new partnerships with international distributors, as far afield as South America.
And while things have started to recover and we've seen COVID fall off the news agenda, like everyone else who runs a business, we have ended up entering 2022 with a strange sense of cautionary optimism, tinged with mild trepidation.
The supply chain disruption we're now experiencing isn't anything new (we've been watching it slowly dent the sector for many months now), but the rising raw material costs and the stark warnings about inflation and energy costs on top of this are starting to make business owners, like us, just a little nervous.
Both of our businesses are feeling the effects. In our distillery, the cost of blackberry juice for our gin has risen by 300% in just six months, while the specific glass bottle we use has increased 18% since 2021.
In our bar and restaurant, we're finding that fruits like grapefruits and peaches are proving trickier to source (blamed on poor climate and growing conditions) and we're seeing significant delays for some spirits like tequilas and cognacs due to manufacturers abroad ceasing production during their own country's lockdowns, leading to backlogs.
This means we've had to alter cocktail recipes and remove some items from our menus until we can find suppliers that match our existing costs.
But it's not all doom and gloom. We're pretty lucky to be one of the leading distillers in the North West, and we've been able to lean on our own range of gins, rums, vodka and vermouth to keep our punters happy.
In addition, we've been re-assessing our supplier base, decreasing our dependence on international suppliers, and sourcing locally across the North West where we can to counter the rising import prices. In fact, the recent Northern Restaurant and Bar convention allowed us to get to know producers we weren't familiar with, especially after two years of staying indoors.
Overall, we're looking ahead to an exciting year, but with new challenges popping up seemingly every week, I do think the Chancellor needs to give some reassurance to business owners like us when he presents his Interim Budget on Wednesday.
Like most, we're hesitant to reflect the increased costs we're seeing behind the scenes on our customers.
So far, we've been able to absorb these costs successfully, but it's not something we can really sustain if we're to continue having a strong, solid business base in the long term, especially as we're welcoming investors at the moment to discuss our upcoming business plans.
As any operator will agree, business comes with risks, but after months of closures and uncertainty for our sector in particular, we need to be supported, especially now while we navigate through current circumstances. Whether that be by keeping VAT at 12.5% for a little longer, or by freezing duties to counter cost increases, as the saying goes, every little helps.
Whatever happens, we'll continue to work closely with our fellow operators across Manchester to share ideas and initiatives to help each other.
The past two years have brought our industry closer than ever, and despite the challenges we'll all face over the coming months, in business and at home, one thing we can be sure of is that the spirit of Manchester will always shine through.