Greater Manchester launches strategy to go global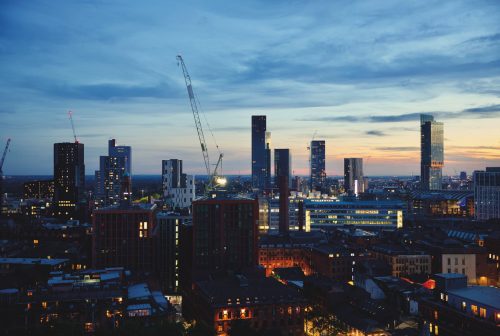 Greater Manchester has unveiled its latest strategy to go global and reinforce its reputation as a place to 'to visit, study, and do business.'
The blueprint lays out how the region will engage with countries around the world to boost trade links and create jobs, rebalance economic opportunities across the UK, and reinforce the region's reputation in sectors including digital, tech, health, and advanced manufacturing.
The International Strategy will provide a framework for how Greater Manchester can move forward with central Government, investors, and other city-regions.
It also outlines the region's strengths in low-carbon technology and innovation, and how these strengths and investment in green infrastructure can make Greater Manchester a leader in tackling the climate crisis.
The International Strategy  also supports the aims set out in the Greater Manchester Strategy to make the city-region greener, fairer, and more prosperous, creating good lives for all and opportunities across the 10 boroughs.
Mayor of Greater Manchester Andy Burnham said: "Greater Manchester has always been a global city-region, at the heart of trade and diplomatic relations in the North.
"If the experience of the last couple of years has taught us anything, it's that the challenges we face – from addressing the climate crisis, to tackling a pandemic, to responding to conflict – are global in scale, and require us to work in partnership to meet them.
"The International Strategy defines Greater Manchester's place in this changing world.
"It sets out how our global reputation, our partnerships with cities and regions around the world, and our unique devolution model can make this a place that attracts people from around the world to visit, study, and do business.
"It also acts as a blueprint for ensuring this global outlook benefits our city-region, not just by supporting innovation and creating good jobs, but by opening up new opportunities for connection and collaboration across borders."
Five priority areas have been identified for achieving these goals through increasing international engagement and collaboration: They include: trade; investment; research and innovation; the visitor economy and international students.
Cllr Elise Wilson, GMCA Lead for the Economy, said: "The International Strategy is how Greater Manchester will connect with – and lead in – a changing world. Nowhere is better placed than Greater Manchester, at the heart of a resurgent North, to rise to the world's challenges and contribute to Global Britain.
"Working as a collective to compete on the world stage is fundamental to growth across our city-region, to the creation of jobs, and to who we are: outward-looking, innovative, ambitious, and international."
The launch of the International Strategy comes on the eve of a joint mission to Ireland led by the Mayor and his Liverpool City-Region counterpart Steve Rotheram.
Greater Manchester first published a three-year International Strategy in 2017, which established a series of objectives for the city-region, including boosting exports, securing new direct trade routes, and increasing our attractiveness as a place to invest, visit and study.