People: Champion Accountants; DCBL; Russell Taylor Group; SAS Daniels; Tritax Symmetry; Sundown Solutions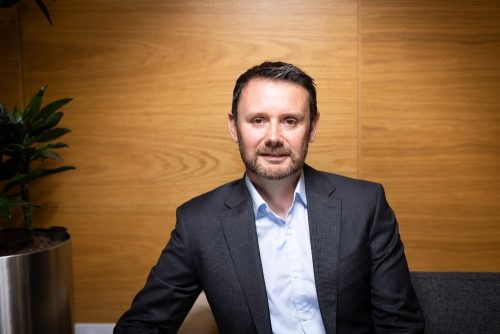 The Real Estate Commercial Team at JMW Solicitors Manchester office has appointed a new Equity Partner to their department.
David Frankland joins JMW from DWF where he was also an Equity Partner having joined them in 2013. David acts on a range of Real Estate matters but specialises in investment, development and acquisition and disposal as well as portfolio transactions.
His clients are from a wide range of sectors, but he has a particular focus on leisure and hospitality and he has advised a diverse range of hotel, brewery and restaurant clients.
His clients include Greene King, Arc Inspirations, Henry Boot and Quorum Estates to name a few. Legal directory Legal 500 2022 ranked David as a Next Generation Partner for Real Estate in the North West.
In total the Real Estate team at JMW expects to produce approximately £14m in the year to the end of April 2022, an 31% increase from the last financial year.
Senior Partner Joy Kingsley said: "David brings with him a wealth of experience and is a great addition to the firm. He has an impressive group of clients especially in the leisure and hospitality sector and will help our Real Estate Commercial department develop further.
"David is another example of us attracting great legal talent to JMW."
David added: "This is a great opportunity to join the ambitious Real Estate Commercial Team at JMW and I am pleased to be joining an entrepreneurial firm with a strong reputation and a commitment to its chosen markets."
::
A Champion accountant who joined the North West practice as a trainee has been promoted to the head of management accounts.
Josh Morris joined Champion Accountants in 2015 in its contracts division, having recently completed his AAT. Shortly after, he moved into the audit team before joining the management accounts department in 2017, completing his ACCA qualification a year later. He will now oversee the growth of the company's management accounts offering, having already doubled the team's headcount while in an interim role in the past 12 months.
He said: "Achieving this promotion is the result of Champion having supported my progression over a number of years. Since joining the management accounts team five years ago, I've been awarded more and more responsibility and exposure to larger clients."
Research shows there is a major shortage in the availability of trained bookkeepers in the UK. This boom in demand saw Andrew Spillman-Hays recently join Champion Accountants' Manchester HQ as management accountant to support Josh and the wider management accounts team.
Ged Cosgrove, group managing partner, said: "Ever since Josh joined Champion he has demonstrated a commitment to, and passion for, his work. He's never been fazed by trying new things and it's this ambitious spirit that will see him build on the existing successes of our management accounts team."
::
Parking enforcement agency, DCBL, has appointed Ryan Potter as contact centre manager further expanding its customer support services.
The appointment follows a year of record breaking growth for the Cheshire-based company, which as a result, has experienced a significant increase in the volume of calls to the contact centre.
Ryan will be responsible for upholding operational excellence within the centre by developing key training resources and coaching all personnel to provide an outstanding level of customer service, reviewing service level agreements and key performance indicators to exceed customer expectations, and conducting optimal resource planning.
Ryan joins DCBL, the debt recovery agency, after developing a deep understanding of the financial services industry working as a collections manager for the past nine years. Skilled in operational management, people development and service delivery, this appointment will now see Ryan enhance the core offering of the contact centre, opening new channels of communication to interact with clients and customers alike.
Ryan said: "I'm thrilled to join DCBL at a time of huge growth for the business. Contact centre operations are a central point of communication for our customers and clients, therefore it's vital that we continue developing an effective team with outstanding service as a key priority."
::
Wirral specialist technical recruitment firm, Russell Taylor Group, has appointed two 'home grown' staff into top roles.
Stuart Watson, the company's business development manager, and Tom Owens, who now heads up the business's industrialtTrades division, have both risen through the ranks from recruitment consultants to their new posts where their focus will be on equipping the UK's power stations, industrial manufacturing, industrial construction and refining sectors with the right professions and trades to drive economic recovery.
Russell Taylor Group managing director Rob Kurton said: "Both Stuart and Tom started work here in junior recruitment positions, working in a very competitive marketplace and in a family run business that, even as a multimillion-pound operation, still puts its people first.
"They are perfect examples of the way we train and upskill our own workforce, developing them so they thrive, grow and achieve their career goals."
Stuart joined Russell Taylor as a trainee consultant 12 years ago recruiting electrical and mechanical personnel with oil and gas backgrounds to work both onshore and offshore. After a 12-month sabbatical recruiting in the oil and gas industry in Houston, Texas, he returned to Russell Taylor and took over the management of the business's site projects team, a post he held until his recent appointment.
His new role also sees him heading up business development activity in the construction, engineering and manufacturing divisions where his liaison with team managers and recruitment consultants is key to opening up new employment opportunities in these expanding sectors.
Tom's Russell Taylor growth journey began when he started work as a labour resourcer, moving on to become a recruitment consultant, then senior team leader in the industrial trades division before his new role as manager.
Working alongside each other at the company headquarters at Wirral's Burton Manor, Stuart and Tom – with their team of recruiters – are now focusing on tackling skills shortages in their joint operational areas of industrial trades.
::
SAS Daniels is expanding its property department with the appointment of Nicola Deutsch as partner in the commercial property team.
Nicola joins the firm from Slater Heelis where she was partner and head of residential development. At SAS Daniels, Nicola will be responsible for residential developments within the commercial team. She specialises in site set ups, Section 106 Agreements and property finance.
Called on by clients for her vast experience acting for developers on sites nationwide as well as on bijou schemes, Nicola also has extensive public sector experience.
Nicola will be based at the Stockport office of the full service law firm.
The latest appointment follows 10 additions last year to the firm's commercial and residential property teams following a surge in property transactions in the region.
Chief executive, Jeremy Orrell, said: "With more than 30 years' experience, Nicola is a fantastic addition to our growing commercial property team. This is a complex area of law and the fact that we have recruited someone of Nicola's calibre is testament to the strength of our department. Nicola's arrival will significantly strengthen our residential development capabilities."
Nicola Deutsch said: "It's an exciting time to join the firm as it continues its growth trajectory. After a lull at the start of the pandemic, there is now a backlog of developments that are coming to the fore. I'm looking forward to working with existing clients at the firm and growing our client base."
SAS Daniels is a full service law firm with offices located in Chester, Congleton, Macclesfield and Stockport.
::
Tritax Symmetry's Manchester office is continuing to expand its capability with the appointment of Jenna Wilks as senior planner and Scott Meakin as development surveyor.
Jenna joins the company from Gerald Eve, where she held the position of planning consultant, working on a range of projects including Symmetry Park, Merseyside.
At Tritax Symmetry, Jenna's remit will be to assist the wider development team in bringing forward strategic sites across the North.
Scott has moved to Tritax Symmetry after spending three-and-a-half years at Avison Young where he qualified as a Chartered Surveyor.
He will be involved in the delivery of B&Q's new distribution facility at Symmetry Park, Doncaster, Symmetry Park, Wigan and Symmetry Park, Darlington.
Tritax Symmetry director, Andrew Dickman, said: "To execute our business plan, we need talented, driven individuals at every stage of the development cycle, from identification of sites through to delivery.
"We have found these qualities in both Jenna and Scott, and they are an excellent addition to our growing team."
::
Lancashire-based technology company, Sundown Solutions, is continuing to double its workforce ahead of its original objectives as it continues with expansion plans.
The company welcomes a fresh new intake of technology experts, which includes senior cloud engineering architects, Gary Hunter and Tom Meadon, senior support engineer Michael Janicki, with Andrew Simpson joining as project manager and Madison Johnston who joins the support desk team.
The company has also strengthened its business operations with the appointments of people and operations lead, Michelle Mageean, finance assistant, Scott Buchanan, and head of customer success, Lara Hart.
Sophie Smith, who joined the business in 2016 as administrator, through internal development and delivering Sundown's Yellow Bracelet product, has now been promoted to service delivery manager.
Kelly-Ann Groves, Sundown Solutions' chief operating officer, said. "Our business has been built on the ethos that organisations of all sizes and types benefit from technology and that it works for them, and not the other way round.
"It's this ethos that has driven our growth and as we continue to develop powerful working relationships with clients, we need talented people to join us who share the same values. While we have boosted the ranks of our technical experts, we are also strengthening the capabilities of Sundown in operational areas as we enter the next phases of our growth."
The technology consultancy also has an internal academy where team members are enrolled on a continual improvement programme that ensures its people are constantly developing new technical and professional skills.