Airport marks return of global connectivity with new Frankfurt route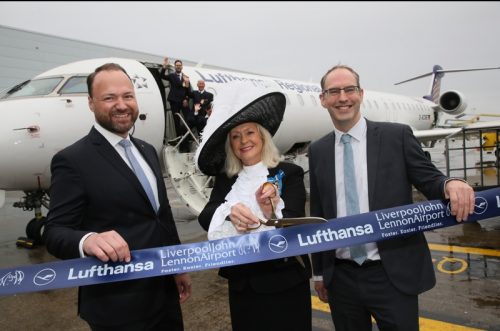 Airport bosses celebrated an important new international link which started this week at Liverpool John Lennon Airport.
Lufthansa's new service to Frankfurt brings the return of global connectivity for the airport and the city region for the first time in more than 10 years.
The last time Liverpool was linked to an international hub was 2012, when Dutch carrier KLM axed its Amsterdam link with the airport.
The German carrier's LH968 flight from Frankfurt touched down shortly after 8am where it received the traditional airport welcome with a water arch aircraft baptism performed by the airport's rescue and fire fighting service as the aircraft taxied to the terminal building.
This was followed by a ribbon cutting ceremony at the aircraft steps ahead of the departure to Frankfurt, performed by Lufthansa's senior director sales Northern Europe Lufthansa Group, Heinrich Lange, airport CEO John Irving and The High Sheriff of Merseyside, Lesley Martin-Wright, who joined the celebrations to welcome Lufthansa to Merseyside.
This new service is an important addition to the airport's list of destinations, with passengers now able to check-in at Liverpool and easily connect onwards with Lufthansa and its Star Alliance partners to a host of global destinations via their main hub in Frankfurt.
Senior representatives from the region's business and visitor economy communities were also on hand to join in the celebrations recognising the importance of this new link for businesses and the tourism industry across the city region and North Wales, now making travel between Liverpool and a host of global destinations far easier.
Many have worked closely with the airport over the years to help attract Lufthansa to Liverpool.
John Irving said: "We are delighted to see this important and strategic new route come to fruition, with Lufthansa welcomed here today by representatives of the business community and visitor economy from across the Liverpool City Region, Cheshire and North Wales.
"This route reconnects Liverpool with the world, now enabling travellers from across the region to fly to a host of global destinations via Lufthansa's seamless connections at Frankfurt, with the added advantage of all the passenger benefits of flying from Liverpool."
Heinrich Lange said: "The new connection to the heart of Europe has found its first travellers from Liverpool as we can already see good booking figures."
"We want to convince our customers from North Western England and Wales about an easy transfer at our Frankfurt hub.
"Every passenger stays in the same terminal building for their connecting flight. We offer quality and service as a Five-Star-Carrier in the air and on the ground. And we are pleased that Liverpudlians can now start their journey with us from even closer to their home or office.
"This city, known for music, football and trade, will also benefit from the global access we provide as the only network airline at John Lennon Airport."