City round-up: Co-op Bank; Rathbones; BAE Systems; James Fisher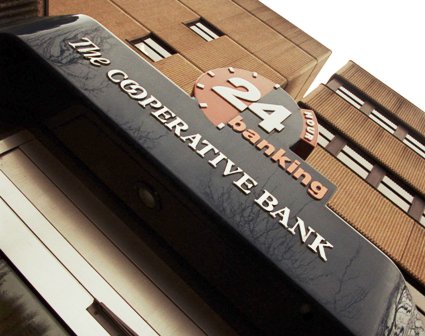 The Manchester-based Co-operative Bank announced its fifth consecutive quarter of profitability, for the period ended March 31, 2022, today.
Total income rose from £81.2m to £110.2m, and pre-tax profits jumped from £7m to £30.5m.
Mortgage balances were stable in a competitive market and the bank has a pipeline of around £900m.
Chief executive, Nick Slape, said: "Our Q1 2022 profit of £30.5m is our fifth consecutive quarterly profit and marks four quarters of sequential quarter on quarter underlying profit growth. I am really proud to report on the progress that we are making with our transformation plan and other commitments.
"In March we issued £250m of MREL-qualifying funds, the inaugural issuance under our Green, Social and Sustainability Financing Framework. I was encouraged by the number of new investors involved in this transaction, the result of the strong link to ESG commitments and the acknowledgment of the progress the bank has made in its turnaround.
"The issuance ensures good progress towards meeting end-state MREL requirements by the deadline of 1 January 2023, and is further evidence of market confidence in the bank, with pricing improved by 3pp compared to the MREL senior unsecured issuance at the end of 2020."
He added: "I would like to thank our customers and colleagues for their huge generosity and the support shown to our charitable partners in response to the ongoing humanitarian crisis in Ukraine. I was extremely proud of the speedy and decisive response to our appeals, and in our 150th anniversary year, it serves as a timely reminder of how co-operative values remain as relevant now as they were when we were first created.
"We are currently mid-way through our ambitious transformation plan to rationalise our mortgage and savings platforms and bring our mortgage servicing operations in house. These changes enable us to invest in simpler transactional journeys with an enhanced customer experience.
"The progress we have made along with the steps we are taking to improve recruitment and retention in light of the challenging environment give me the confidence that we will achieve the objectives set at the start of the year."
::
Rathbones, the Liverpool wealth management group, saw total funds under management and administration fall in its first quarter, to March 31, 2022.
The £64.7bn figure compared with £68.2bn at December 31, 2021, it said, in a first quarter update today.
There was £47.9bn in the investment management business, down from £50.3bn in the previous quarter, £12.1bn in the Rathbone funds business, compared with £13bn at December 31, 2021, and £4.7bn in Saunderson House, against £4.9bn the previous quarter.
Discretionary and managed net inflows totalled £0.3bn (Q1 2021: £0.4bn), representing an annualised growth rate of 2.5% (Q1 2021: 4.0%, Q4 2021: 1.9%).
Underlying net operating income totalled £120.5m for the three months ended March 31, 2022, an increase of 12.3% from the £107.3m in the corresponding period last year.
Speaking ahead of this morning's annual general meeting, group chief executive Paul Stockton, said: "Net operating income has been strong in the first quarter, increasing 12.3% year-on-year and 4.0% on the previous three months. Discretionary and managed net inflows were resilient in a market impacted by inflation fears and a general repositioning towards value.
"Rathbones remains focused on delivering the strategic plans we set out at our full-year results, with digital investment and the integration of Saunderson House both progressing well. There remain significant opportunities in our sector and with a strong balance sheet and clear direction, Rathbones is well placed to take advantage of future opportunities."
Phil Dobbin and Rae Maile, of analyst Panmure Gordon, said: "A complicated set of messages within Rathbones' Q1/22 performance. The good news is that overall operating income matched our £120.0m estimate with a reported income level of £120.5m.
"This did, however, rely on a spike in market volatility and hence commission income which is not necessarily sustainable. FUM was below our estimate after a particularly sharp impact from markets (-5.2%), while flows in Unit Trusts also faltered and the recently acquired Saunderson House saw a small outflow.
"The shares look fully valued to us for the performance being delivered but the company's financial adviser was willing to bid 20x prospective earnings for Brewin Dolphin. HOLD."
::
BAE Systems, the UK defence group, said its guidance for the year remains unchanged, ahead of its annual general meeting today.
It has forecast a 2-4% increase in sales, against £21.310bn in 2021, and a 4-6% improvement in underlying EBIT, which was £2.205bn in 2021.
Chief executive, Charles Woodburn, said: "Trading in the first quarter has been in line with expectations with strong order intake and good operational performance being maintained.
"Looking forward, our diverse portfolio, together with our focus on programme execution, cash generation and efficiencies, are helping us to navigate the challenging operating environment in the near term, while positioning us well for sustained top line and margin growth in the coming years, alongside accelerating our ESG agenda.
"Additionally, we see opportunities to further enhance the medium term outlook as our customers address the elevated threat environment."
In February this year BAE Systems shares soared following Russia's invasion of Ukraine as investors eye defence stocks.
Britain's biggest defence company saw its share price surge by 14% to 744.8p on February 28, after closing on Friday, February 25, at 653p.
It was a record for the FTSE 100 listed company which had seen shares go up by 25% over the past week as analysts said the Ukraine invasion had changed the outlook for European defence stocks.
The group operates factories in Warton and Salmesbury, near Preston, building military aircraft, and a submarine building facility in Barrow. It employs around 15,000 staff in Lancashire and Cumbria.
::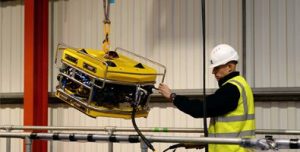 James Fisher and Sons, the Cumbrian marine services provider, issued an update ahead of its annual general meeting this morning, that revealed a slight increase in first quarter revenues of £109.9m, compared with £109.3m the previous year.
The offshore oil and tankships divisions delivered good growth against a comparator period adversely impacted by the pandemic, it said.
As expected, specialist technical revenues in the period were lower as a result of a number of projects nearing completion. Both JFD and JFN continue to work actively on the conversion of a number of significant new long term project opportunities.
Marine support revenues in the period were at a similar level to the prior year. Fendercare's higher margin ship-to-ship transfer business continues to see subdued market demand, exacerbated by the uncertainty caused by the current geopolitical environment – consequently, management is restructuring the business to reduce the cost base.
The marine contracting businesses have started the year well, underpinned by the Swordfish being fully utilised in the period. The commencement of projects won, some of which will have been delayed from the first half of the year, will ensure a good performance through the busiest summer months, it said.
The statement added: "The group remains committed to its strategy of exiting non-core businesses and expects to make further progress during 2022. The group's full year outlook remains unchanged."