People: Blackpool Airport; RSM; Kingdom Group; Clarke Willmott; Beever & Struthers; APK Group; NW Business Leadership Team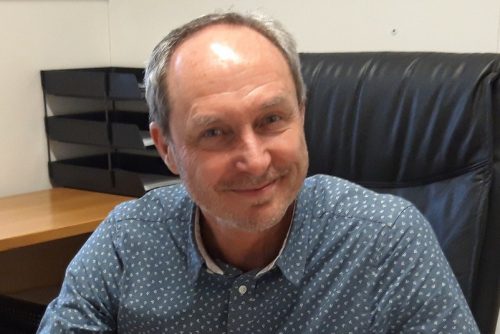 Blackpool Airport welcomes a new managing director to the team who will lead the airport into a new and exciting chapter in its history.
Steve Peters joins the team from a previous role as commercial director-Asia Pacific and board member for an aviation MRO company at its UK head office.
Originally from New Zealand, Steve was surrounded by aviation throughout his childhood with many members of his family working as cabin crew or pilots for Air New Zealand.
His career break into aviation came in the UK in the early nineties with a corporate aircraft management company, where he was responsible for aircraft sales and acquisitions. His extensive experience also includes aircraft management, remarketing and consultancy work, working with eminent companies such as Japan Airlines and Mitsubishi Corporation in Tokyo, and establishing a flight simulator company back in New Zealand.
Steve also spent time as GM-Commercial for a general aviation aircraft manufacturer where he learnt the processes, procedures and regulatory requirements involved turning 2,500 individual parts into an eight seat aircraft.
Steve said, "The role at Blackpool Airport appeals on multiple fronts, not least the opportunity to work with the airport and Enterprise Zone teams to help realise aviation growth opportunities in aircraft operations and support. The first steps will be to fully understand the challenges and potential of the airport as a business, with a view to quickly establishing strategy around how the airport can grow over the next three to five years and developing the plans and timelines to deliver on that strategy.
"My partner and I are excited about the relocation and can't wait to get settled on the Fylde Coast to start exploring the surrounding area and attractions, the local national parks and coastal walks. Taking in the atmosphere at Blackpool FC at Bloomfield Road is a must, as well as enjoying the arts and theatre, restaurants and village pubs in the area."
Cllr Gillian Campbell, chair of BOAL (Blackpool Airport Operations Ltd) said: "After successfully transferring the CAA licences back under the control of the airport in November last year, the airport has been eagerly anticipating Steve's appointment as the final piece of the puzzle to kick start the airport's new independent journey, and we are delighted to welcome Steve to the team. We chose Steve for the position as we believe he has the right skills, experience and enthusiasm to lead the airport towards a brighter, more profitable, sustainable future as an important strategic transport hub for Lancashire."
::
RSM UK has appointed a prominent sustainability expert in Manchester to further enhance the firm's growing Environmental Social & Governance (ESG) practice.
Kathy Hobbs joins RSM from NorthEdge Capital, a mid-market private equity firm, where she was head of ESG with responsibility for monitoring developing ESG regulation, embedding ESG into the investment process, portfolio data management, and accurately reporting on progress.
With more than 10 years' accounting experience working in practice at PwC, and various industry financial reporting roles including at Thomas Cook Airlines and The Peel Group, Kathy has specialised in sustainability and brings a wealth of ESG expertise to the team.
In addition, she has recently completed an MBA at Alliance Manchester Business School focusing on sustainability, and is alumni from Cambridge University's Business and Climate Change Leadership Programme.
The appointment demonstrates another significant moment for RSM to strengthen and expand its ability to offer ESG advisory to UK middle market businesses following the recent appointment of Karl George as head of governance and Rich Hall as head of sustainability.
Rich Hall, partner and head of sustainability at RSM, said: "The ESG impact that middle market businesses have in their industries and communities is becoming increasing more important. Investing in key talent, like Kathy, is central to our long term strategy to ensure we are well placed to help clients navigate this business critical issue, and it's great to welcome Kathy to the ever-expanding team."
::
Jaimie Potts has been appointed sales and commercial director of Kingdom Group, and will be based in Newton-le-Willows.
It's the latest in number of senior appointments for the facilities management and people services provider, as it embarks upon its next phase of growth.
Jaimie brings with him to Kingdom Group more than 25 years' experience of business development and commercial and strategic account direction, having worked for several companies including Bidvest Noonan and Cordant Group.
The appointment has been made as Kingdom Group continues to invest in UK facilities management and recruitment industries – and broadening the many sectors in which it already operates – through organic growth, acquisition and the recent launch of Kingdom Integrated Solutions.
This new offering brings together all of the services offered by Kingdom Group's 10 companies under one provider.
Kingdom Group is one of the UK's largest privately run companies and employs more than 7,000 people. It provides a full range of facilities management and recruitment services, including security personnel and technology, cleaning and hygiene, recruitment and training, from its eight nationwide offices.
::
National law firm Clarke Willmott has announced its 2022 promotions list which includes several Manchester-based lawyers.
Matthew Dootson, a corporate lawyer, and construction lawyer Harriet Atkin have been promoted to senior associate, while family lawyer Emily Finn becomes an associate.
Across the firm's seven regional offices two lawyers were promoted to partner, eight to senior associate, and seven to associate.
Clarke Willmott CEO, Stephen Rosser, said: "Developing our people is absolutely fundamental to us as a business. The great service that we can provide to our clients is only possible due to the great people we have within the firm, and this has become even more critical as we embrace flexible ways of working.
"Whether our staff began their careers with us or joined at a more advanced level we are committed to training and developing our talent."
Clarke Willmott is a national law firm with offices in Birmingham, Bristol, Cardiff, London, Manchester, Southampton and Taunton.
::
Chartered accountants and business advisors Beever and Struthers has appointed Dalvir Singh Syan as senior manager and Reventi Jesani as service charge manager to support the firm's growing risk, audit and assurance department nationwide.
The expansion of the department is further evidence of the success of the firm's overall housing and not-for-profit (NFP) division in the past two years, it said. Following a 10% increase in income and enjoying ongoing growth, the NFP division now consists of 70 dedicated colleagues delivering a wide range of services to clients.
Dalvir joins Beever and Struthers having trained with a Big Four accountancy firm, specialising in audits of international banks and financial institutions and following a role working for a financial brokerage organisation.
Reventi joins the firm following nearly 20 years of working in the specialist area of property service charges, working with local authorities and two of the largest housing associations in London. Reventi will provide specialist services to clients including service charge examinations, internal audit and specialist assignments such as reviews of systems, recovery processes, benchmarking, procurement, consultation, and value for money.
The firm is based in Manchester and had an office in Blackburn. Michael Tourville, partner and national head of service charges at Beever and Struthers, said: "Securing the specialist services of Dalvir and Reventi will further strengthen our risk, audit and assurance team.
"Dalvir's extensive financial services expertise can assist clients with the myriad of financial reporting required as their treasury arrangements continue to become increasingly complex. Reventi's service charge knowledge provides the technical expertise required to ensure our clients stay abreast with the latest changes such as the impact of the Fire Safety Act 2021 and the Building Safety Act 2022."
Maria Hallows, executive partner and head of social housing at Beever and Struthers, said: "Our recent appointments and wider recruitment drive prove our commitment to identifying and nurturing talent and having the highest ambitions for our staff and our clients. It's a pleasure to welcome Dalvir and Reventi to the firm."
::
North West construction support services group APK has appointed Elliott Harrison Holt as its new group managing director to further its expansion.
With a turnover of £15m, the group operates throughout the North West with sites in Cumbria, Lancashire and North Wales under the APK, GTR Aggregates and Recycling, Think Recycling and Able Skips brands.
The business has developed a reputation for providing end-to-end services in the construction sector that range from demolition, plant hire, transport, aggregates, and recycling.
More recently, the business has grown via acquisitions of recycling and waste management operations in Bagillt, Leyland and Lancaster, enabling the group to expand its offering in sectors dependent on efficient waste management operators.
Elliot joins APK from Recycling Lives, where he was managing director of its waste management division. He is also a member of Business in the Community's North West Leadership Board.
He said: "APK has rapidly grown to be one of the leading construction support services companies in the North West with ambitious plans to continue growth organically and through acquisition. I am privileged to join a family-owned business that has already demonstrated it can grow at scale."
::
The North West Business Leadership Team (NWBLT) has welcomed Steve Coffey as a new member.
Steve is the chief executive of Torus, the region's largest affordable housing provider, which owns and manages around 40,000 homes in Warrington, St Helens, Liverpool and beyond.
Chairman of the North West Business Leadership Team, Jonathan Murphy, said: "I have been keen to ensure that the vital role that affordable housing must play in the future sustainable growth of the region is recognised at the heart of our work – from driving forward the skills agenda through to our journey to net zero.
"Torus are a significant player in this space, and Steve brings a wealth of personal expertise with him, that will add great value to us. I am very much looking forward to working with him and his team."
Steve said: "I look forward to working with the team to share ideas and drive forward opportunities for growth and levelling up. Torus is a key investor and catalyst for change in the North West and will play a huge contribution to developing future sustainable places and capturing new jobs and future skills through strong partnerships.
"With the value and expertise of NWBLT colleagues, Torus will be able to enhance these opportunities and support the growth of a prosperous, green and vibrant North West."
A number of new representatives of member organisations have also joined the team. They are Michael Bradley and Vanessa Harding.
Michael is a senior leader in IBM with more than 20 years of experience at the company. His leadership roles in IBM have enabled him to work in its software development labs, emerging technologies, research and services businesses.
This has given him a deep and broad business understanding within the technology industry. He has led small, agile internal start-up teams for new products and large global operations teams. He is a member of IBM's Leadership Faculty, helping to coach and train the next generation of IBM'ers. He has a research background in biochemical engineering, a passion for new technologies and enabling clients and IBMers to succeed.
Vanessa is a managing director in Accenture's strategy & consulting banking practice and has spent the past 15+ years focused on shaping and delivering large scale business and technology transformational change across a range of banking clients.