Bentley unveils its Bentayga Extended Wheelbase model in nine-figure investment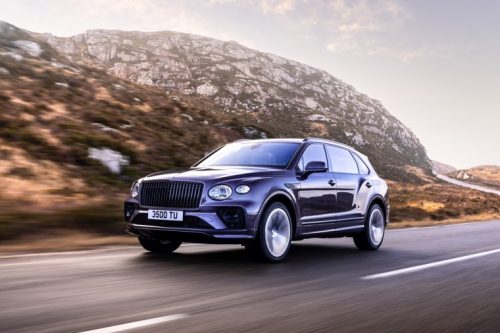 Luxury car maker, Bentley, has unveiled its new Bentayga Extended Wheelbase model, which it describes as a new 'grand touring SUV' that builds on the strengths of the Bentayga to become a new luxury flagship, extending the latest product range to five models.
The vehicle is the result of a nine-figure investment by Bentley at its Crewe manufacturing site to create a new model that provides the best rear cabin experience since the Mulsanne vehicle, while, the car maker says, retaining the Bentley hallmarks of effortless performance, exquisite handcraftsmanship and endless personalisation.
It adds that the success of the Bentayga defined and enabled the growth of the luxury SUV market since the first unveiling in 2015.
The Bentayga remains Bentley's best selling model, and the car manufacturer says it has become the benchmark against which other luxury SUVs are measured.
In 2021, Bentley achieved record sales of 14,659 cars, a 31% growth over the previous best from 2020 – and the Bentayga accounted for just over a third of this volume.
The global luxury SUV market continues to expand, with the forecast increasing towards the end of the decade across all regions. However, this is not the same for the E-segment, which has been declining. The Bentayga Extended Wheelbase has the potential to raise the ceiling of the D-segment, as one of the spiritual successors to the Mulsanne.
The Extended Wheelbase will be responsible for up to 45% of all Bentayga sales when the car goes on sale later this year. The Bentayga will, therefore, remain Bentley's number one model, and the most successful and in-demand luxury SUV in the world.
The new Bentley Airline Seat specification is the most advanced seat ever fitted to a car, with 22-ways of adjustment and world firsts in a new auto climate sensing system and postural adjustment technology.
In Relax mode, the seat can recline to 40 degrees, whilst the passenger seat is motored forwards and a beautifully leather-trimmed footrest deploys from the back of the front passenger seat. In Business Mode, the seat moves into its most upright position to make working on the move more comfortable.
Adrian Hallmark, chairman and chief executive of Bentley Motors, said: "The Bentayga Extended Wheelbase is our first car truly dedicated to the onboard wellness of its occupants. Every Bentley gets you to your destination feeling more relaxed than when you started your journey, and yet with the Extended Wheelbase we've been able to go even further thanks to the adoption of world first wellness technology embedded within our unrivalled interior cabin design.
"In combination with the incredible skills of the craftspeople at our carbon-neutral factory in Crewe, these advances make the Bentayga Extended Wheelbase the ultimate luxury SUV to drive or be driven in."