People: Merrick; HLF Berry Solicitors; North West Cyber Resilience Centre; Vertex Hydrogen; Castle Green Homes; Banc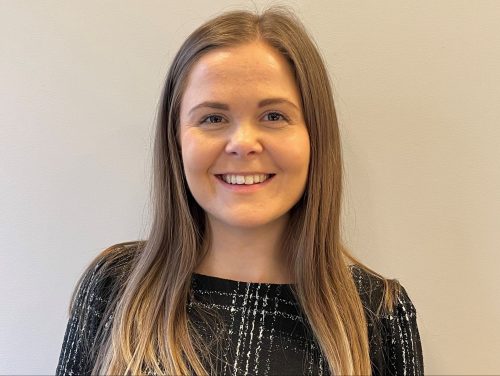 Solicitor Molly Souter has returned to Manchester-based Merrick – the place where she first got a taste for family law.
Molly is using the experience she has gained to help clients make a fresh start.
Molly said: "What I have always liked about Merrick is they do things differently. We have that personal touch – it's more than just having a call with a client and advising them."
The Merrick team is continuing to roll-out its offer of three service levels – Prestige, Benchmark and AccessUs.
Molly said: "We provide different service levels based on a client's financial circumstances. Access Us is like a Legal Aid rate – which isn't available for most cases of divorce – and enables us to help people where money is tight."
Principal, Amanda Merrick, said: "Molly is making a real difference in helping our clients. She understands what an impact divorce has on all aspects of people's lives and is very keen to use her knowledge and training to do her best for every client."
::
Jamie Cahill, of HLF Berry Solicitors which has offices in Chorlton, Manchester city centre and Failsworth, has successfully completed his training contract to become a newly qualified solicitor.
Admitted to the roll of solicitors, Jamie qualified in April this year after completing his formal training contract with the firm. He will now continue to work alongside and to learn from experienced solicitors Paul Hannam, Robin Burman, and Paul Citron at the Chorlton office.
Jamie said: "It's not been an easy journey, but I couldn't be happier.
"All the hard work and long hours, studying whilst working for many years, have been more than worth it. I've been lucky to have had the amazing support of my partner and two young boys, as well as such supportive colleagues at HLF Berry."
Jamie started studying with the Open University in 2013, working alongside so he could gain valuable practical experience. In 2015, he started work experience at HLF Berry's Failsworth office and from there he spent more time learning at the firm, splitting his time between the Failsworth and Chorlton offices.
He graduated in 2019 with a First-Class Law Degree from the Open University and was offered a training contract with the firm, which then supported him through his Legal Practice Course (LPC) at the University of Law in Manchester.
The COVID pandemic meant the start of his formal training contract was delayed and he completed his LPC via long distance learning while on furlough, gaining a Masters in Law, Business and Management with distinction in 2020, before returning from furlough to HLF Berry's Chorlton Office to expand his experience of many areas of law including property, private client work, commercial work and family matters.
Paul Hannam said: "We're delighted that Jamie has qualified and are very proud to appoint him as a solicitor within our team at our Chorlton office. He has made a big impression on our teams across the firm and on clients during the course of his training contract, and shown huge commitment to his chosen career in law and to our firm by studying whilst working throughout."
::
Two senior police officers have been appointed as company directors for the region's Cyber Resilience Centre (NWCRC).
Assistant chief constable Jo Edwards and detective superintendent Paul Denn have both been appointed as directors to carry on the organisation's mission to help prevent cybercrime within businesses in the region.
Additionally, detective chief inspector Chris Maddocks has also joined the team to work within the NWCRC for two days per week.
ACC Edwards joins the team from the North West Regional Organised Crime Unit (NWROCU) and brings more than 28 years of experience to the table, having worked across a diverse range of roles in policing including major and serious crime, counter-terrorism, covert policing, criminal justice, forensics, digital and public protection.
Det Supt Paul Denn, head of operations at the NWROCU, will help further align the specialist knowledge, skills and capabilities of the Regional Cyber Crime Unit and Regional Cyber Protect Officers to the mission of helping to protect businesses from cybercrime.
ACC Edwards said: "I look forward to working together with partners across the region to tackle the current cyber threats in the North West."
Det Supt and outgoing NWCRC managing director, Neil Jones, said: "It has been an absolute honour to have founded and led the centre since 2019 and to see the organisation grow to a regional capability, with the full support of the North West regional police forces.
"2022 is an exciting time for the centre, following the launch of our fully-funded business resilience programme, we have already helped over 160 small businesses within Greater Manchester, giving them access to training and resources which help protect their businesses and educate business owners against current cyber threats."
The NWCRC was set up in Greater Manchester in 2019 as a national pathfinder to support businesses in the region with the growing threat of cybercrime and online fraud. Based on its success, it was expanded to cover the North West and rolled out to other regions across England and Wales and included in the HM Government National Cyber Strategy 2022. The NWCRC now has more than 500 members and continues to grow year on year.
::
Vertex Hydrogen, the organisation developing the UK's first and largest low carbon hydrogen production hub, has appointed Joe Seifert as its chief executive. He will also join Vertex's board of directors.
The appointment follows the launch of Vertex in January as the business rapidly mobilises to deliver a strategically important asset as the UK implements the British Energy Security Strategy, announced by government last month.
Vertex will develop its hydrogen production plants at the Stanlow manufacturing complex in Ellesmere Port and will begin producing low carbon hydrogen from 2026. Once operational, the new hub will supply 1GW of low carbon hydrogen to Essar Oil UK and to major North West and North Wales businesses. This is equivalent to the energy use of a major UK city such as Liverpool.
Joe Seifert brings more than 20 years of commercial leadership including advising and financing some of the world's leading companies across multiple sectors, including energy, finance, infrastructure and technology.
He said: "It's extremely exciting to join Vertex. The organisation is at the forefront of the UK's energy transition, delivering the UK's first large scale, low carbon hydrogen facility. Vertex will have a real and near term impact on national carbon reduction targets as well as helping to secure and grow industry and jobs in the North West. We are now moving rapidly to progress the project and look forward to working with our partners to deliver."
Prashant Ruia, chair of Essar Oil UK, said: "We are very pleased with Joe's appointment, which underlines the importance of Vertex Hydrogen in Essar's plans to build a major energy transition hub at Stanlow. Alongside Vertex Hydrogen, we are developing projects in refinery decarbonisation, biofuels and new energies logistics. We plan to convert Stanlow, Britain's second largest refinery, into the leading post-carbon cluster to help deliver Britain's future energy transition plans."
::
Norman Kelly has been promoted to technical director at Castle Green Homes after just 12 months with the business.
Norman, who has almost three decades of experience, has helped transform the way the homebuilder approaches its developments.
He said: "I was brought in to develop the technical team and have actually recruited two teams – one at St Asaph covering North Wales and the other at our North West office in Preston Brook. Between them they cover a wide variety of engineering disciplines including geotechnical, structural and drainage.
"Going forward, the biggest challenge will be dealing with the growing number of new sites that we are progressing through the planning process and ensuring that we can start on site as soon as possible, while also making sure that current sites are finished in the right way to a very high standard."
Norman, 50, from Runcorn, started his career as a civil structural designer, and held roles including design engineer, senior engineer, engineering manager and technical manager prior to joining Castle Green last year.
Gwyn Jones, Castle Green chief execiutive, described Norman's appointment as "one of the most impactful" of the past 12 months, noting his "incredible people skills" and leadership.
Gwyn said: "Norman has been a great addition to the team and has made a fantastic impact on the technical side of the business since joining us. He has built an incredibly strong and knowledgeable technical team, who have already had a profound influence on the delivery of our developments.
"The business has acquired over 2,000 homes worth of land in the last two years and I'm confident that Norman and his teams will find the best technical solutions to fulfil our growth strategy."
Currently Castle Green has developments in Dyserth, Denbighshire, and Warrington, Cheshire, with new sites coming soon to Penyffordd and Wrexham, in North Wales, Thornton, North Liverpool and Daresbury and Congleton, in Cheshire.
::
To support its ambitious growth plans and evolving strategic offering, Manchester-based digital marketing agency Banc has appointed its first non-executive director in Fabrice Rodrigue.
Rodrigue has 20+ years' experience working in top-tier management consultancies including Ernst & Young, Atos, KPMG, Chaucer Consulting and Accenture. Over the years, he's led, shaped and delivered numerous complex large scale transformation programmes for a variety of blue chip and FTSE 100 companies.
Hue said: "I'm very much looking forward to working with Banc, supporting their go-to-market propositions and making Banc's services even more relevant in supporting their clients' marketing transformation journeys."
Martin Cozens, managing director at Banc, said: "The pandemic forever changed the way marketing teams and agencies operate, but with challenging comes opportunity. More than ever we are acting in a consultative capacity, in partnership with our clients to ensure that their digital marketing activity is closely aligned with their short, medium and long term organisational goals.
"With Fabrice's wealth of knowledge and experience at our disposal and our expert product teams in place, we're better equipped than ever to navigate complex marketing briefs."
Jonathan Branney, strategy director at Banc, said: "Fabrice brings to Banc decades' worth of experience in business strategy and transformation consulting, which adds enormous value to both our own proposition and client outlook.
"In a competitive landscape where brands and businesses are facing greater market pressures than ever before, the need for digital marketing transformation has never been more apparent."