People: TVD Group; Lichfields; Preston Markets; Shakespeare North Playhouse; GM Active; PM+M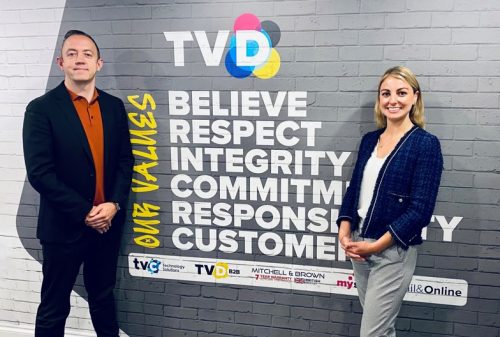 Bolton-based audio visuals solutions business TVD Group has announced a new senior leadership structure as part of its ambitious growth plans.
As well as the internal restructure, TVD is investing significantly in the business, with an expansion to its Bolton HQ including a new showroom showcasing the latest technology available to the industry. As part of the new structure, company co-founder, Matthew Brown will be taking up the role of CEO and will continue to lead corporate decisions and oversee the business.
Lucia Maguire has been appointed managing director, having worked for the business as head of strategy for almost three years. Lucia, who was previously an executive director for a UK tour and hotel operator, has taken on responsibilities in many areas of the business during her tenure, and in her new role will work to oversee business performance, daily operations and help to formulate and facilitate the achievement of TVD's ambitious strategic aims.
Mat and Lucia continue to be supported by directors Daniel Brown and Christopher Whitlock as well as the established senior management team. Going forward they intend to develop initiatives that provide greater employee involvement and engagement in the business.
Lucia said: "We are striving towards another record year of revenue, which is by no means an easy task in the current financial and geopolitical context, so a continued team effort and business resilience will be vital in creating TVD's success."
Within the first quarter of 2022, TVD Group has recruited six team members to the business including the appointment of Matthew Holloway as finance director, a new role within the company. As the newest member of the senior executive team, Matthew is responsible for overseeing the group's financial activities and financial planning as well as identifying and implementing financial process and system improvements.
::
Planning and development consultancy Lichfields has appointed Rebecca Caines as new senior director in its Manchester office as it marks its 60th anniversary year and continues to see strong growth.
Rebecca comes from developer Knight Dragon where she was head of planning and instrumental in driving forward one of the UK's most ambitious mixed-
use developments on the Greenwich Peninsula in London, which includes 17,000 new homes.
She is no stranger to Lichfields, having previously worked there for six years, and prior to that she worked at RPS Group. She brings a wealth of expertise in major regeneration schemes, tall buildings, and high density development.
Rebecca said: "I look forward to helping the Manchester office go from strength to strength and working in a fantastic city. It's a very exciting time to be re-
joining Lichfields."
The Manchester office works with many of the leading housebuilders, commercial, leisure and retail developers as well as funds and property owners.
Chief executive, senior director, James Fennell said: "Our Manchester office is a very busy one and the levelling-up agenda means we are confident that will remain the case. Bringing Rebecca in gives us extra senior level resources and fantastic major project experience. Her developer and investor know-how will appeal to our clients."
::
New Preston Markets manager, Mark Beck, has taken up his new role.
With nearly 20 years' experience managing several markets in and around Wigan, Mark brings a wealth of invaluable knowledge.
He said: "I am thrilled to have been appointed as Preston's new markets manager. Preston has a rich history as a market town, and it is a privilege to be able to contribute to and help shape the future of Preston Markets.
"Markets are the oldest form of exchange and deliver many benefits, not just economically but also the social values and community cohesion that they encourage.
"I think markets are great places for local businesses to try out new ideas, a hub for groups to engage with their communities and for performance areas, to entertain and showcase talent."
Cllr Robert Boswell, cabinet member for environment and community, said:  "I am thrilled that we have appointed someone with Mark's abilities, ideas, and wonderful attitude."
::
Six of figures in arts, culture, business, tourism and media have been appointed trustees of the charity behind the new Shakespeare North Playhouse set to open this summer in Knowsley.
ACC Liverpool managing director Faye Dyer, creative consultant and inclusion champion Saphena Aziz of charity Curious Minds, and digital visionary Jon Corner, have joined the board of the Shakespeare North Trust.
Alongside them are arts regeneration guru Peter Mearns, who is also chair at Liverpool Bluecoat and Chester Storyhouse, former Liverpool Echo editor Alastair Machray, and Sheena Wrigley, venue director at The Factory – Manchester International Festival.
The new appointments come as the new £38m Shakespeare North Playhouse, home to the only 17th-century 'Cockpit" theatre outside London, is set to open its doors with a weekend of festivities on July 15-17.
Highlights of a spectacular opening programme at the stunning new venue, anticipated to attract more than 140,000 visitors a year to the region, include A Midsummer Night's Dream, A Christmas Carol, and 'Evenings with' Johnny Vegas, and Jimmy McGovern.
Shakespeare North Trust is chaired by former Liverpool Vision boss Max Steinberg. The new appointments complete a board now of 15 trustees, who, together, will support the vision for Shakespeare North Playhouse as a catalyst for economic regeneration, community engagement, education and developing a new generation talent.
Chair of trustees, Max Steinberg, welcomed the new trustees, saying: "Their commitment to Shakespeare North Playhouse is a resounding endorsement of the venue's power to help regenerate the regional economy, engage communities, and transform lives through the arts."
Chief executive at Shakespeare North Playhouse, Melanie Lewis, said: "We are privileged to have such incredible leaders on the board. Their expertise in business, culture, tourism and the arts will help take the vision for Shakespeare North Playhouse to the next level."
The six new trustees join the existing board made up of Max Steinberg, Chris Brown, Coral Cameron, Mike Harden, Leann Hearn, Ian McCarthy, Sue Platt, Julie Sanders, and Nicola Winn.
Shakespeare North Playhouse is inspired by Prescot's historic connections to William Shakespeare and a love of storytelling. In addition to providing a world class attraction, its mission is to become an exciting new destination that the Prescot community can proudly call their own.
::
Leisure industry collective, GM Active, has announced the appointment of a new head of business operations.
He is Jon Keating, a director and vice chair at Active Tameside, one of the 12 leisure and community organisations that make up GM Active, a not-for-profit Community Impact Company whose members manage the majority of the publicly-owned leisure and physical activity assets and services on behalf of Greater Manchester's 10 local authorities.
Jon replaces Chris Turner, who has taken up a role with Brio Leisure, which runs leisure, fitness and entertainment facilities in Cheshire and the Wirral.
Stockport-based Jon said: "When I came to Greater Manchester, it was only ever meant to be for the summer to watch the Commonwealth Games. Two decades later, and with lots of career, voluntary and personal life experiences behind me, I'm excited by the opportunity to bring the GM Active vision and strategy to life in an area I call home. An opportunity to reduce health and wellbeing inequalities, and support and encourage active lives."
Jon, who holds a BSc in Sports and Exercise Science, began his career as swimming development officer at Stockport Sports Trust – now Life Leisure. He later became regional development director with the Swimming Teachers Association before joining the Amateur Swimming Association (ASA) as school swimming advisor.
While at the ASA, Jon moved on to become aquatic officer and then programme manager for club development before becoming club development director at Swim England.
::
Blackburn and Bury-based PM+M, the chartered accountancy, business advisory and financial planning group, has named two new partners following its latest round of promotions.
James McIntyre has been promoted in the financial planning team. He joined the firm in January 2021 as a director.
Over the past 17 months, he has helped build the team's client base of private individuals, businesses and business owners while also focusing on providing a range of strategic financial planning and investment management advice to its existing clients. James joined PM+M from Mattioli Woods, previously Taylor Patterson, where he was a senior consultant.
The second partner promotion is Wendy Anderson who was appointed as director of private client tax in December 2017.
Since arriving, she has offered clients expert advice on personal tax compliance and tax planning as well as guiding them through changing legislation, new planning opportunities and how to minimise tax liabilities. She also provides probate advice and works closely with the financial planning team to provide an overall private client offering for individuals and trusts.
Jane Parry, managing partner, said: "Over the past couple of years, James and Wendy have added real value to their clients and colleagues. Their professionalism, expertise and drive have shone through so the promotions are very well deserved.
"PM+M is focused on investing in the talent we have, which means it is always fantastic to make these kinds of promotions as our people are the backbone of the business."
Wendy said: "PM+M is a forward thinking, client-first firm so myself and James are delighted to become partners as we share its vision of being the best North West firm of finance professionals. Becoming a partner is a big milestone in both our careers, but our collective focus will remain firmly on delivering for our clients and being a central part of PM+M's ongoing growth."