New Manchester Airport managing director announced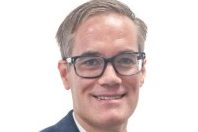 Manchester Airports Group (MAG) has announced its new managing director for Manchester Airport is Chris Woodroofe, who was previously chief operating officer at London Gatwick Airport, from 2016-2020.
His appointment follows the resignation of former Manchester Aiport MD, Karen Smart, who stepped down in April following weeks of travel disruption at the site leading to passengers missing flights due to delays in the security functions.
Mr Woodroofe oversaw a step-change in passenger experience and a major programme of operational improvements at Gateick. Prior to that, he held a number of senior roles at the airport, including in customer service, security and engineering.
He joins from Chevron Traffic Management, where he had overall responsibility for operational performance and driving growth.
Chris, who is originally from Widnes, will start in his new role on June 15, and will be supported by Ian Costigan who will continue to oversee the airport's operational functions, having been interim managing director since April.
Chris Woodroofe said: "I look forward to working with the team to lead its recovery and drive the airport forward as the North's global gateway.
"With the airport's new Terminal 2 facilities and huge opportunities to attract new routes that enhance the North's international connectivity, this really is an exciting time to be joining Manchester Airport.
"Having taken my first ever flight from Manchester Airport as a child, I am looking forward to relocating back to the region and can't wait to get started."
MAG's deputy chief executive, Ken O'Toole, said: "It is great to have someone with Chris's aviation experience joining us as MD of Manchester Airport.
"We want customer service to be at the heart of everything we do, and with Chris leading the recovery, we've got the right team in place to deliver on that commitment."
In an open letter following Ms Smart's departure, MAG chief executive Charlie Cornish said: "I cannot apologise enough for the disruption people have faced. We are proud of our role as the UK's gateway in the North, and as a major source of employment and economic value for the region. We will be back to where we need to be soon, and are working as hard as we can to get there as quickly as possible."