Golf group targets fast-growing women's participation by rolling out ladies' range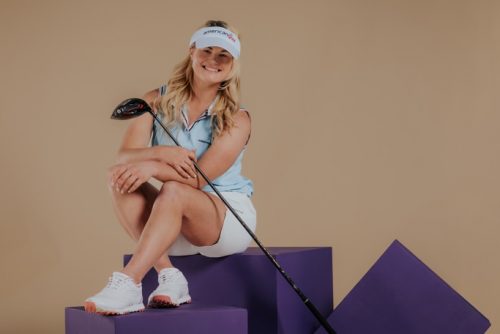 Warrington-based American Golf is responding to a huge increase in women now enjoying the game by rolling out its ladies' range to all its 95 stores across the UK and Republic of Ireland.
The male to female ratio of UK golf participation changed dramatically in 2020 as the number of women taking to UK golf courses more than tripled during the outbreak of the COVID-19 pandemic – a rise which saw nearly 1.5 million ladies playing at least one full round of golf that year.
Prior to the pandemic, female golf participation in UK golf was estimated to be 12-14%. Since the pandemic, this figure has doubled to 28%, and 95% of the 830,000 women who tried golf for the first time in 2020 said they will continue playing golf.
Stromberg and Greg Norman apparel, including skirts, gilets, midlayers and footwear, will feature in a dedicated section in each store. New SS22 The Open Collection, an officially licensed range inspired by The Open Championship, is also available for females in stores, as well as online.
American Golf, part of International Leisure Group, has demonstrated its drive to encourage more women into the game with support of women's golfing event, Rose Ladies Series.
Kate Rose, Justin Rose's wife, founder of the Rose Ladies Series and Inclusivity Ambassador at the new Justin Rose Academy which operates from American Golf sites, welcomed the move, saying: "We look forward to welcoming many of these golfers to the Justin Rose Academies over the coming months and showcasing the fun you can have with the sport."
Gary Favell, CEO of American Golf, said: "Adding ladies' golf clothing into all our stores is a natural progression for us and a positive sign that more females are playing the sport.
"We've been committed to bringing more women into golf for years, proven with our support of pro-golfer Carly Booth and golf influencer Mia Baker, as well as sponsoring events, including the ISPS HANDA World Invitational and Rose Ladies Series.
"We've chosen an accessible collection to offer everything a golfer needs, whether complete beginner or seasoned pro and we hope this encourages even more females into the game."