Orders boost for Airbus wing-making plant with latest easyJet announcement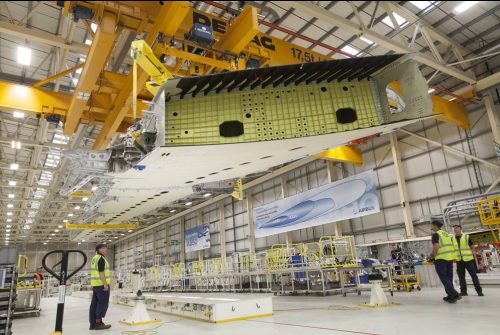 The Airbus wing-making plant at Broughton, near Chester, has been handed an orders boost with news today (June 21) that budget airline easyJet is set to buy a substantial number of new aircraft.
The carrier is proposing to acquire 56 Airbus A320neo (new engine option) family aircraft as well as the conversion of 18 A320neo family aircraft to 18 A321neo aircraft. The 18 A320neo aircraft are planned for delivery between fiscal years 2024 and 2027.
Broughton makes wings for all Airbus commercial aircraft.
At the latest list prices for Airbus aircraft, the aggregate purchase price would be approximately $6.5bn, but easyJet said the actual price will be "very substantially lower" because of price concessions granted by the manufacturer.
The proposed purchase firms up easyJet's order book with Airbus to calendar year 2028, continuing the company's fleet refresh, as the 156-seat A319s and older A320s (180- and 186-seat) leave the business and new A320 (186-seat) and A321 neo (235-seat) aircraft enter, providing up gauging, cost and sustainability enhancements to the easyJet business.
This latest purchase will provide easyJet with certainty of aircraft supply, enable it to maintain operational scale, benefit from new generation technology and new aircraft size, as well as offering sustainability benefits.
Johan Lundgren, easyJet chief executive, said: "The proposed purchase firms up our orders with Airbus between FY 2026 and FY 2029, continuing the company's fleet refresh, as the older A319s and A320s leave the airline and new A320 and A321 neo aircraft enter, providing benefits to easyJet through up gauging, cost efficiencies and sustainability enhancements.
"We believe this will support positive returns for the business and the delivery of our strategic objectives."
Airbus currently employs around 4,500 staff at Broughton, which suffered around 1,500 job cuts at the height of the pandemic which grounded the world's airlines.
However, last month it said it will create up to 550 jobs at Broughton, as part of a £100m investment, and hundreds more jobs could be in the pipeline if the manufacturer wins a UK Government tender for a new fleet of military helicopters.