People: C&C Catering Equipment; SpectrumX; NSCG; For Aisha; MHA Moore and Smalley; Hattrick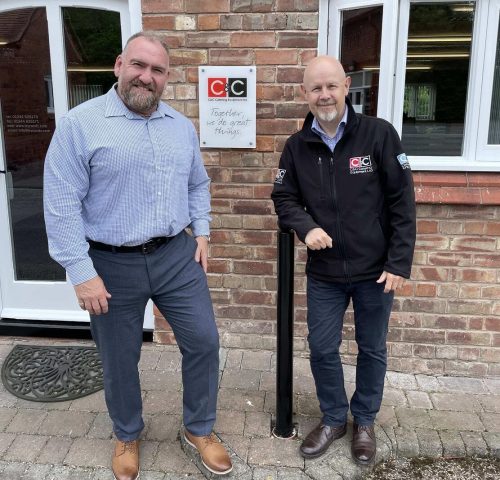 Chester-based C&C Catering Equipment has welcomed Chris Smart to the team. He joins the growing family-run business as health & safety manager.
Following recent expansion within the team and its projects, Chris will play an important role in effectively managing health and safety aspects for existing and upcoming schemes.
As well as being NEBOSH and IEMA qualified, Chris also holds IOSH (technical level) and PIEMA (practitioner level) professional memberships and brings with him a wealth of experience, including implementing ISO9001, ISO14001 and ISO45001 (formerly OHSAS18001) into multiple companies for more than 25 years.
Additionally, Chris has worked within the utilities, construction, fibre deployment and manufacturing industries, and has experience working with certification bodies such as Achilles, SafeContractor and CHAS.
He said: "I am very much looking forward to joining the team, working with everyone and bringing my experience and enthusiasm to support C&C and help develop the HSEQ management systems to become best in class."
C&C's managing director, Peter Kitchin, said: "Chris brings with him a hands on style and ability to work at all levels of the business with a collaborative approach and will play an important role in us adopting change in a positive manner."
::
SpectrumX, a Knutsford-based healthcare and pharmaceutical company, has strengthened its senior management team with Dr Donna Lockhart joining as head of medicines consultant and Greg Whelan being appointed as group sales director.
These newly-created roles will support the company's growth as it progresses towards clinical trials and the commercial launch of its non-pharmaceutical products.
Dr Lockhart brings more than 30 years' experience in the pharmaceutical industry, including having been medical director at Pfizer and global director of regulatory and medical affairs at Reckitt Benckiser. In the role of head of medicines, Donna is responsible for SpectrumX's clinical programmes, including directing the SPC-069 clinical trial, which is due to commence in the coming months.
Greg Whelan's career in the healthcare sector spans more than 20 years with senior sales positions at blue-chip organisations such as GlaxoSmithKline, MSD and Omnicell as well as SME consultancies. Greg is responsible for leading sales strategy and supporting sales delivery for the company's Spectricept line of sanitisers – a product range aimed at hospitals and health facilities, businesses and retailers – and, following the receipt of regulatory approval in due course, its pharmaceutical products.
Damien Hancox, CEO and co-founder of Spectrum X, said: "With our upcoming pharmaceutical clinical trials and launch of our non-pharmaceutical products, the addition of Donna and Greg will be of great value to SpectrumX.
"Donna's proven expertise in clinical drug development will be instrumental in ensuring that we are best positioned for success while Greg has an impressive record of aggressively growing sales. We look forward to benefiting from their experience as we continue to progress towards bringing our products to market."
::
Leadership and organisational development expert Tom Dempster has joined people advisory firm New Street Consulting Group (NSCG) from City Football Group.
Tom joins NSCG as a director in its recently opened Manchester office, after four years at the parent company of the Premier League champions Manchester City FC.
During his time with City Football Group, Tom held the role of director of organisational development. This involved the development of the group's strategic operating model and aligned structures and processes, with a focus on enabling the efficient operations of the group's 11 clubs and supporting further growth.
Tom will draw on this experience in his new role as a director within NSCG's talent consulting team to support organisations across Manchester and nationwide with the strategic development of workplace culture, structure and process.
Prior to City Football Group, Tom previously held senior consulting roles with management consulting firm Korn Ferry, as well as with Manchester City Council. He said: "My experience of working with both private and public sector organisations will prove extremely valuable in my new role.
"We're living in strange and unpredictable times. This can be challenging for leadership in terms of engaging, motivating, and retaining the very best talent. However, uncertainty also encourages forward thinking organisations to diversify, flex their operations and innovate.
"There's huge opportunity for organisations to drive real transformative change and deliver new value for their people and customers. I'm looking forward to working with my colleagues from across NSCG to support clients to achieve this."
NSCG opened a new office in Manchester city centre in May 2022, to support its national growth plans. CEO, Doug Baird, said: "Being in Manchester provides us with a firm footing to soak up the city's entrepreneurial, anything's possible attitude. Tom joining NSCG really epitomises this. He brings an admirable wealth of organisational development experience and insight, which really is at the forefront of modern thinking.
"Tom perfectly complements the team and he'll strengthen our resolve to provide organisations across Manchester and nationally with effective, thought-provoking solutions."
::
For Aisha, the pioneer of halal baby food, has announced ambitious new growth plans, with a target of reaching £10m turnover by 2026, after appointing three new company directors.
The For Aisha team recently expanded with the appointment of Joy Parkinson as executive chair, Leighton Paul as financial director and Emelyne Bradley as commercial director, to help lead the business and develop the brand even further to reach its new target of £10m turnover.
Collectively, For Aisha's three new hires bring more than 62 years' worth of experience with them, spanning across the finance sector, strategic sales and worldwide marketing development strategies, heading up some of the biggest global brands including Faith In Nature and Baylis & Harding.
As the new executive chair, Joy Parkinson plans to grow the business in the UK and internationally, on existing product ranges as well as via exciting brand stretch NPD. Joy, has a plethora of experience managing iconic brands including Mars, Coca Cola and McVities. Most recently, Joy spent nine years as CEO scaling the Faith in Nature brand.
She said: "At the heart of For Aisha is a global experience, sharing, tasting and embracing food from around the world. I'm delighted to be a part of this company to help lead For Aisha to international success and continue to be pioneers in the halal baby food industry."
Part of For Aisha's new ambitious strategy, led by the company's three new senior hires, is to continue to expand into international markets. The brand recently secured Spinneys and Choithrams as stockists in the UAE, which was shortly followed by Singapore. This growth is expected to continue into 2023, with the aim of entering more markets in the Middle East, Europe, and Africa, ultimately helping to reach the target of £10m turnover.
Emily Salter, marketing manager of For Aisha, said: "Our long term goal is to make For Aisha the number one halal baby food brand of choice worldwide, with widespread UK and international distribution, so that consumers all over the world can Explore, Embrace and Taste our amazing, diverse recipes."
For Aisha first launched in ASDA in 2015, and has since secured listings in major retailers including Ocado, Sainsbury's, Amazon, Morrisons and, most recently, Nisa, Costcutter and The Health Store.
::
Accountancy and business advisory firm MHA Moore and Smalley has strengthened its corporate services and tax teams in Manchester with three new appointments.
Josh Andjelkovic has joined the firm as a corporate services senior manager and Ozma Haider joins as a corporate services assistant.
Meanwhile, Humairah Perager takes up the role of tax consultant. All three new recruits will be based at the firm's Manchester city centre office.
Graham Gordon, managing partner at MHA Moore and Smalley, said: "Our Manchester team is going from strength to strength on the back of continued client growth in the region. Josh, Ozma and Humairah bring further skills and experience across our key services of advisory, audit and tax.
"We will be supporting them to develop fulfilling, rewarding careers with us while delivering outstanding results for our clients."
Josh, a graduate of Loughborough University, joins MHA Moore and Smalley following in-house financial roles with businesses in the real estate sector including Property Alliance Group, De Trafford Estates and Bruntwood.
He said: "When I got to know the firm during the interview process it felt like a great cultural and career fit. I'm looking forward to supporting the continued growth of the corporate services team in Manchester and working with our many clients."
Ozma joins from PwC where she was a senior associate in the audit team. The University of Bradford graduate holds a BSc in Accounting and Finance and is now completing her ACCA exams.
She said: "My previous roles have exposed me to lots of different sectors and I'm looking forward to honing my skills and experience as part of the MHA Moore and Smalley team. What appealed to me about this role is the culture of the firm and its dedication to its employees."
Humairah's most recent role was as a tax consultant at Jack Ross Chartered Accountants. She is currently studying the Association of Tax Technicians and Chartered Tax Advisor pathway with Kaplan in Manchester and will be ATT qualified this year and CTA qualified in 2023.
She will work in the firm's tax team alongside tax director Hasan Hashmi and tax partner Colin Abrahams.
Humairah said: "Being able to work for a growing firm while developing my personal and technical skills really appealed to me. I'm looking forward to working on projects with various teams across our regional and national locations."
MHA Moore and Smalley opened its Manchester office in 2019 and earlier this year doubled the size of the office to accommodate its growing team.
::
Manchester content marketing agency, Hattrick, has brought on board Steph Dawson as client services director. She joins following 12 years at global network agency Merkle B2B, formerly gyro.
In the newly-created role, Steph is overseeing account handling and content development including copy, design and video for both digital and traditional channels.
Her appointment marks a significant turning point in the B2B agency's 10 years in business as Swedish MD, Malin Cunningham, invests in the senior hire to lead on the current portfolio – allowing her to focus on new business development and furthering Hattrick's B Corp ambitions.
Steph said: "I was ready to go somewhere I felt I would be given free reign to have a real impact. I was drawn by the scandi-inspired culture, values and philosophy here at Hattrick. And weeks into the position I've already been able to bring some big agency thinking to the fore in agile ways that will build on our insights, strategy and storytelling strengths.
"Hattrick's international reach was also important to me as I'd previously loved working on global accounts. So the fact that many of the clients here are based in Europe and the US, sealed the deal for me."
With particular expertise in the built environment, technical and technology sectors Hattrick's latest client win is a planning and insights brief for the Visit Britain-backed platform, Tourism Exchange Great Britain (TXGB). Recent new account successes also include national engineering consultancy, Jubb, and fellow Manchester firm, Capsule CRM.
MD Malin said: "Steph's integrated agency experience is just what we need to help us bring everything together and evolve how we're working. Like many business owners I've been doing a lot of reflecting in recent times and I realised the only way we could move forward – fast – was with someone of Steph's grounding on board. I've every confidence she's going to help me drive growth while fostering a culture of 'giving back'. Achieving that balance is important to me."