People: Cowgills; Filstorage; Brabners; Exchange Chambers; Banyan Software; Rowan Executive Search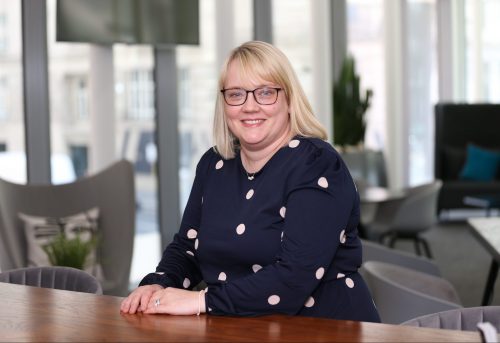 Accountancy and business advisory firm Cowgills has bolstered its team in Liverpool with the appointment of audit partner Helen Mills.
Helen, who was previously at Haines Watts and Grant Thornton, joins the Liverpool team as the practice continues to grow following the opening of the Chapel Street office last year. The Liverpool team provides a full service offering to businesses across the Liverpool City Region and has ambitious growth plans.
Managing partner, Paul Stringer, said: "Helen brings significant experience to Cowgills and her appointment is a further demonstration of our commitment to our clients in the area. We hope this will be the first in a series of appointments as we continue to invest in the region."
The rapidly growing team is currently looking at new premises in the city centre to support its plans for continued growth and to accommodate future employees joining from across Merseyside.
Helen said: "It's a really exciting time to join the business. I was very impressed with not only the opportunity to join a growing full service team here in the city but also by the strong relationships Cowgills has with its clients and the team's progressive approach to business."
::
Storage expert Filstorage has appointed a new regional account manager to cover the North West.
Kevin Shindler, from the Wirral, brings 14 years of experience as a format and propositional change project manager for one of the UK's largest DIY multiples to the role, including launching new stores and leading on store refurbishments.
He also has extensive experience of managing a large team of racking installers and managing range changes for a number of large businesses including major supermarket chains.
Kevin said he felt one of the most important skills he would bring to the role was his ability to develop relationships. His sales area covers from Telford and Shrewsbury in the south to Lancashire and southern parts of Cumbria in the north, as well as taking in parts of North Wales.
He said: "Having spent many years in installations and storage industry, I have a good understanding of what clients want and what we can provide to make their businesses run more effectively and efficiently.
"I've always been good at engaging with people, networking and building business relationships and that is what I will be focusing on in my new role – building long term relationships that benefit the client as well as Filstorage."
He added that his main targets will be the builders' merchant sector, as well as some retail targets: "There are a lot of great businesses in and around this region. I'm looking forward to further growing Filstorage's presences in the North West."
Mike Gorman, sales director of Filstorage, said Kevin's expertise as an installations manager brings a lot of added value to new and existing customers in the North West. He said: "Builders' merchants and retailers are looking for efficiencies and one of the most effective ways of achieving that is through clever design and layout that starts with the yard and continues through the warehouse, shop, showroom, and trade counter.
"Kevin's expertise in installations means he has the ability to not just sell racking or storage solutions, but fully tied-up solutions that deliver those efficiencies across the whole of the business. He is an excellent appointment for us who completes our team of regional account managers covering the whole of the UK."
::
Independent law firm Brabners has appointed five new partners across its employment, litigation, corporate and real estate departments.
The move represents the firm's largest ever round of partner promotions in a single year and bookends a period of strong growth that has seen it launch in Leeds.
Employment lawyer Laura Darnley, litigation specialist Helen Otty, David Seddon (corporate), Helen Burns and Andrius Roos (both real estate) have been made partners.
Laura Darnley joined the firm in 2019 following the merger of employment law specialists HRC Law into Brabners. She advises on all aspects of immigration compliance and heads up Brabners' specialist business immigration law offering, most recently focusing on the impact of Brexit and the end of free movement.
Helen Otty also joined the firm in 2019, having built a reputation at DWF as a highly regarded litigator. With more than 20 years' experience in her field, Helen's expertise has resulted in her being classed as a 'Recommended Lawyer' and a 'Rising Star' by The Legal 500.
Also making the step up to partner is David Seddon, an experienced corporate lawyer who joined the firm as a trainee in 2011. David is a member of Brabners' pharmacy M&A team and has established a reputation as a healthcare specialist.
Two members of Brabners' award winning real estate department have also been promoted to the partnership. Andrius Roos is a non-contentious housing lawyer who joined the firm in 2009, and heads up the home ownership, plots sales and residential property teams.
Helen Burns is a real estate finance specialist, acting for a broad range of clients including institutional and private lenders, local authorities, local businesses, family offices and asset managers.
The five partnership appointments come as Brabners also confirms another record promotions round, with 28 lawyers being promoted to associate, senior associate or legal director.
Nik White, managing partner at Brabners, said: "This record number of promotions reflects the exceptional talent we have within our firm, and our ambition to continue growing our business through a blend of lateral hiring and promoting from within. This ethos has always underpinned our growth strategy and has been a big factor in our consistent recognition in the annual Best Companies List.
"After five years of consistent growth, the recent launch of our new team in Leeds and our impending office move to 100 Barbirolli Square in Manchester, it's a really exciting time for our firm."
::
Exchange Chambers has further strengthened its award-winning family law team in Liverpool with the arrival of specialist children law practitioner, Matt Rogan, as a new member.
A solicitor since 2004, Matt has transferred to the Bar to join Exchange.
Matt's experience covers almost any area of work in public and private children law cases. He has represented children, parents, family members and intervenors with much experience also of separately representing children in complex care proceedings or in the context of inherent jurisdiction High Court proceedings.
He said: "I was attracted to Exchange for a number of reasons. The Set has a track record for welcoming former Solicitors to the Bar while I also know the clerks and have for many years been instructing them as a solicitor. Exchange have been very welcoming and supportive and having been thinking about the move for a few years, my only regret is that I should have done it earlier."
Jonathan I'Anson, chief executive at Exchange Chambers, said: "Matt is the latest in a long line of solicitors who have transferred to the Bar and joined Exchange.
"A first rate advocate, his extensive experience stands him in good stead for a long and successful career at the Bar. Family law is a growth area for Chambers and we are delighted Matt has joined the team."
In November 2021, Exchange Chambers was named as Family Law Chambers of the Year (Regional) at the Family Law Awards. The award recognition followed on from Exchange strengthening its family law team in November 2020, with the arrival of a 14-strong team of barristers from Chavasse Court Chambers.
::
Global operator and long term software investor Banyan Software has appointed Graham Carney as its first M&A director in the UK.
The addition of Carney, who spent seven years at KPMG prior to holding a similar role at Manchester-based retail and technology giant THG, will help to accelerate Banyan Software's growth in the UK and across Europe.
Founded in 2016, the US-based Banyan Software specialises in acquiring, building and growing niche vertical market software businesses.
Backed by a world-class group of CEOs and investors with deep technology experience, Banyan operates across a number of sectors including healthcare, education, media, transportation and financial services.
Banyan made its first UK investment in Cardiff-based procurement software provider Atamis in late 2021, and is committed to future growth in 2022 and beyond.
David Berkal, CEO of Banyan Software, said: "Banyan is expanding quickly throughout North America, Europe, as well as into Australia and New Zealand. There's significant capital behind us and we expect to be very active in the UK and across Europe.
"We're excited about the opportunity that the UK software market presents and are committed to investing in a dedicated and growing UK-based team."
Carney, who will be based in the North West, said: "I'm really excited to be joining Banyan. The company has forged a reputation for being a great permanent home for businesses, rather than one that looks to resell them after only a few years which resonates closely with me.
"We see it as a long term commitment. It's about continuing to support and invest in the businesses that the owners have successfully built in order to drive sustained growth."
He added: "Primarily, we are focused on acquiring and helping grow profitable companies with annual revenues of between $2m and $30m, across a variety of vertically-focused enterprise software markets. I look forward to meeting several leading software businesses in the coming months."
::
Rowan Executive Search has set up a new advisory team to help high growth firms optimise the value of their leadership team's performance through leadership design, development and change.
The new service reflects the additional capability brought to Rowan as a result of the strategic investment made last year by The LCap Group, a professional services and software developer whose digital insights support critical decision making in developing effective leadership teams by evaluating the value of the current team against their business objective.
Paul Waite and Johnathan Massey are heading up Rowan's newly-created leadership advisory team as the company rolls out the capability across its North West client base.
Rowan has already seen considerable interest across the North West for the new service offering and will continue to expand the leadership advisory team, underpinned by the analytical capability brought to them via The LCap Group.
Rowan, which has offices in Manchester and Chorley, specialises in securing the right talent to strengthen the boards and leadership teams of privately and family-owned SMEs as well as high growth companies backed by private equity.
Johnathan said: "A report in 2020 by global management consulting firm Bain cited leadership quality as the single most important reason for business success and the second most important reason for why companies were not successful. Leadership Dynamics supports an understanding of leaders and leadership teams by providing an additional perspective through its objective, data-driven insights."
Paul said: "We have ambitious plans for Rowan and we are confident, with the investment from LCap and the access we now have to its suite of digital analytics products, that we will continue to offer our clients the support they need to focus on growing their businesses."