People: Ward Hadaway; Thaxted Capital; Olliers Solicitors; BGN; Butcher & Barlow; CloudM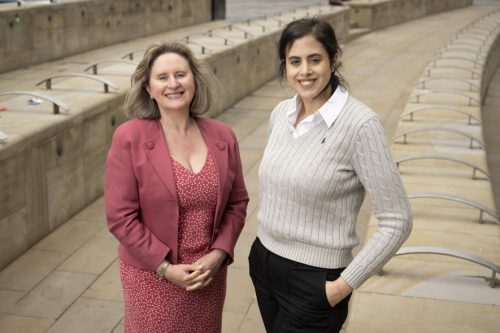 Top 100 law firm Ward Hadaway has appointed two commercial lawyers to senior positions at its Manchester office to bolster commercial growth across the North West.
Susan Honeyands and Rolla Rostam, who have more than 40 years of combined experience in commercial law practice, join as a partner and director, respectively, in a move that amplifies the Chapel Walks-based firm's expansion.
As part of the commercial team, they will have a specific focus on leisure, retail and FMCG clients where day to day legal services range from negotiating commercial agreements for new attractions, concerts, special events, sponsorships and promotions to the full range of supply, logistics and procurement contracts and data protection policies.
Damien Charlton, a partner and head of commercial at Ward Hadaway, said: "The North West is a buoyant hub for commercial activity in the UK, especially across the leisure and retail sectors, where the region performs particularly strongly.
"The diverse range of expertise our team brings to the table has enabled strong growth across the area, as we've taken on new clients and broadened our range of services. Susan and Rolla bolster our ability to work with businesses across the region, within the leisure, retail and consumer-facing industries. Their collective commercial experience is to be admired and is a welcome asset to the team. It's great to have them on board."
Ward Hadaway's Manchester office boasts a growing team of more than 50, and the appointments follow a range of recent promotions across the firm. The office in Chapel Walks is also undergoing a £500,000 refurbishment with the firm's hybrid working model now fully operational following the end of pandemic restrictions. With offices in Leeds and Newcastle, Ward Hadaway employs more than 450 people, of which 97 are partners.
Susan Honeyands said: "I wasn't actively seeking a new opportunity but there was something different about Ward Hadaway that, in all my years as a lawyer, I'd not seen before. After talking to members of the senior management team, it was clear the firm truly cares about its people.
"I've worked with Rolla for many years and it's great to start this new venture with her. We're looking forward to meeting more businesses across the region, getting to know how they operate and how we can help from a legal and compliance perspective."
Susan and Rolla previously worked together at Knights and TLT solicitors in senior roles. At Knights, Susan was head of the commercial and corporate department and, during her tenure at TLT, she was part of the leisure, retail and consumer goods teams.
Director Rolla Rostam said: "Ward Hadaway has a great reputation both in the North West and nationally for the legal services it delivers. The firm is on an exciting growth trajectory, attracting leading law professionals with specific specialisms. Add to this the upcoming refurbishment of our Manchester headquarters and proactivity in attaining new clients across diverse sectors, the future is positive."
::
Manchester-based specialist small case litigation funder, Thaxted Capital, welcomes a new partner to join the newly launched firm.
Litigation specialist, Mark Dawkins, joins to support the firm as it aims to deliver specialist small case litigation funding across the North and Midlands regions. Thaxted Capital will support cases with a funding commitment of up to £1m, charging on multiples of deployed capital and offering a capped return.
Mark's career to date has spanned nearly 30 years, during which time he has accumulated an exceptional breadth and depth of experience in commercial disputes, in addition to his management and leadership experience. Mark qualified at Simmons & Simmons and worked his way through the firm to become the global managing partner and, most recently, was head of Akin Gump's London Disputes Group.
Jack Bradley-Seddon, partner Thaxted Capital, said: "This is a real coup as we look to establish ourselves as the go-to firm in the North for our straight talking approach to litigation finance which is backed up by an extremely experienced legal team. Mark has a wealth of experience and has been ranked as a leader in litigation by legal directories for many years."
Mark Dawkins said: "I was fortunate during my time in private practice to be the managing partner of an international law firm and to head up litigation groups in different firms. This is the first time that I have been involved with a start-up business and it's very exciting.
"I am also thrilled to be working with Jack again. We worked together in private practice on a number of cases and, as well as being one of the best lawyers that I have worked with, he is also one of the most entrepreneurial. Thaxted Capital will do well under his leadership."
::
Criminal defence firm, Olliers Solicitors, has appointed a new senior associate to support the firm's ongoing focus on pre-charge engagement work.
Martha Whitehead qualified as a solicitor in 1992 and initially joined Olliers in 2001. She left the firm, which has offices in Manchester and London, after 16 years to join Fieldings Porter Solicitors in Bolton and has now re-joined Olliers, bringing with her a wealth of knowledge in the field of criminal defence.
Martha has more than 30 years' experience as a specialist crime practitioner including regularly advising clients at the police station. She has the ability and expertise to assess cases in detail from the outset and enjoys the challenge of assisting and advising people in this stressful initial stage of a case.
In the higher courts, Martha has worked on large scale carousel fraud, money laundering and drugs operations. The defence of these cases is spread over several years, requires a consistent approach to detail, the ability to analyse large volumes of data, to work with a variety of other professionals and present clear advice to clients.
As a Magistrates' Court advocate, she has regularly represented clients from first appearance to trial and focuses on the specific needs of clients, such as their youth or mental health.
In allegations of sexual offending, Martha has experience of working with clients from youth court to Crown. In this area, her practice is informed by extensive work with Counsel, maturity and understanding of other areas of law.
Martha said: "Having spent the formative years of my career with the firm, I know just how unique its approach to criminal defence is. Olliers' proactive and personal approach are a winning combination and deliver fantastic results for clients.
"I'm thrilled to be back and look forward to working alongside all the new talent that has joined in the years I've been gone."
Managing director, Matthew Claughton, said: "Martha is a hugely talented criminal law specialist and capable of handling complex cases with ease. She combines her skills with passion and proficiency and is a real asset to the firm – we've welcomed her back with open arms."
::
BGN – the Manchester-based brand-led design and digital agency – has added five new members to its team as it continues to build on its recent growth.
Earlier this year, BGN announced that it expects its revenues to hit £1m with a net profit of around 30% by the end of the 2022/23 financial year.
The agency's first new starter is Mel Yates who joins as a senior creative. Mel will be focusing on bolstering BGN's brand and campaign design output. She will also be working closely with Dave Newton, creative director, on managing the wider design and studio teams. Prior to joining BGN, Mel worked at Absolute in Horwich for eight years.
The other new starters in the design team are Ryan Stockall, Nick McLoughlin and Francesca Smith.
Ryan has been appointed as a digital designer. His previous role was at Persona where he worked for nearly four and half years. Before that, he worked at Black & Ginger.
Nick is BGN's newest motion designer. This is Nick's first agency role after working as a freelancer for seven years.
Francesca joins as a junior designer specialising in brand, packaging, campaign and digital work. Francesa is a graduate of the University of Leeds, and she recently completed a placement year at Rise at Seven.
The final new appointment is account manager Kat Fogg. Kat has joined BGN from Caspa Marketing and will be handling the day-to-day management of a client roster including Fasthosts, North Highland and Leeds Victoria.
Mel said: "I've always been impressed by the work that BGN produces, and I knew that for my next move I wanted to join an agency which had a wide breadth of clients that were more tied into some of my own passions of food, fitness and pets. This position was perfect for me, but I also quickly realised the team had a collective passion for producing creative work which was inspiring."
Antonio Giansante, MD and founder, said: "We are delighted that Mel, Ryan, Nick, Francesca and Kat have joined the BGN family. Each are incredibly talented at what they do and bring real energy and enthusiasm which is what we all thrive off. The next couple of years look set to be a strong period for the business and I'm sure they will play a valuable part in taking us to the next level."
::
Former trainee solicitor, Jade Atkinson, has seized the opportunity to return to her roots and re-join the firm where her legal training first began with North West law firm, Butcher & Barlow.
Now a fully qualified solicitor, Jade has returned to join Butcher & Barlow's private client team with fond memories of her time spent as a paralegal, trainee and NQ solicitor within the firm.
Having briefly moved on to gain additional experience within a boutique private client firm, Jade who lives in Bolton, is excited with the changes to the firm's branding undertaken earlier this year which highlighted the firm's accessible and collaborative approach to delivering legal services across the North West.
Jade said: "I am thrilled to be back and I have done a full circle, returning to the same office where my training first began in Leigh.
"Having worked within very narrow specialisms for my previous firm, I am really looking forward to having more variety and autonomy across my caseloads at Butcher & Barlow."
Jade added: "It's important to have a local connection and one that adds valuable insight and understanding into clients' priorities and expectations."
Jade initially spent five years with Butcher & Barlow, also working within commercial property, and isn't the first trainee to return to the fold.
Jonathon Aldersley, senior partner at Butcher & Barlow, said: "Butcher & Barlow has a lengthy history of nurturing young legal talent and placing great emphasis on training and development to realise individual potential.
"Her local knowledge, empathy for her clients and understanding of the firm's ethos and values make her a valuable asset to the team and we are thrilled that she has chosen to continue her legal career with Butcher & Barlow."
::
International cloud migration and management provider CloudM, has announced the appointment of Carlos Oliveira as director of product and engineering.
He will establish the Manchester company's product vision for the next three to five years, ultimately deciding how the business will grow its current offering to meet the demands of an ever-growing and challenging market.
Oliveira boasts an impressive track record with more than 12 years' experience in cloud computing, originally beginning his career in web development in Turin, Italy. Following a three year stint in Italy, Carlos moved back to the UK where he founded Shaping Cloud, a business that helps public sector bodies to achieve digital transformation using cloud technology. Clients included the NHS, local authorities and other government departments.
CloudM is the platform of choice for managing and protecting people and their data in Microsoft 365 and Google Workspace. The company currently supports customers including Spotify, Netflix, and Uber.
Oliveira will focus on raising awareness of CloudM's management product to align it with the existing reputation of the migration software encouraging customer retention, and growing SaaS revenue by adding innovative modules.
He said: "The opportunity to grow and scale the business is massive. I see a huge amount of potential in CloudM's software and I'm very excited to be a part of this journey. US growth and recent incorporation will be key as well as continuing to develop the product's expansion into the Microsoft space. CloudM is full of incredibly talented and enthusiastic people so I feel confident that collectively we can make history with our industry-first technology."
Managing Director, Gary Bennion, said: "After just a 30 minute phone conversation, we instantly started firing off ideas about the software and its potential. Carlos is a natural fit with a new perspective and incredibly inspiring ideas which we are very excited to bring to life."
CloudM has also appointed Josh Steinberg as the new general manager in North America in which he has big goals to help CloudM to become the top Google and Microsoft 365 migration and management partner in North America. Josh brings with him 10 years of experience in the tech and business development sector previously working for Cloudreach, Logiworks and JP Morgan.