Rogue trader sentenced to 36 weeks in custody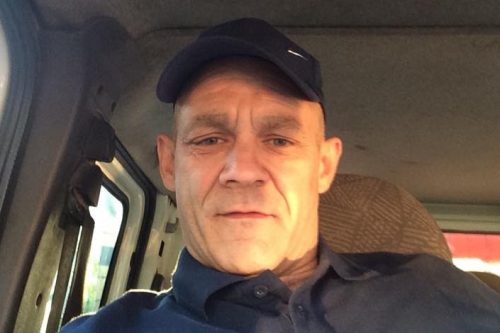 A Salford landscaper who claimed he ran a trustworthy company has been convicted of seven offences relating to work he failed to complete in 2019, and jailed for 36 weeks.
Patrick Brien, of Rosette Walk, Swinton, told anxious clients to "stop stressing" him when they texted and messaged trying to find out when their jobs would be done after repeatedly asking them for more and more money for materials.
He failed to complete one job in November 2019, telling the client he would walk away because she had threatened to report him to the police and trading standards, then took on another job in mid-December which he promised, and failed, to complete by Christmas.
An expert surveyor called in by Salford City Council's trading standards team to examine the mess he left behind said the work carried out was "minimal, sub-standard and far from being complete" in both cases and was "not concurrent with that of a competent contractor".
The surveyor said both jobs were under-priced by £1,855, and £2,600, respectively, suggesting Mr Brien intentionally quoted low prices to gain work he had no intention of completing.
Mr Brien appeared at Salford and Manchester magistrate court on January 27, and January 28, and pleaded not guilty to four offences under the Fraud Act of falsely representing that on receiving £2,126 from one householder and £1,940 from another that materials would be purchased and delivered and landscaping works would be carried out.
He also denied three offences under the Consumer Protection from Unfair Trading Regulations 2008, two relating to professional diligence and one to misleading action in promising that, for £3,000, paving and landscaping works would be carried out to a good standard and in a timely fashion.
He was found guilty on May 27, and on July 15, sentenced to 36 weeks in custody for Fraud Act offences (three Fraud Act offences for one address and one Fraud Act offence for another address). He was also ordered to pay a compensation order of £2,126 to one client and £526 to another.
Companies House records show that Mr Brien is currently a director of a limited company, Mcr Landscapes Ltd at Foxhill Road, Eccles.
His sister, Katrina O'Brien, of Foxhill Road, Eccles, pleaded not guilty but was convicted of two offences of money laundering under the Proceeds of Crime Act 2002, involving a total of £3,190 paid into her bank account.
She was sentenced with a 12 month community order with 24 rehabilitation days, ordered to pay £350 in costs and a victim surcharge of £85.
The court heard a Salford woman contacted Mr Brien's company, Acorn Landscapes Paving and Fencing, on October 14, 2019. Mr Brien quoted £1,650 to remove and take away the old driveway and rubbish and lay block paving and said the work would be completed by October 24.
On October 16, Patrick Brien asked for £490 for materials to be transferred into Katrina Brien's account saying she was the company secretary. The following day Mr Brien did not attend site claiming he was on a course and then that he had been to court about a licence.
On October 18, Mr Brien quoted an extra £650 to block pave the back garden taking the total price up to £2,300. He and a colleague cleared the shed and garden of rubbish and laid sand which was already in the back garden.
The next day Mr Brien and Katrina, whom he introduced as his wife, went to the house and asked for £1,000 to pay for more materials and staff wages. Katrina drove the client to her workplace where she had left her mobile banking device so she could transfer £400.
On October 20, Mr Brien told the householder that the path needed removing, increasing the overall price to £2,900. He threatened to walk off the job if she did not agree, saying the job should cost £4,200. She reluctantly agreed, saying she would have to take out a loan to pay the extra cost.
On October 21, Katrina, Patrick, Nick, his brother and Patrick Eckersley, Mr Brien's cousin, removed the concrete driveway onto a truck. Mr Brien asked for £236 in cash to pay the truck driver and buy fence panels. The householder transferred money to Patrick Eckersley's bank account and £1,000 into Katrina O'Brien's bank account saying she would pay the balance on completion.
On October 23, Mr Brien did not turn up at the property as agreed and told the householder to "stop rushing them" when she messaged to find out when the work would be completed. From October 24, the day the work was due to be completed, until November 2, the company did not attend and materials promised did not arrive.
The householder informed the business that she had contacted trading standards and a representative of the business replied that they would not complete the job because she was threatening them. They promised to finish the fencing and give some money back, but failed to turn up.
On November 3, Patrick Brian and a man called Michael, whom he described as his business partner, went to the property. Michael asked for £100 as they were short on materials and when the householder refused, he began shouting at her. Both said they would not finish the job unless she paid more money and threatened to break into the shed to take their tools and her motorbikes. The police were called and Mr Brien falsely claimed the job was finished.
On November 4, Mr Brien texted to say he was at the property taking out the fence posts and putting down £300 worth of stone. He asked for £120 because they needed money to buy materials and would leave the job if they did not get it.
Between November 5, and 7, the company said that, as the householder had threatened to contact the police and trading standards, they would not do any more work and told her not to ring them again. A complaint emailed to the firm on November 8, 2019, has still not been answered.
On December 9, 2019, a Wythenshawe man contacted the company about block paving his back garden before Christmas. Patrick Brien and Nick visited the property on December 15, and quoted £3,000, saying the work would start the next day and be finished by the end of the week. Some work was done and the customer paid £1,900 in total.
On December 20, the man and his partner both texted asking when Mr Brien would return to finish the job. He eventually received a message to say, "stop stressing [me] out, I'm busy." Patrick Brien claimed they were a trustworthy company and would return to complete the job.
The couple messaged the firm on December 24, 26, and 27. They were finally told to stop texting as the company was not working due to Christmas and would be back on January 2. The couple sent a reminder on New Year's Day but no-one turned up.
On January 3, a representative of Acorn Landscapes Paving and Fencing threatened to cancel the job and refund the difference but then agreed to return on January 7. Nick worked for an hour and the customer received a text from a representative of the business asking for £240 for more stone, saying they would not finish the job unless they got more money.
On January 23, the couple texted the business asking them to return to complete the job but heard nothing more.
Neither they nor the Salford householder have had any refund from the company, despite the work being unfinished.
Patrick Brien and Katrina O'Brien were invited to interview to explain their actions but failed to attend. Despite twice being seen on site and receiving money into her bank account, Katrina O'Brien claimed she had nothing to do with the company. One of the three addresses Mr Brien used in connection with the business and another company, Groundwork Designs, was hers. In court she claimed she ran a waste removal company and the payment she received was in relation to that.
Speaking after the court case, Cllr Barbara Bentham, lead member for environment, neighbourhoods and community safety, thanked the trading standards team for bringing the legal action and praised the householders for having the courage to speak up. She said their willingness to attend court and give evidence had enabled the case to be brought and justice served.
She said: "Salford will not tolerate rogue traders cheating residents like this and we will take action to stamp them out.
"People paid Mr Brien to get a job done. Instead they were fed a series of lies, conned out of more and more money and even threatened before he vanished taking their money and leaving a mess behind him.
"I urge anyone looking for a trader to ask family and friends for recommendations or use established trade associations for recommendations. Get three quotes to compare, and ask the traders for a detailed written quote, which should include the trader's name, address and contact details."