'Significant risks' remain despite £190m already wasted on rail investment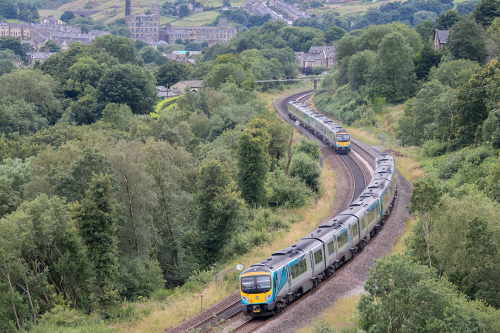 The National Audit Office (NAO) has found that £190m has so far been wasted on the Transpennine Route rail upgrade because ministers have "repeatedly altered the scope" of the programme.
The £11.5bn, 30-year investment programme also faces "significant risks" after the NAO found "there remains a risk of delays and cost increases".
The Transpennine route is a critical 76-mile-long rail link between Manchester, Huddersfield, Leeds and York.
Last November the Department for Transport announced that the Transpennine Route Upgrade Programme will now be delivered as phase one of Northern Powerhouse Rail.
The report acknowledged the upgrade programme has "had a difficult start", with the Department for Transport taking more than a decade to agree a scope.
That has meant that almost half of the £399m spent in the first nine years of the programme was spent on options that were not taken forward.
The NAO said that "while some element of obsolete spend is to be expected during the early development stages of a programme, this is higher than we would expect and is a result of the continually changing scope of the programme".
A further £643m has been invested in the last two years, as Network Rail began so-called "no regrets" construction work that would be necessary irrespective of what final programme scope decisions were made.
The NAO said "it is not yet clear" how the Department for Transport and Network Rail will manage the cost of inflation and the two organisations "have not yet agreed" how sharp rises in the cost of energy and materials will be funded. Labour shortages could also lead to higher costs.
Gareth Davies, the head of the NAO, said: "Rail passengers in the north have contended with increasing over-crowding and delays for too long.
"It is good that plans for the Transpennine Route upgrade are now agreed, but there are still significant risks to the programme's progress that could cause further disruption.
"The Department for Transport, Network Rail and government must work together to manage these challenges and deliver the expected benefits for rail users."
The upgrade programme has five key outcomes – better punctuality, enhanced capacity, faster journeys, improved environment, and facilitation of Northern Powerhouse Rail.
It was first developed in 2011 and £1bn was spent in the first decade. Current estimates expect the full cost to be between £9bn and £11.5bn and be completed between 2036-41.