People: McCann Manchester; Bibby Financial Services; Marketing Lancashire; Optionis Group; Slater Heelis; Sambro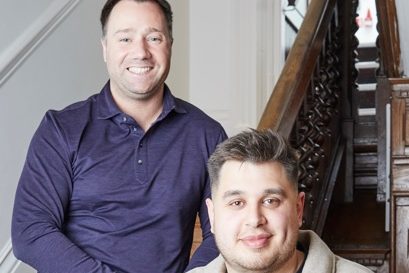 McCann Manchester has appointed a new head of digital media and two senior promotions to build on digital offering for clients, including Aldi UK.
Carl Lawrence joins as head of digital media with more than 15 years of global digital experience, working across technology, automotive, sports and FMCG categories. He joins UM Manchester, the media planning and buying team within McCann Manchester, and will be responsible for leading digital transformation for clients with integrated marcomms solutions.
Luke Taylor and Calum Macdonald-Ball have been promoted to joint heads of McCann LIVE in Manchester. LIVE is McCann's global approach to social, delivering best-in-class strategic and creative social capabilities for its clients. First launched in Manchester in 2018, LIVE has grown exponentially as social becomes pivotal to brands' engagements and conversations with consumers. LIVE partners with clients including Aldi UK, Microsoft, Beaverbrooks, Royal London and Zoflora.
Standout work created and delivered by the LIVE team in Manchester includes the popular #FreeCuthbert viral campaign for Aldi, which won a Silver at the Cannes Lions 2021 in the 'Social and Influencer Real Time' category and the more recent #OOO campaign for the value retailer.
Karen Buchanan, CEO at McCann Manchester, said: "Luke and Calum have played key roles in the growth of the department over the last 18 months. LIVE is one of our fastest growing capabilities within the agency and I am looking forward to seeing it scale up further over the next 12 months as we continue to deliver brilliant creative social strategies for our partners."
Sharon Palmer, managing director of UM, said: "Carl is joining us with a great pedigree in leading digital transformation for clients. We have a growing client base seeking greater emphasis on data-driven, addressable solutions and Carl is an exciting and brilliant addition to our team using data to power client performance and create meaningful sustainable growth."
::
Global SME funder, Bibby Financial Services (BFS) has appointed Marion King as non-executive director as it continues to work towards its ambitious growth strategy.
An accomplished leader with more than 25 years' experience across the financial services sector, Marion has held senior executive roles with NatWest Group, Mastercard, Vocalink and Reuters, in addition to non-executive directorships with Low Carbon Contracts Company and commodity price reporting agency, Fastmarkets.
Her most recent role, held since 2015, was director of payments at NatWest Group where she was responsible for setting and delivering the payment strategy, in addition to overseeing payment architecture, operations and innovation.
Marion is currently chair of the advisory board of the Payments Association and former chair of the payments futures strategy group for UK Finance. In 2018, she joined the Multiple Sclerosis Society as board trustee.
Jonathan Lewis, chairman of Liverpool-based BFS, said: "This year, BFS is celebrating 40 years of helping SMEs to grow and thrive so we are delighted to welcome Marion to BFS as non-executive director at such an exciting time for the business.
"Marion's deep understanding and experience of the financial services sector, combined with her focus on delivering genuine value for clients will be a huge benefit to the business as we continue towards our growth ambition."
He added: "As a family-owned business, our values are core to how we do business so it is hugely important to us that our board demonstrate and champion these values every day. Marion shares our values in abundance, and we look forward to benefitting from her vast experience and counsel in the future."
BFS says it is the UK's largest independent invoice finance provider, and a financial services partner to almost 9,000 SMEs worldwide.
Marion said: "BFS is a highly successful business with a track record of delivering excellent service to its SME customers. But importantly, it is also a highly values-driven organisation.
"I'm delighted to join BFS and look forward to contributing to its ambitious growth strategy, benefitting colleagues, clients and business partners alike."
::
Marketing Lancashire, the county's destination management organisation (DMO) and founder of the Lancashire Ambassadors, has welcomed three new business leaders.
They are Helen Clayton, partner at Blackburn and Bury-based chartered accountancy, business advisory and financial planning company PM+M, Zak Khan co-owner of Accrington-based Euro Energy Group and Richard Few, the founder and chief geek of Blackburn-based Sales Geek.
They join a network of some of the county's most influential and well-connected business people, who are working together to help drive the future success of Lancashire.
Rachel McQueen, chief executive of Marketing Lancashire, said: "Their pride and passion for Lancashire, combined with their extensive and diverse business success and intelligence, makes them excellent champions for the county.
"They, and our existing Lancashire Ambassadors, are committed to growing opportunities for Lancashire which bring prosperity to all and raise national and international awareness of the benefits of living, working and investing in Lancashire."
Lancashire-born and bred Zak, who was on a fast-track programme through the Police force before joining his brother in a start-up company which is now one of the UK's leading retrofit advisors and installers of energy efficient measures, is keen to bring his varied experience and leadership skills to the group. He said: "Lancashire made me the person I am today.
"Some things in life are about luck and I was incredibly lucky to be born in Lancashire where people have the ability, drive and energy to achieve wonderful successes. Yet, Lancashire is in need of significant support and leadership.
"The county has some of the most deprived areas in the country and businesses often leave to set up their bases in cities like Manchester or London. Skilled people then migrate to these places creating an ongoing downward cycle. I believe we break that cycle by being bold and providing leadership, something as Lancashire Ambassadors we are able to do."
Helen has worked across the North West in her career and identifies Lancashire as the most dynamic and entrepreneurial area. She said: "PM+M has been in Lancashire for 103 years and has no plans to change that focus and loyalty. We will continue to attract, retain, and upskill to ensure we keep people in Lancashire, being the best versions of themselves, and to help PM+M and our fellow businesses continue to thrive."
Originally from Buckinghamshire, Richard Few is now happily relocated with his family in Lancashire. He said: "As a non-Lancashire native, I used to be amazed that I could obtain everything our growing business needed within my adopted home, now it's a matter of course that our supply chain is firmly here.
"From our base in Blackburn, Sales Geek is ready to launch in the USA and beyond and I'm determined to play a role in helping support other Lancashire businesses that want to take on the world."
::
Professional services provider, Optionis Group, has made a senior hire to help achieve its growth plans.
Russell Upton joins the Warrington-based firm as a new business development and key accounts director, working directly for its umbrella employment brand, Parasol Group. With more than 20 years of experience working in financial services and in the employee benefits sector, Russell was previously sales director at umbrella company, Sterling Group.
He said: "I'm really excited about this new role and helping Parasol Group to break into new markets. It's more important than ever to be supporting the contractor community, and I firmly believe that Parasol has the expertise and capabilities to offer solutions that support many types of contract workers across the UK."
Russell also has significant experience working with Construction Industry Scheme (CIS) registered workers and will be supporting Parasol to expand its service offering in the UK's construction market.
He added: "I've worked within the construction sector for many years, and think we have a real opportunity to enhance Parasol's market share in that area. There's huge demand from workers as well as companies to have providers that are fully compliant and help them navigate all the necessary legislation. Parasol is uniquely placed to do exactly that."
Doug Crawford, CEO at Optionis Group, said: "Russell has got significant experience within the sector, but he also brings some innovative ideas that will help us further grow and enhance our umbrella employer service offering. We're very pleased to have him join us."
::
Slater Heelis Solicitors has promoted eight within its private client division, bolstering its team to 22, with further new starters lined up in the coming months.
The Manchester-based firm puts significant focus on developing from within to provide employees with all the opportunities they can to help further their legal career, and these promotions see new positions created for paralegals and senior paralegals in the Court of Protection field.
Michael Hartley, Christina Sorton and Louise Chapman, formerly in administrative, receptionist and secretarial roles, respectively, all now assume paralegal positions. A further four promotions within the Court of Protection team for Ann Smith, Camella Galvin, Jordan Calder and Rebecca Calverley see them become senior paralegals. They have a wealth of experience, dealing with the management of the financial affairs of some of the most vulnerable members of our society. The senior paralegals are recognised for their skills and experience and their knowledge of this niche area of law.
The eighth promotion sees Tina McLoughlin move from projects coordinator to head of private client projects. Having started with the company as a secretary, she then spent 12 years in the marketing department as a communications assistant, where she built up invaluable knowledge about the business before moving to the specialist projects team.
Georgina Garner, partner and head of Court of Protection, said: "It's a delight to see all eight of these well deserved promotions, rising through the ranks of Slater Heelis. We are firm advocates for nurturing talent in the team and supporting everyone with both their personal growth path or wider career journey and I personally look forward to working with each and every one of them to see what the next stage holds. I am extremely proud of the team and continue to support them with their own personal development."
::
The board of Bury-based toy manufacturer, Sambro has appointed Ben Armstrong as chief financial officer.
Ben joins with more than 20 years' experience in finance, alongside a proven track record of success in implementing strategic developments within the FMCG and retail industries.
With a background in private equity and other investor-backed businesses, Ben has extensive international experience, with strong technical and commercial skills across FMCG and retail brands, including EV Cargo and KidKraft Toys & Furniture.
A Chartered Accountant and an MBA holder, Ben brings a wealth of experience in maintaining strong cash margins, working capital management, alongside a proven record in supporting commercial strategy development.
At Sambro, Ben will work alongside CEO Paul Blackaby to drive forward the firm's impressive growth plans which include a projected £70m turnover by 2023.
Ben said: "Sambro is an outstanding company with a strong portfolio of toy brands and own brand products and I'm excited to join the organisation at this significant time in its ongoing growth. I look forward to working with Paul and the leadership team at Sambro to drive growth and ensure its continued success."
As a global supplier for licenced, as well as own-brand toys, Sambro works with multiple properties and licensors, who trust and liaise closely with Sambro to develop licensed toy ranges. These brands include: Disney, Paramount, Mattel, Hasbro, Cosatto, plus licensing agencies such as Bulldog Licensing.
The range of products under these brands is far-reaching and includes household names such as Barbie, Paw Patrol, Peppa Pig, Disney Princess, and Care Bears. With innovative products such as Puzzle Palz, Felties, plus others, Sambro's innovative products span the categories of soft toys, creative play, novelties, stationery and outdoor. In 2022, Sambro will distribute more than eight million units of character plush toys.
Paul Blackaby said: "Ben is a world-class CFO with a proven track record of driving operational performance and growth across global consumer-facing organisations. His leadership and financial expertise will benefit Sambro as we continue to grow, and I look forward to working with him as we embark on the next stage of our journey."