DWF onboards 47 specialists to bolster connected services offering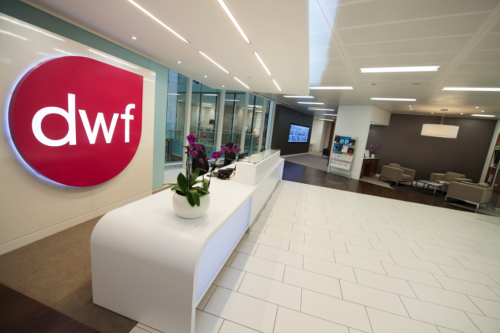 Manchester-based law firm, DWF, has bolstered its connected services offer with the addition of a 47-strong team of legal cost management specialists through the acquisition of Acumension for an undisclosed sum.
Acumension, also based in Manchester, already provides cost management services to a number of DWF clients, including NHS Resolution and NFU Mutual.
DWF provides clients with advice on recovery of costs to negotiation of third party costs liabilities, points of dispute, provisional assessment and detailed assessment hearings, through its connected services business, DWF Costs.
The firm's costs management business already employs around 60 staff across the UK and Ireland.
DWF says the arrival of 47 colleagues from Acumension will significantly expand its costs management capability and enhance the service for clients in the insurance and public sectors.
Daryl Norvock, operations director at Acumension, said: "Since 1998 we have worked to become a leader in legal cost management, specialising in dealing with complex defendant costs and utilising data capture and analysis to automate our processes.
"Joining the DWF group is the natural next step in enhancing this service even further for our clients."
Simon Murray, head of costs at DWF, welcomed the Acumension team and said: "We look forward to using their expertise to deliver additional exciting tech and data-led solutions, adding differentiation and scale to DWF's existing costs offering.
"This marks the latest development of our connected services division, which comes as part of our continued investment in our business services and solutions with a particular technology and digital focus."
Christian Briggs, departing commercial director at Acumension, said: "I am delighted for both our colleagues and customers. DWF is a fantastic fit for Acumension, both culturally and in terms of their forward thinking attitude and ability to invest further in our existing capability.
"With investment in our already market leading technology, I fully expect the combined proposition to deliver increased client value. I know Daryl and Simon are excited to expand the data driven strategic advisory service that Acumension has been delivering since before the Jackson reforms."
Robert Plant, an analyst with broker Panmure Gordon, reacted to the expansion, which he described as "a lateral hire or a small bolt-on acquisition", saying: "We have a Buy on DWF.
"Structurally we see upside especially from market share gains, international expansion and further operational improvements and we believe that the shares are cheap, trading on a 2025 PER of 6.8x."