Work starts on first phase of £41.5m city centre residential development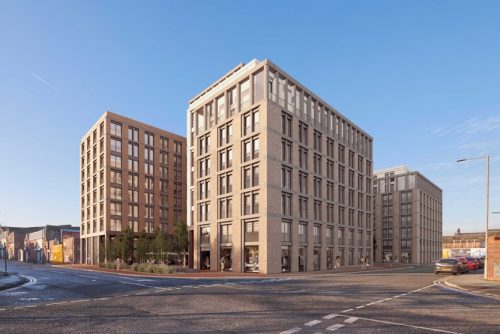 Work has begun on a £41.5m luxury residential scheme in Liverpool, by property developer Integritas Property Group (IPG).
The scheme is split into multiple phases and the current phases being worked on are Bastion Point and Central Point.
IPG is leading the development with Van Elle and Melbrooke Services subcontracted under an enabling works package to carry out the augured piling work and groundworks, respectively.
Following the enabling work, Abrey Construction will then carry out the full four-phase works package, including Bastion Point and Central Point.
Designed by Snow Architects and situated on Naylor Street, within the £5.5bn Liverpool Waters regeneration scheme, Bastion residents will have access to a landscaped communal garden, bicycle storage, and a dedicated concierge, plugging the gap for much needed high quality rentals in the area.
Part of the development will be for retail units that will be available to rent as cafes, shops and other leisure facilities.
Mitchell Walsh, managing director at IPG, said: "We're really pleased to be breaking ground on the Bastion development, this is an important step in what will be a great addition to the Liverpool residential market.
"We're proud to be working with such a fantastic pool of local talent within our supply chain, offering jobs to local people and injecting money back into the city."
He added: "We are very much looking forward to the project completion, and to see it provide a vibrant community for generations to come."
Phase 1, Bastion Point is set to complete by the third quarter of 2023 and has completely sold out already, while Phase 2, Central Point, is expected to complete in the fourth quarter of 2024, with prices starting at £117,000 for the remaining available apartments.