First phase of travel giant's UK tech hub fit-out completes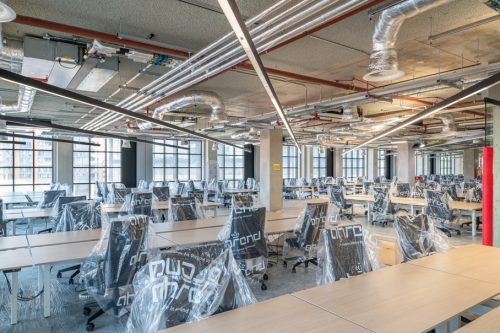 OBI, the Manchester-based property consultants, has completed the first phase of fitting out the new global headquarters of Booking.com's Trips division.
Situated at Manchester Goods Yard (Enterprise City), it will be Booking.com's second largest global hub outside Amsterdam and represents an investment of £100m.
OBI is providing workplace consultancy, interior design, project management, contract administration and cost consultancy services for the bespoke fit-out, which covers arouknd 175,000 sq ft of space over five floors.
The new unique office space, once complete, will bring Booking.com's 1,000-strong team in Manchester – including 300 new roles created this year – under one roof.
Key features of the design include fully connected meeting spaces, team rooms, breakout spaces, catering facilities, 'zen' spaces, conference auditorium facilities with a seminar event space for 250 people, games rooms and external winter gardens on each floor.
Smart office monitoring systems have also been incorporated into the project. This will help Booking.com understand how many people are in each space enabling smart technology to monitor and adjust environments to suit the social environment in the office.
The building will have a number of internal green spaces to encourage employee wellness and the office space has been themed and designed through a global lens, inspired by all seven continents. OBI's workplace team has chosen designs, colours and planting with nods to each theme.
Manchester Goods Yard forms part of Enterprise City. The building was inspired by the industrial warehouses of Brooklyn, New York and its design epitomises modern hybrid ways of working, bringing people together to create and inspire in the most vibrant environment possible.
Joe Weilding, at OBI, said: "We have been working with Booking.com for over four years on this project and to finally see this coming together as planned is very rewarding. The whole team have worked closely to ensure we remained within budget whilst delivering a truly world class workspace and on programme.
"The project has been challenging with many moving parts but to deliver the first phase of the scheme as planned is fantastic."
Matthias Schmid, acting vice president of Booking.com's Trips Division, said: "Manchester Goods Yard represents a landmark investment in our people and the future of Booking.com in the city.
"The tech scene in the North West is world leading and undoubtedly home to the talent that will drive our growth in years to come. Having what will be one of the UK's most modern and contemporary workspaces to call home strengthens our ability to attract and retain the very best people as we continue to develop the technologies that support seamless, connected travel."
Tanya Grady, head of partnerships and enterprise at Enterprise City, said: "We can't wait to welcome Booking.com and its workforce to our new enterprise district and community. We've been working tirelessly on the curation and development of this new city centre neighbourhood over the past few years and having tech leader Booking.com invest in our vision and join as a key anchor is monumental for us."
Enterprise City at St John's Neighbourhood is already home to Bonded Warehouse, a Grade A office development and the ABC Buildings, a repurposed 1960s building which houses creative, media and broadcast businesses. The district is also set to welcome Soho House and its Mollie's Diner concept in early 2023 which will be located in the city's landmark Old Granada Studios building.
Manchester Goods Yard – due for occupation by the end of 2022 – will be based in the new St John's Neighbourhood which is built around enterprise, culture and living. The neighbourhood comprises more than two million sq ft of development assets, 10 acres of new public realm, 600 new residential apartments, the new home of Manchester International Festival (MIF) and a new boutique hotel.
OBI project managed the fit out and negotiated the lease on the building.