People: Hall Brown Family Law; Aaron & Partners; Fairmont Recruitment; Stein IAS; Farleys Solicitors; Vision Techniques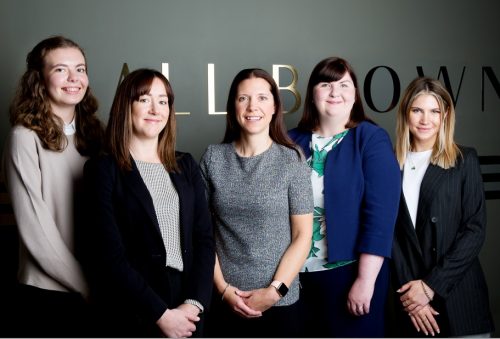 Manchester-based Hall Brown Family Law has taken its plans to develop the next generation of legal talent a further step forward with a quartet of new appointments.
The firm, which is the North West's top family law specialist, has attracted two recruits from rival firms in the region.
Madelaine Hailey, who was recently described by one of the country's most prestigious legal rankings as a "stand out" performer, becomes a senior associate following her move from Kuits.
Rachel Darrell, meanwhile, is made an associate after switching from Stowe Family Law.
They are joined by Rebekah Fender and Eleanor Scott, who add to the ranks of Hall Brown's paralegals.
Partner Claire Reid said that being able to recruit and develop young family lawyers alongside highly regarded senior professionals had been an integral element of Hall Brown's success so far: "What these latest appointments underline is that Hall Brown has become something of a destination for ambitious family lawyers – either those already with other firms or starting out on their careers – looking for the best environment in which to develop.
"Within six years of opening, we have not only managed to assemble some of the most renowned, experienced family lawyers around, but incredibly capable young individuals wanting to make their mark. As our track record shows, many of the junior solicitors who have joined us have earned promotions as the firm has grown."
Since qualifying at Kuits eight years ago, Ms Hailey has built a reputation for dealing both with complex financial divorce cases and matters involving children.
In addition to rating her as "the stand out" in that firm's family department, Legal 500 praised her for being "staggeringly bright with exceptional judgement".
Ms Darrell spent two years working with a large national firm before moving to Stowe Family Law, where she was a solicitor for three years.
Her arrival is regarded as yet another coup for Hall Brown which, earlier this month, also appointed the former head of Irwin Mitchell's family law team, Zoe Round, to its fast-growing Sheffield office.
::
An experienced property lawyer and former Wimbledon tennis umpire has joined Aaron & Partners as the firm's new real estate partner.
Brent Williams will specialise in the acquisition, disposal and funding of commercial and agricultural property, and moves to the Chester-based firm from his previous role at Knights.
Brent, who has worked in Chester for more than 20 years, said Aaron & Partners' reputation as a strong, growing brand was crucial in his decision to take on the role.
After leaving university, Brent became one of the country's top tennis officials in the 1980s. That led to him umpiring at Wimbledon on centre court on various occasions, and even as a line judge in two men's finals. One of those was for Pat Cash's famous victory over Ivan Lendl in 1987, when the Australian climbed into the stands to celebrate his win.
Brent's notable instructions down the years include the sale of 100 acres of land to Toyota for the construction of its Deeside engine plant, and the purchase of County Hall in Chester.
He will be based at Legal 500-ranked Aaron & Partners' Chester office.
::
A fast growing tech recruitment firm has hired two new members of staff as it looks to triple in size in a year.
Last month Fairmont Recruitment moved into 2,100 sq ft of space in 53-55 Mosley Street, Manchester, after signing a five-year deal.
Consultant Will Priamo and trainee James Craig have both joined the tech recruitment specialist, bringing the total number of staff to 11.
CEO Jack Donohue said if the company hits its target of recruiting up to four additional staff before the end of the year, the business will have tripled in size in 2022.
He said: "All our growth has been organic. We haven't borrowed any money so everything has been funded from new business.
"Our new office in Mosley Street has space for between 24-26 people so we're future-proofing our growth.
"Switching to a four-day week has really helped us recruit. It's better for people's mental health and we want our staff to really want to come into the office. We started the year with five staff and could end it with 15."
Priamo joins from Wilmslow-based Venturi Group and will work in the contract division, predominantly software developers.
He said: "It's a really exciting time to be joining Fairmont. I love the flexibility they offer and the variety of work opportunities."
Fairmont was founded in 2018 and is on track to double its turnover to £3.5m in the current financial year.
::
To further the agency's momentum in the UK, Europe and APAC, as well as globally, Stein IAS has announced a significant restructuring of its client services team.
Gemma Newton has joined as client services director, EMEA, to further the agency's ambitious growth plans in the region. Newton succeeds Jeremy Bramwell, who has been elevated to the newly created role of marketing director, to drive the agency's presence and pipeline around the world.
Newton, who will be based in the group's Bollington office, has joined the agency following 14 years holding various leadership positions which included managing the UK team and driving the exponential growth of digital marketing agency, Elixus and launching independent media agency, Media Agency Group's Data and Insights function. Newton also founded the UK Blog Awards, the UK's first national awards programme of its kind, and drove the transformation of multiple NHS Trusts, a project which received recognition at 10 Downing Street.
Stein IAS chief client officer, Craig Duxbury, said: "B2B is a sector in forward motion and its marketers are furthering this momentum with their focus on accelerating effectiveness and growth. To enable our clients to drive growth, Stein IAS needs to originate the best B2B marketing, integrating strategic, creative, GTM and digital excellence. Our client services teams play fundamental role in delivering exactly that to our clients.
"Gemma's vast experience across B2B and B2C makes her the ideal individual to lead our client services team in EMEA. She embodies all the values we hold dear at Stein IAS," Duxbury said.
Ms Newton said: "I have a deep admiration for Stein IAS's drive to lead the B2B category. The fact that its ambition is underpinned by a strong set of cultural values is what makes this opportunity so special. As an advocate and supporter of the growing number of women in leadership positions in the marketing space, I am proud to lead the drive to further strengthen client relationships, and grow national and multinational accounts across EMEA, building on the agency's already strong foundation."
A practitioner for more than 30 years, Jeremy Bramwell has worked across Stein IAS's global client base. Bramwell's experience in developing and implementing brand and communication strategies for the likes of ABB, Trelleborg, Tetra Pak, Dechra and BP Castrol is testament to his understanding of the complexities of connecting brand to demand to drive opportunity.
Craig Duxbury said: "Jeremy has B2B running through his veins. His immensely successful spell spearheading EMEA client engagements makes him the ideal candidate to help drive our global growth strategy and strengthen our status as B2B's premier global brand-to-demand agency."
::
North West law firm Farleys Solicitors has made a range of new appointments across the firm's six offices.
Alice Wood and Amy Duncan have been retained as solicitors following completion of their training contracts at Farleys, joining the firm's inquests and corporate teams, respectively.
Alice joined Farleys in 2018 as a paralegal working within Farleys' specialist inquests team, progressing to her training contract in 2020. Two years on, she has now qualified and successfully secured a role within the team that she began her journey at Farleys with. Alice will be specialising in representing bereaved families facing inquest proceedings, and advising on civil claims against the state for human rights breaches.
Amy joined Farleys in 2020, having already undertaken experience in corporate law. Following her two years of training, which included seats within the family law, commercial property, and corporate departments, Amy will now re-join the corporate team on a permanent basis as a solicitor and will specialise in all aspects of corporate law including business and asset sales and purchases.
Looking to follow in their footsteps are newly appointed trainee solicitors Amy Jones, Anna Billingsley, Joseph Bridge and Olivia Cooper, who have recently commenced their two-year training contracts, gaining experience in a broad range of legal specialisms.
Nick Molyneux, partner and training principal at Farleys, said: "On behalf of everyone at Farleys, I would like to extend my congratulations to Alice and Amy on completing their training contracts and securing permanent positions in their respective teams. Both have worked immensely hard and are great assets to Farleys.
"We are also delighted to welcome our latest trainee intake. Despite these challenging times, we are committed to continuing to offer high quality training opportunities to the solicitors of the future. It has been a long time pledge of the firm to invest in the future of our firm by growing our own talent. We look forward to seeing their careers continue to flourish with us here at Farleys."
::
Blackburn-based Vision Techniques has boosted its team as it looks to increase market share. The designer and vehicle safety and security systems manufacturer has appointed Dave Prince as its new sales executive working alongside Marshall Fleming and Dave Tucker.
Dave joins the team bringing with him more than 30 years of experience in sales, particularly in the waste and recycling sectors.
He said: "It's great to join the team at Vision Techniques as it has a well deserved reputation in the industry for providing products and services that help save lives. I look forward to working with the team to expand the business and develop our presence in the waste and recycling sectors."
Vision Techniques has also expanded its team of field service engineers with the appointments of Chris Hancock, Mark Hill, Lewis Nixon and Stuart Hird.
Chairman, Michael Hanson, said: "Dave will be key to helping us expand our offering in the waste and recycling sector as he brings with him the skills and abilities we need combined with a passion for ensuring customers get the very best service in our industry.
"Our new field engineers will also play a vital role in making sure our customers get exactly what they need and I'm looking forward to working with all our new colleagues."