People: Vita Group; Zerum; North West Business Leadership Team; Praetura Ventures; Roxtec; New Care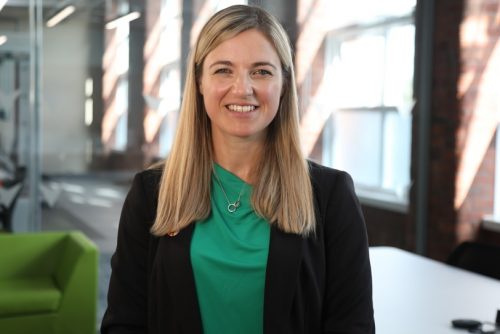 The Vita Group, a provider of flexible polyurethane (PU) foam, has appointed Natalie Watson as its new head of sustainability.
Natalie will focus on further developing the group's environmental, social and governance (ESG) strategy, implementing the plans outlined in Enhancing Everyday Life, the company's inaugural sustainability report published earlier this year.
This will involve helping to build a new environmental management system, supporting key greenhouse gas reduction initiatives and supporting the commercialisation of Vita's sustainability-focused product ranges.
Natalie joins from her own consulting business, where she worked with a wide variety of clients across multiple sectors helping them define and implement their ESG strategies. Prior to this, she worked for Extentia Group, a Manchester-based construction company. In this role, she undertook a number of roles focused on sustainability, health and wellbeing and project management.
She said: "Over recent years The Vita Group has demonstrated its commitment to addressing the climate crisis by implementing transformative initiatives throughout its operations. A key driver of this has been Vita's commitment to product circularity, ensuring as much waste is recycled into new, market-leading products as possible. It's a privilege to now be tasked with building upon the work to ensure we meet our ambitious – but achievable, and absolutely necessary – targets."
Dave Kowal, chief people and sustainability officer at Middleton-based The Vita Group, said: "Natalie will use her experience from different sectors to help us both achieve our already set targets, and to also develop new ambitions for how we can take our business to the next level in terms of aligning with climate science and bringing our customers and supply chain with us in the transition to a low carbon world."
::
Manchester and Leeds-based planning, project management and cost management consultancy, Zerum, has made two new hires on the back of a raft of new business wins.
Luke Bishop has joined as associate director after recently moving from independent construction and property consultancy, Gardiner & Theobald. Luke has previously worked on projects such as Old Market Shopping Centre, Hereford, plus Manchester Metropolitan University science and engineering building..
He will be working on projects across Manchester including the landmark St Michael's scheme, as well as a number of student residences across the city.
Luke said: "I am very excited to be involved with reshaping the Manchester skyline through the incredible schemes we are working on at Zerum. I am really looking forward to joining such a great team full of top-tier talent."
Hamza Waseem has also joined the team as project manager after recently re-locating from Canada. Hamza will be working on projects across the North West such as the Natex student accommodation in Liverpool and a couple of notable hotel developments across the North West and has a wealth of construction management experience.
Zerum is currently delivering services on site with notable schemes including KKR's St Michael's Phase 1 (£59m), Gorton Street, Salford (£64m), Natex Student Accommodation (£23m), City Place, Chester (£23m)
Recent wins include Thomas Street residential scheme in Manchester, Queens Court Student Accommodation scheme.
Russell Wright Turner, cost management director, said: "We have strengthened our team with world-class talent which enables us to continue being a market leader across Manchester and Leeds.
"People are our greatest asset and it has been great to welcome Luke and Hamza to the team. We are really looking forward to the year ahead as we continue working with our key clients on some of Manchester and Leeds' biggest developments."
::
The North West Business Leadership Team (NWBLT) has welcomed two new members in Adeel Aslam, of Bouyges Energies & Services, Contracting, and James Byrne, Sustainable Ventures.
Deputy chair, Joëlle Warren, executive director & EOT chair at Warren Partners, said: "These turbulent times are re-enforcing the value and importance of good leadership, and the addition of Adeel and James will further strengthen the membership of the North West Business Leadership Team. Both Bouygues ES and Sustainable Ventures bring expertise in sustainability and net zero, which is a key focus for us and key to the long term growth of the region."
Adeel Aslam, technical director at Bouygues Energies & Services, Contracting said: "I am looking forward to collaborating with the team and working on key topics and megatrends that affect all of our businesses and organisations and will drive the long term sustainable and inclusive growth of the North West region."
James Byrne, a partner at Sustainable Ventures, said: "It is a pleasure to join the NWBLT and work with so many great leaders who are committed to sustainable inclusive growth for the North West."
::
Manchester-based venture capital firm Praetura Ventures has made five new hires to its team of investment experts, including GC Angels' Jessica Jackson, as it bolsters its team to support growing demand for VC funding.
Jess joins as an investment manager, and will dedicate her extensive experience to strengthening the firm's commitment to providing founders with 'more than money' support.
Prior to joining GC Angels in December 2018, Jess worked in healthcare technology with the likes of Emis Health and Evergreen Life, gaining experience in M&A, start-up growth and angel investment. More recently, she has led investments into Guardian Angel, Collctiv and Xploro, and has also helped support funding rounds led by Praetura Ventures into Manchester-based workplace harassment platform Culture Shift.
She will continue her role on the steering group of Fund Her North, which supports and promotes female entrepreneurs across the North of England.
Other new hires include Grace Sanderson and Michael Rees, who join the team as investment executives. Grace, who previously spent three years at Maven Capital Partners, will support the GMC Life Sciences Fund, which has already attracted more than 100 applicants for early stage funding since it launched. Michael joins from the Development Bank of Wales, where he specialised in technology venture investments, and will focus on supporting the firm's EIS portfolio, which includes regional success stories such as PEAK, Culture Shift, BankiFi and Orka Technology.
Praetura Ventures has also recruited two new graduates as investment associates. Emily Bourne, who graduated with a linguistics degree from the University of Oxford this summer, where she also gained experience with a year abroad at Paris-based VC Partech. Stefano Smith gradutated from the University of Dundee in 2020, and has spent 18 months as a trainee financial planner at Forth Capital.
The five new hires to support growing demand means Praetura Ventures' investment team has now doubled over the past 12 months, and has become one of the largest dedicated teams in the early stage VC space.
Mark Lyons, director of investment at Praetura Ventures, said: "The calibre of these appointments signals the strength of support we're looking to provide to promising early stage businesses. Each of them bring different attributes and everyone's so excited to welcome them to the team."
::
Cable and pipe seal manufacturer Roxtec will deliver increased support for its customers on their green energy journey with the creation of a new key decarbonisation role within the business.
Rob Cullen has been appointed decarbonisation technical manager and in his new position in the Bury-based company he will work to support energy and power companies as they deliver their major transition projects.
He will be looking to work closely with customers to identify and meet their needs as they embark on green energy and decarbonisation projects, using his experience in the power sector to deliver optimum sealing solutions. The role will have a specific focus on green hydrogen, battery energy storage systems, offshore wind power and carbon capture, all vital to the UK's journey to net zero.
Rob has been Roxtec's power transmission and distribution manager since 2016 and has played a key role in the company's growth in the sector.
Will Melvin, Roxtec nuclear, power and process divisional manager, said: "The creation of Rob's new role is an investment in the future. It is in response to the increasing needs of our customers as they embark on their energy transition projects and work towards their decarbonisation goals. Rob has a strong track record of delivery and in providing customers with the solutions they need. In his new role he will help to deliver further growth for the business in the power market."
Rob said: "I've built up strong relationships with our energy and power industry clients and I'll be looking to build on those in my new role, working with them to discover their requirements and finding the solutions that really work for them. It is an exciting time for the sector and for the business."
As part of its overall support work for the energy and power sectors, Roxtec is holding a webinar on safety seals for green hydrogen projects today (September 21). Hosted by sealing specialist, Gavin Cornall, they will take place at 8am and 3pm and explore the considerations that need to be made and highlight specific solutions.
::
Paula Clark and Sophie Kay have been appointed by New Care as registered manager and deputy manager, respectively, at Wilmslow Manor Care Centre, the company's latest care facility on Handforth Road in Wilmslow.
Paula, who has worked in older people care settings for more than 38 years providing domiciliary, residential, nursing and dementia care, has been a registered manager of care homes across the North West, and more recently in the Isle of Man, since 2009.
Sophie has a diverse background in nursing across all sectors, including A&E, primary care, plastic and cosmetic surgery as well as private general medicine. She has vast experience with quality assurance, patient experience and safeguarding, and leaves her last role working within quality and the practice nurse lead for Cheshire to join New Care.
Chris McGoff, CEO at New Care, said: "I am confident they will utilise their extensive knowledge and expertise to establish Wilmslow Manor as the care home of choice in Wilmslow and the surrounding areas."
Opening later this month, Wilmslow Manor is a new, purpose-built 63-bedroom care home. It features fully furnished bedrooms, each with a private en suite wet room, plus a selection of communal lounges and dining rooms.