People: RSM UK; APDO; pro-manchester; UK Circuits; Morecrofts Solicitors; ONTO Group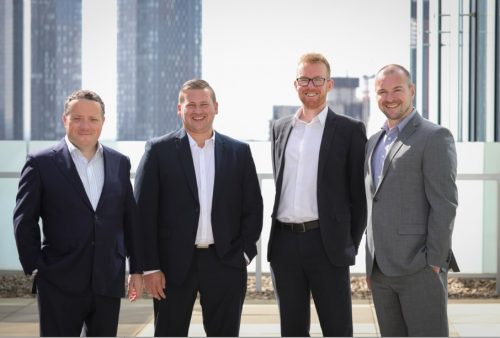 Audit, tax and consulting firm RSM UK has appointed a new partner to strengthen its national and regional tax practice in the North West.
Simon Taylor has been appointed as tax partner and will be based in Manchester, acting for clients in the North West and supporting the firm's ambitious plans for growing its portfolio of global transfer pricing clients across all sectors.
Simon, a qualified chartered accountant and chartered tax advisor, specialises in transfer pricing services and has more than 19 years' experience working in various tax roles in industry and professional services including Moore and Smalley and Jaguar Land Rover. He joins RSM from EY, where he spent 12 years advising national clients on transfer pricing and operating model effectiveness, most recently working as transfer pricing director.
In addition, David Field also joins RSM's Manchester office this month from EY, where he worked for 16 years in employment tax and global strategy roles, including most recently as global mobility director. David has been appointed as director in the employment tax team and will support clients with global mobility solutions.
Simon Taylor said: "With increased regulation and tax authority scrutiny, international groups are placing a greater focus on their transfer pricing positions. I'm really excited to join RSM's growing transfer pricing team to offer the specialist support required by the firm's client base, advising them on all aspects of the transfer pricing cycle while supporting RSM's regional and national ambitions."
James Morris, RSM's head of tax in the North, said: "We continue to expand our tax offering to internationally active businesses across the North. The appointment of Simon and David strengthens our offering and depth of expertise to ensure our clients continue to receive a service that meets requirements of an increasingly complex global tax environment."
Kevin Duffy, RSM's regional managing partner in the North West, said: "Simon brings with him a wealth of experience as a tax practitioner and transfer pricing specialist, which will strengthen our regional and national tax practice, while David brings significant knowledge and expertise in global mobility solutions, which will further develop our employment tax offering. I look forward to working with them to support our ambitious growth plans."
::
The Association of Professional Declutterers and Organisers, the only UK association that sets standards for the professional organising industry, has appointed Stockport-based Siân Pelleschi as its new president.
Running her professional decluttering and organising business Sorted! since 2017, Siân has held the position of conference director on the APDO board for two years and has been instrumental in the management and direction of the association during this time.
As the new president, Siân will be continuing to drive the growth of the association, strengthening connections with APDO's international counterparts and creating a community that is not only inclusive for all, but is also seen and heard leading the way in the professional decluttering and organising industry.
Siân said: "I am truly honoured to step into the role of president for APDO, as the association celebrates its 18th year. The APDO community, which strives to help and support others, is so passionate about what we do and has played such a big part in building awareness of professional organising as a service industry."
Founded in 2004, APDO is a non-profit organisation and belongs to a global community of professional organising associations which foster collaboration to advance the industry through sharing information and ideas.
::
Property finance expert Sean Williams, of Cheadle-based specialist lender Together, has been appointed chairman of pro-manchester, the North West business development organisation.
Williams, who is head of professional sector at the lender, is responsible for providing finance to help entrepreneurs and SMEs across mainland UK realise their business ambitions.
Before joining Together in 2020, Williams was head of customer banking at Yorkshire Bank in Manchester, responsible for leading customer-facing staff as well as developing the strategic direction of the banking operation and relationship management team.
He said: "As a passionate advocate for Manchester, I'm incredibly excited to have the opportunity to work with the board and membership of pro-manchester to continue to further the ambitions, aspirations and potential of the city."
Sam Booth, chief executive of pro-manchester, said: "We are incredibly pleased that Sean will be our new chairman."
Chris Baguley, MD of corporate at Together, has also previously held the position of chairman. He said: "It's great to see pro-manchester being led by Sean. His dedication and passion will be invaluable to the organisation, and I am excited to see how he will guide them for the next year."
::
Electronics manufacturer, UK Circuits and Electronics Solutions (UKC) has appointed bookkeeper Gillian Dingle as the company sees an increase in revenue for the last six-month period.
Gillian joins the team bringing with her more than 24 years of experience in bookkeeping and accounts. Previously, she has worked at Outdoor Leisurewear, Sisa UK and Coinfactory.
Simon Deacon, CEO of UKC's holding company Light Science Technologies Holdings, welcomed Gillian, saying: "With her depth of experience, she is very strongly placed to efficiently manage UKC's finance function, in the midst of a significant period of growth in the business.
"We are confident that the medium and long term outlook for the group is promising, as the market continues to grow. With our experienced team, our technologies and energy saving products feeding into the growing pipeline, we are in a strong position to take advantage of the opportunities and achieve our objectives."
::
Morecrofts Solicitors has welcomed 14 new members of staff in recent months following a period of unprecedented growth.
Annual turnover at the firm rose above £5m for the first time, leading Morecrofts to strengthen its team across all six offices in Merseyside.
Among those is highly experienced legal executive Liz Potter, who has joined the family matrimonial team. She has worked in family law for 25 years across Merseyside, Halton and Wirral and is based between Morecrofts' Prescot and Woolton offices.
A Fellow of CILEx for 13 years and a member of Resolution, she has significant experience in divorce, financial resolution, private children law applications and cohabitation matters, with a keen interest in resolution of matrimonial financial matters and private children advocacy.
A large number of new team members have arrived in the family law team, including solicitor Heather Lyon, who has joined in the Liverpool office alongside paralegal Liam Negus and trainee legal executive Liz Dubkova. They are joined by family paralegal Emily-Jayne Laughton, based in Woolton, and Keeva Gilroy and Freja Hopwood, who are both based in the Birkenhead office.
Rejoining the firm is private client solicitor Kate McEvoy, who spent more than three years with Morecrofts until 2020 and returns to the Crosby office. She is joined in the private client team by paralegal Samantha Lack in the firm's Woolton office.
Morecrofts has also strengthened its property team, with the addition of paralegal Antonia Shelley in the Prescot office, while fellow paralegal, Lesley Agugua, has joined the employment law team, based in Liverpool.
Katie Ward has been recruited as a costsperson in the firm's fee unit in Liverpool, while Jasmine Wilks and Louise Burdett-Fox have also been appointed as apprentice receptionists.
Alison Lobb, managing partner at Morecrofts Solicitors, said: "Thanks to the outstanding work of our staff, the past 12 months has been a really successful period for our business, with growth in client instructions across all departments.
"We have, therefore, broadened our staff base across all areas of the business to support our existing teams and ensure we are well positioned to retain our current momentum to achieve further growth in the coming years.
"We are pleased to have been able to recruit an excellent blend of outstanding, experienced lawyers alongside young, emerging talent and the future looks very bright for clients and staff at Morecrofts."
::
North West bespoke data management service provider The ONTO Group, has bolstered its team with a trio of new appointments, strengthening and supporting the company's ambitious expansion plans.
Gill Edwards, Lynsey Marsh and Amy Davies have joined the company, offering management information system (MIS) consultancy for the group's continuously growing client list and providing operational support.
Gill Edwards takes on the role of MIS consultant, with a significant 20 years of experience in data management. Most recently, Gill held the position of information and data manager at a high school.
Also joining as an MIS consultant is Lynsey Marsh who joins from a data manager role at a high school and previous to this worked within aviation contract management.
Expanding the operations team is Amy Davis, who has been appointed as operational support executive. With a keen eye for detail, Amy has a strong background in administration and quality assurance.
The firm is also refreshing and expanding the knowledge of its consultants with an intensive week of training opportunities to offer support across various areas of MIS and Exams, led by lead consultant Kay Vickers and success director Neil Gregory. Team members are also participating in GDPR training run by a senior MIS consultant at the company who, in addition to managing GDPR within The ONTO Group, supports schools with this also.
The ONTO Group's co-founder and managing director, James Treacy, said: "It is a pleasure to welcome Gill, Lynsey and Amy to The ONTO Group Family, all of who I'm sure will be a valuable addition to the team. We have a strong company ethos of promoting growth and development in all of our dedicated and experienced employees, enabling us to offer unrivalled quality service, professional support and innovative, unique business solutions to every school, every time."