City round-up: JD Sports Fashion; Real Good Food Group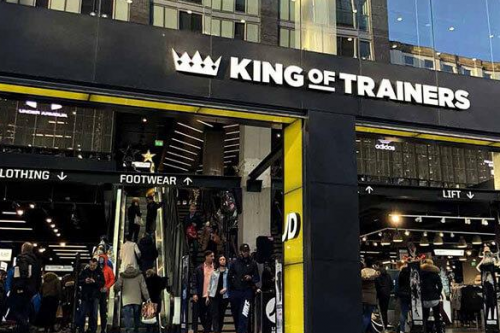 JD Sports Fashion has been selected as sports retail giant Nike's first European retail partner for its Connected Partnership, designed to enhance the shopping experience of customers through access to an additional range of Nike member-exclusive products and experiences.
Nike's Connected Partnership – a transformative integrated loyalty programme – offers JD's customers, starting in the UK, unprecedented access to select Nike member-only footwear and apparel when they opt to link their JD and Nike Membership accounts through the JD mobile app.
By linking their membership accounts, JD and Nike customers unlock an instant reward bonus, curated collections, and earlier access to select Nike member products. In future, connected members will also have the opportunity to benefit from exclusive experiences and services.
The new integrated offering further cements JD and Nike's trusted partnership, redefining how brands and retailers work together to set the global standard for retail experience through best-in-class operations in stores and across digital channels.
Régis Schultz, CEO of Bury-based JD Sports, said: "JD and Nike have a long and successful history of working together as strategic partners to bring customers an exceptional product offering and seamless omnichannel experience. This mutually beneficial partnership enhances our strong customer connections through best-in-class retail experiences and early access both in store and online to a select range of additional Nike products.
"This partnership – the first to launch in Europe – amplifies the combined strength of the Nike and JD brands with our shared consumers, by leaning into their behaviour and journeys and creating new, richer and more engaging experiences. It provides further opportunity to inspire the emerging generation of aspirational consumers, who can continue to feel confident that they are being offered the very best of Nike products when shopping at JD."
Carl Grebert, vice president and general manager EMEA of Nike, said: "Nike's brand is amplified when we work with like-minded partners to serve those who love sport. Linking up with JD enables us to further extend the best selection of innovative sport performance and lifestyle footwear and apparel from Nike, with the power of digital and physical retail.
"Connected partnerships allow us to know and serve Nike members across the marketplace, however, wherever and whenever they shop Nike. We aim to serve JD members with compelling connected member benefits and distinctive experiences."
::
Liverpool-based baking ingredients group Real Good Food said it made a good recovery from COVID at the start of last year, but, as reported in the trading update in April, confirmed conditions have been challenging since the start of the calendar year, and revealed it will need to implement a further round of redundancies.
In a trading update for the year to March 31, 2023, today, the group said these macro-headwinds, fuelled in part by the war in Ukraine, have continued through the summer and are expected to continue for the immediate future given the wider macro-economic outlook.
Operations have continued to be impacted by daily supply shortages and erratic deliveries of key ingredients and there has been hyper cost inflation. The cost of sugar has doubled, and costs overall are about 30% higher. The wider economic conditions have also affected short term demand for products as households react to pressure on disposable incomes.
For the first five months of the financial year to 31 August 2022, volumes were 29% down on the same period last year and 16% lower than the pre-COVID benchmark (FY20). The group has been increasing prices and reducing costs to partially mitigate the fall in volumes, but is currently incurring losses at an EBITDA level. As a result, negotiations with customers are being accelerated to address the widening gap caused by cost inflation.
However, the group said it is determined to hunker down, control costs and protect revenues. One of its competitors (Food Innovations) was recently put into administration, which reflects the sector-wide challenges, but this also creates an opportunity for the group to gain market share and strengthen its market position.
Having started a voluntary redundancy programme in May 2022, which will reduce headcount by 51, the board has been working with external consultants to put into effect a more radical reform of the group to eliminate overhead costs, and to build stronger partnerships with key customers.
Further headcount reductions will, therefore, be required. The recovery plan is well defined and includes significant price re-sets with customers and circa £3.2m of overhead cost savings to take the business back to profitability. Successful implementation of the plan is expected to return between £2m and £4m in EBITDA under current market conditions. Several price adjustments have already been agreed with major customers.
The group, with support from advisers, is in advanced discussions to secure an additional £2.5m of funding to support the restructure. Existing Loan Note Holders have pledged £1m and a new asset-backed facility of circa £7.5m, comprising a term loan of £2.3m and approximately £5.0m invoice discount facility, is under discussion underpinned by robust asset security and the recovery plan.
This new facility will replace existing facilities of £6.3m with Leumi ABL, which comprise a term loan of £0.8m and an invoice discount facility of £5.5m, of which £3.2m is currently drawn. A further announcement in respect of the funding package will be made within the next few weeks.
Notwithstanding the disappointing start to the current financial year, the board and major stakeholders are confident that the right actions are being put in place to return the business to the sustainable profitability that the company had started to deliver prior to the war in the Ukraine, and post-COVID.
Mike Holt, executive chairman, said: "Market conditions have remained extremely challenging due to a perfect storm of rising costs and lower revenues resulting in a reduction in management's expectations for the current financial year.
"To mitigate this, we are putting into effect a more radical programme to reduce costs, protect revenues and preserve the inherent value of the group. We retain the support of our Loan Holders and major shareholders to undertake this for which we are grateful."