New concept in dining and entertainment set to open next month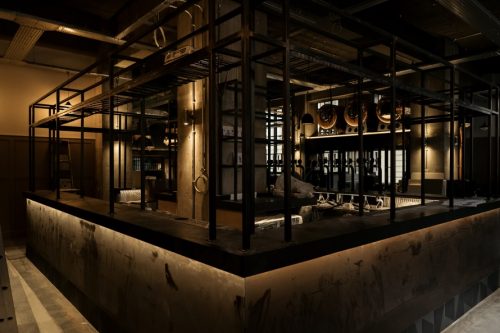 More than 60 jobs will be created with the opening next month of a multi-kitchen restaurant, bar and entertainment site in Manchester.
A 6,000 sq ft facility, aiming to become the home of eclectic independent food, innovative drinks, and boundary-pushing entertainment, is set to open in November, with three award-winning kitchens set to join the space.
Exhibition has been brought back to life by the team at Grade A Alternative, a family-owned property business that previously opened Haunt, a Manchester-based coffee shop and aperitivo bar on Peter Street.
The venture will create jobs and widen opportunities for smaller independent businesses with takeovers of its deluxe kitchen spaces.
Levelling up from the traditional food hall concept, Exhibition will have space for 200 covers by day and 400 capacity by night, alongside entertainment, two bars and dedicated exhibition spaces for local artists.
Prestwich favourite and Michelin Guide-named Osma will bring a new relaxed edge to its famous Scandinavian concept, Caroline Martins of the Sao Paulo Project, with a new version of her Brazilian-British fusion cuisine, plus Ramsbottom's Basque fire cookery restaurant, Baratxuri, will join the line up at the new city centre venue in the Grade II-listed building of St George's House on Museum Street.
Previously the site of the Museum of Natural History in 1909, the interiors have been stripped back to reveal the original industrial shell. The building sits on the site of the 1817 Peterloo Massacre, and is where the body of Hannah Beswick – the Manchester Mummy – was found.
Sam Wheatley, hospitality veteran and previously of the Pivovar Group and Andrew Pern's Star Inn Group, has been brought in as operations manager and is responsible for bringing the new venue to life.
Sam said: "We've been working on this project for the past 18 months. Previously opening Haunt has afforded us the opportunity to understand where the market is post-COVID, and as you'd expect, the concept has transformed monumentally over time.
"Personally, as I'm not from Manchester, I've been able to gain valuable insights into the city and its preferences. This has also meant I've been able to meet some great operators, suppliers and, perhaps most importantly, some of the best hospitality staff Manchester has to offer."
Sam added: "This is a hugely exciting and ambitious project. Innovation is evident throughout, in terms of concept, design and of course F&B delivery. We can't wait to show the space off next month."
Gethin Jones, a stalwart in the Manchester hospitality scene having previously worked as a drinks consultant, and previously managed the likes of Ducie Street Warehouse, Cottonopolis and Edinburgh Castle Pub, has been brought in as general manager and will spearhead the curation of the drinks menu for both bars.
The main bar will be the first in the city to offer Manchester Union straight from the in-venue tanks, alongside a dedicated rotational line for Manchester breweries such as Sureshot, Cloudwater and Pomona. In addition, Exhibition's wine list will complement the food partners.
After dark, Exhibition will transform into a late night bar with DJs, live singers and instrumentalists. Seven dedicated areas will also see a new local artist exhibiting their work every season.