Government thwarts Metro Mayor's call to axe Avanti contract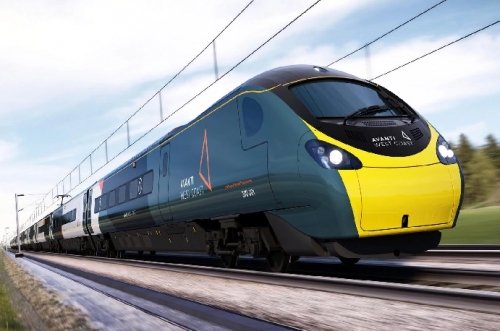 A call by Andy Burnham, Mayor of Greater Manchester, to terminate the contract of rail operator Avanti West Coast appears to have been derailed by the Government agreeing to renew the current deal until March 2023.
Mr Burnahm has written to the Transport Secretary urging her to terminate Avanti's contract unless it can commit to increasing its service between Manchester and London by the end of this month.
In August Avanti West Coast, which runs services between Manchester Piccadilly and London Euston, slashed its timetable to just one service an hour and suspended ticket sales due to "unofficial strike action" by drivers.
The driver shortage was due to staff declining extra shifts beyond their contracted hours, and not industrial action.
The company said the limited timetable will be in place "until further notice".
In a letter to the then Transport Secretary Grant Shapps, Andy Burnham, leader of Manchester City Council, Bev Craig, and London Mayor Sadiq Khan urged the train operator to restore a full timetable saying the cuts were a "national outrage".
Now, Mr Burnham has written to new Transport Secretary, Anne-Marie Trevelyan, urging her to require Avanti West Coast to increase timetabled services between Manchester and London to at least two per hour by the end of the month – or remove the contract.
In the letter he said the company's plans to return to an increased timetable on December 11, would cause too much disruption to passengers and damage to the Greater Manchester economy.
As a minimum, he has called for a consistent service of at least two trains per hour between Manchester and London by the end of October as a staging post to a return of three trains by December.
If the company is unable to make this commitment, the Mayor believes its contract should be terminated when it was due to be considered for renewal next week.
However, in a statement to the stock exchange today (September 7), Avanti West Coast co-owner, First Group, announced that it has agreed with the Department for Transport ('DfT') to extend the current contractual arrangements for the West Coast Partnership to the end of March 2023. The contract comprises operation of Avanti West Coast and acting as shadow operator to the HS2 programme.
The contract was set to expire on October 16, 2022, but has now been extended until next year.
Graham Sutherland, FirstGroup chief executive, said: "We are committed to working closely with government and our partners across the industry to deliver a successful railway that serves the needs of our customers and communities.
"Today's agreement allows our team at Avanti West Coast to sustain their focus on delivering their robust plan to restore services to the levels that passengers rightly expect."
Responding to the extended contract, Andy Burnham said: "Putting Avanti West Coast on notice marks a significant shift in tone under the new Secretary of State. At last, there is a clear recognition of the crisis engulfing the country's most important railway line and the management failure that has led to that.
"However, the lack of an acceptable rescue plan from the company – and clear conditions from the Government – means very few people in Greater Manchester will support this extension.
"The damage that Avanti's failing service is inflicting on our economy, and the huge disruption to passengers, is completely unacceptable. The company has shown itself to be unable to stabilise their service and fix problems with ticketing and the on-board experience for passengers. The thought of another six months of what we're currently experiencing is a huge concern."
He added: "From here, Greater Manchester is calling for a new approach from the Government. First, we want day-to-day monitoring and week-to-week public reporting on performance to be introduced.
"Second, we ask the Government to set a review point in mid-December in consultation with Mayors and leaders from London, West Midlands, Greater Manchester, Liverpool, Glasgow and Edinburgh. If Avanti are still not delivering the full timetable and an acceptable service at that point, that will allow time for arrangements to be made for a new operator to be place from April 2023."
When Avanti first cut services it promised the move would bring "stability and certainty" for passengers – but an average of 10% of Avanti West Coast services between Manchester and London over the past three weeks were either cancelled or significantly late.
Over the same three-week period, more than a quarter of services (27%) have failed to arrive on time.
Mayor Burnham has also highlighted that urgent action needs to be taken to improve the experience of passengers, with tickets still being released only a few days in advance and seats regularly double-booked.
In his letter to the Transport Secretary, Mr Burnham says: "At present, Avanti customers continue to report very poor levels of reliability. Even on the current, massively reduced timetable, trains are still regularly delayed or cancelled at a time when we are told by Avanti that they have more drivers available than ever. I urge your officials to study Avanti's performance metrics which demonstrate this.
"Passengers face other challenges too. Tickets are still only being released a few days in advance, making planning for individuals and businesses impossible.
"Seat double bookings remain a significant issue, leading to arguments between passengers and people having to stand for long journeys. Poor maintenance is resulting in broken toilets, air cooling and onboard café equipment.
"These dreadful conditions would be unacceptable at any time but are particularly so now given the wholesale collapse of the timetable, something no other train company is experiencing at anything like this scale."
Ironically, in the 'About' section of First Group's website, it states: "We create solutions that reduce complexity, making travel smoother and life easier. Our businesses are at the heart of our communities and the essential services we provide are critical to delivering wider economic, social and environmental goals."