Liverpool hits top note, clinching Eurovision Song Contest 2023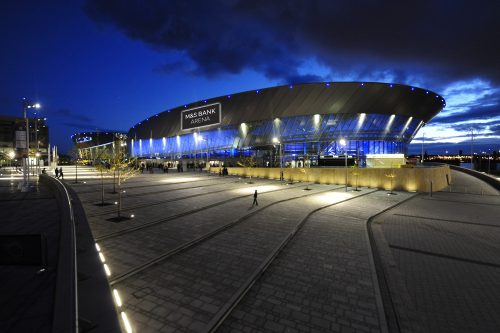 Liverpool has won the right to host next year's Eurovision Song Contest, the BBC announced tonight (October 7).
The city was shortlisted last week, along with Glasgow, to host the TV spectacular.
The show, to be held in the M&S Bank Arena, Kings Dock, on May 13 next year, is expected to attract thousands of visitors to the contest, and around 160 million TV viewers.
Ukraine's entry from Kalush Orchestra, Stefania, won this year's contest and usually the winning country hosts the following year.
But it was decided by the European Broadcasting Union (EBU), that next year's contest could not be held in Ukraine due to the ongoing war with Russia.
This year's UK entry, Sam Ryder, was placed second, leading to the UK's ongoing involvement.
TV personality Graham Norton announced the winning host city on tonight's One Show on BBC1.
Reacting to the news, Liverpool Lord Mayor, Roy Gladden, said: "We wanted it, we expected it. We are so glad we have got it.
"We will give it a party that's never been done before."
Claire McColgan, Director of Culture Liverpool, said: "We're doing this for the people of Ukraine first of all. We're just delighted.
"It is going to be incredible for Liverpool."
And Liverpool-born singer, Sonia, who represented the UK in the 1993 Eurovision Song Contest where she finished second with 'Better the Devil You Know, declared her delight: "I am absolutely over the moon," she said.
"We're going to have the biggest party ever."
Liverpool is twinned with the Ukrainian port city of Odesa, and its mayor, Gennadiy Trukhanov, said: "It is a matter of great pleasure to know that the bid of Liverpool, our sister city, to host the Eurovision Contest in 2023 is successful.
"Your city is worthy of that as it embodies the colourfulness and brightness of entire Europe. You definitely know how to make the world dance and sing along with you.
"Next year all musical roads of Europe will lead to your city, and we are happy that not only Eurovision contest will decorate Liverpool, but the city itself will adorn the event too. All of Odesa is looking forward to literally hearing from you."
Mayor of Liverpool, Joanne Anderson, said: "I'm over the moon that Eurovision is coming to Liverpool.
"We knew that we faced strong competition from Glasgow, but we also knew that we had a great bid underpinned by the expertise of our award-winning Culture Liverpool team and supported by all our brilliant partners.
"This is a massive event and the eyes of the world will be on us in May, especially those of our friends in Ukraine.
"Now begins months of work to put on the best party ever. Ukraine – you have my promise we will do you proud."
Steve Rotheram, Mayor of the Liverpool City Region, said: "Home to the more UK number one hits than anywhere else, the birthplace of The Beatles, Cilla Black, Gerry and the Pacemakers, The Real Thing, Elvis Costello, The Zutons – and now the host of Eurovision 2023 – the Liverpool City Region is undoubtedly the UK's cultural capital.
"While we came up against stiff competition from Glasgow, who deserve more than the nil points they have received on this occasion, nowhere is more experienced or qualified, and nowhere throws a party quite like we do."
He added: "We want to put on a show that Ukraine would be proud of, and we have been working closely with Liverpool's sister city of Odesa to ensure that this is their event as much as our own.
"Now the hard work begins. Putting on a show that will give millions a night they will never forget in one of the most turbulent and trying years for our continent is no mean feat. If anywhere is capable of it, it is the Liverpool City Region – with a little help from our friends in Ukraine. Slava Ukraini!"
Hotel bookings in both cities soared, and prices rocketed, as Eurovision fans tried to cover all bases and secure accommodation ahead of the final decision.
The two cities, both Unesco Cities of Music, pipped Birmingham, Leeds, Manchester, Newcastle and Sheffield to the final stages of the competition to stage the show.
Originally, 20 locations had expressed an interest in hosting the event.