Peel Ports starts moves to sack 132 staff, as latest strike action gets under way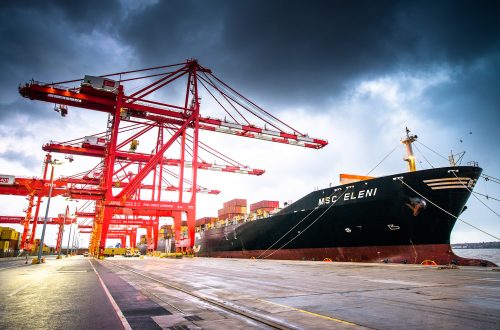 The Port of Liverpool has issued redundancy notices to 132 workers.
Dock workers are involved in industrial action against management over a pay dispute which has already seen a two week stoppage, and a further one week walkout starting today (September 11).
Unite the Union, representing dock workers, described management's decision as "desperate", adding that the dispute is now about jobs and pay.
Prior to the issue of redundancies, port owners urged staff to call off the action, claiming they had rejected an offer worth 10.2% on basic pay, which it said is two per cent above the UK's key measure of inflation (CPIH) of 8.2% at the time of pay anniversary negotiations in June.
Bosses claim the union has demanded a 15.7% pay increase. They blamed the job cuts on falling levels of work at the Liverpool2 container port.
But Unite says the threatened redundancies make no business sense and have been proposed and dropped previously.
It said the port had already revealed that it is looking to expand, adding this latest move is simply the company seeking to intimidate workers taking lawful industrial action in a long-running pay dispute.
Unite general secretary, Sharon Graham, said: "Peel Ports' plan is to pile up even more profit at the expense of its workers and their families. These regurgitated, months-old plans are simply a desperate attempt to intimidate workers. It won't work.
"The employer, MDHC, is part of Peel Ports, which recently reported a record profit before tax of £141m, greater than the entire wage bill for the year. Peel Ports has paid out more than £300m in dividends over the last five years."
Unite says it is demanding a pay rise in line with inflation (RPI), which is currently 12.3%.
It said MDHC has already failed to honour the 2021 pay agreement. This includes the company not undertaking a promised pay review, which last happened in 1995, and failing to deliver on an agreement to improve shift rotas.
Unite national officer, Bobby Morton, said: "Rather than enter into sensible negotiations, Peel Ports is making yet another cynical attempt to intimidate its workers. It is clear that they just want to avoid paying a fully affordable pay increase."
A spokesperson for Peel Ports, operator of the Port of Liverpool, said: "Unite continues to make unrealistic and unsustainable above inflation pay demands, whilst declining a meeting with ACAS.
"We are concerned Unite have no interest in resolving matters through the collective bargaining arrangements we have in place or via an independent ballot, as it continues to push for more strikes.
"Our average 10.2% basic pay increase offered in talks last week represents an industry-leading deal and is two per cent above inflation, at the time of the pay anniversary and review in June.
"Ongoing strikes are hurting Liverpool City Region's businesses and prospects for future growth and jobs, at a time of economic uncertainty and volatile market conditions.
"We call on Unite to reconsider the greatly enhanced offer via an independent ballot, so we can bring these damaging strikes to an end."