People: Hurstwood; Simpson Millar; Abbey Logistics; Avrenim; Preston City Council; Baltic Creative CIC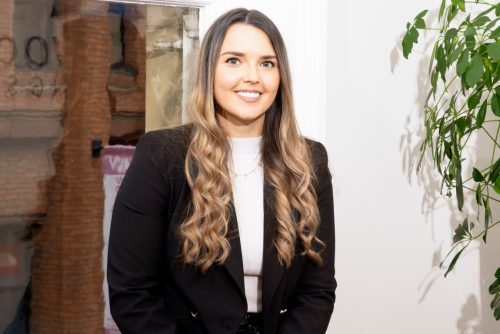 Aimee Beaumont has been promoted to director of Hurstwood Holdings and joining the main group board after more than a decade working in the business.
In her new capacity as operations director, Aimee is responsible for the day to day running of the business. Aimee began working for Hurstwood Holdings as a purchaser ledger 12 years ago during which time she has been actively involved in the majority of the company's projects across all sectors including asset management, acqusitions and marketing.
Andy Park, managing director of Hurstwood Holdings, said: "Since Aimee joined the company, she has been instrumental in the growth of the company and I know that she will continue to develop and help drive the business to new heights."
Aimee said: "As a business, Hurstwood continues to go from strength to strength, attracting the best talent in the market. We have just had one of our best years ever and I am very excited about the future of the company."
Hurstwood currently employs 100 people nationwide with 25 based in its head office in Manchester.
::
Simpson Millar has promoted Liam Goggin to head of abuse law in a move that further bolsters the public law division's senior management leadership team.
Based out of the firm's Manchester office, and specialising in child abuse claims against public bodies, including schools, religious or charitable organisations, social services and the police, Liam brings nine years' experience to the role.
A member of the Association of Child Abuse Lawyers, the promotion sees him officially take on the role of leading the 10-strong national team, having recently acted as interim head of department.
During this time Liam has overseen a large number of procedural and cultural changes within the team, which also handles civil cases against individuals who have been criminally convicted of abuse, including representing clients in group actions, and pursuing Criminal Injuries Compensation Authority (CICA) claims.
He has also represented clients in a number of high profile cases against football clubs such as Crewe Alexandra and Manchester City, as well as representing clients in the national inquiry in London, and to claim for compensation as part of the Lambeth redress scheme.
Imogen Jolley, head of public law at Simpson Millar, said Liam brings with him "unrivalled insight" into complex areas of abuse law, and that his passion for securing justice on behalf of his clients "resonated throughout the department".
She said: "Liam's expertise and insight into some of the more complex aspects of bringing a claim against public bodies, and particularly under the CICA, has secured justice on behalf of hundreds of clients.
"Likewise, his passion and dedication for the work that he does has put him front and centre of some of the highest profile abuse cases in recent years, and his passion has truly resonated throughout the team during his time as interim head of department."
Liam said: "I am proud and privileged to have been named as head of abuse law at Simpson Millar, and to have the opportunity to continue to lead such a talented and dedicated team of legal experts.
"Collectively we are focused on securing access to justice on behalf of clients who have been let down by the very people who should have been there to protect them. This commitment to opening up the law, and to making sure that they are on hand to help anyone in need of legal support, is what makes this role so rewarding."
::
Abbey Logistics Group, the Wirral-based food tanker business, has announced that long-serving CEO, Steve Granite, has stepped down from his role as CEO to take up a new position as executive chairman at the tanker specialist.
Granite joined the business as a 15-year-old apprentice in 1995 and held various positions including finance director, before being named successor to majority shareholder Stephen Lucy, in 2009 as managing director. During that period, Granite grew revenues from £18m in 2009 to close to £70m in its latest year ending June 2022.
In 2016 he led a management buyout from the Lucy family, backed by NorthEdge Capital and has steered the company to record revenues and profits in recent years.
Since 2020, Steve has reduced his time in Abbey to enable him to focus time on another investment he holds outside of the logistics sector. This led to the appointment of the existing group managing director, David Patten, as a successor for Granite.
As part of the changes, existing non-executive chairman, Julian Maturi, will move to a non-executive director role and Josette Saville will become a statutory director in her existing role as sales director.
Granite said: "Now that we have a robust, experienced, and well balanced management team in place, I'm able to move into this new role as executive chairman. Moving forward I will spend more of my time nurturing the leadership team, being an ambassador for the company, especially in attracting more young people into the sector and supporting the overall strategic planning and execution of the business.
"I am proud of what we have achieved at Abbey since taking over as managing director in 2009, then CEO in 2016, and very much look forward to this next chapter in my new role, supporting the board and the wider management team. For the past few years the business has been back to profitability and is healthy and ready for further growth towards £100m sales."
::
Liverpool-based services provider Avrenim has appointed a new head of business solutions, Lee Rowlinson, who has joined the business this month.
Lee has worked in renewable and energy services for more than 17 years, including previously holding roles at both local and national energy firms. With a high level of expertise in renewable energies and government schemes, Lee has experience of building companies and leading teams in delivering green solutions nationwide.
Avrenim was established in 2018, with a focus on large estates, including healthcare, education and local authority customers. The business supports customers through the UK's energy transition from conventional power/thermal generation to low carbon and renewable energy solutions, to meet sustainability and decarbonisation targets.
Lee Rowlinson said: "I am thrilled to be joining Avrenim at such a pivotal point for the business, and at a crucial moment for energy change both internationally and here in the UK. Avrenim is helping businesses lead the way in this arena, and I'm excited to help organisations innovate to reach their full sustainable potential."
CEO at Avrenim, Simon Harris, said: "Hiring Lee marks another step forward as we continue to support UK businesses with their journey to net zero.
"Lee will be responsible for driving new business and developing our sales pipeline, for our consultancy and design, facilities management and project delivery services. I am confident that he will bring a new level of expertise as we continue to grow."
::
Preston City Council has appointed Nicole Billington as new head of policy and external relations.
Previously project and communications manager at Blackpool Council, Nicole brings to the role a strong communications background in regeneration and development, commercial property, and inward investment marketing in both the public and private sectors.
Nicole will lead the policy and external relations team and provide strategic communications and policy advice to the leader, cabinet and corporate management team. Nicole will also project manage key council priorities including the delivery of the climate agenda and overseeing the delivery of the council's community wealth building agenda, including externally funded projects.
Cllr Matthew Brown, leader of Preston City Council, said: "We are pleased to welcome Nicole to the team who brings with her a wealth of experience that will be of great benefit in communicating our ambitious agenda for a growing and inclusive city where everyone matters."
Adrian Philips, chief executive of Preston City Council, said: "As a Preston resident, Nicole is passionate about our city and the exciting development projects in the pipeline, and we look forward to working with her to deliver a first class service for the residents and businesses of Preston."
Nicole said: "Being a UCLan alumni and a Preston resident for over 20 years, I'm delighted to join the team at Preston City Council and can't wait to start communicating all the great initiatives and projects."
::
Baltic Creative Community Interest Company (CIC) has welcomed two new members to its board of directors with the appointment of Ngunan Adamu, founder of iWoman Academy CIC, and property professional, Andrew Byrne.
The appointments mean Baltic Creative can drive forward with its next phase of ambitious plans to sustain and grow the creative and digital sector in the Liverpool City region. Both new board members will focus on supporting the creative community in their new roles.
Andrew has more than 14 years' experience working across the North West property market. He is currently working at CBRE, where he acts for several landlord and occupier clients. Through his work and from living locally, Andrew has a deep understanding of Liverpool City Region's economy and is passionate about seeing the creative and digital sector grow.
Ngunan Adamu is an experienced journalist with a background in the arts. Her peer-to-peer organisation, iWoman Academy CIC, was set up by women to empower, entertain, explore, and inspire women globally. She also produces and presents BBC Radio Merseyside's popular African Caribbean magazine show, 'Upfront'. Currently, Ngunan sits on several boards championing diversity, equity, and inclusion.
Dr Fiona Armstrong-Gibbs, chair of the Baltic Creative board, said: "We're really excited that Andrew and Ngunan have joined us, they are well respected in the region and bring a fresh perspective to our next phase as we refocus on our purpose. Andrew's experience in commercial property is incredibly valuable as we hope to expand our portfolio, and Ngunan's leadership and entrepreneurial approach in the creative and digital sector will bring huge benefits to our community.
"We're going into the last quarter of 2022 in a very strong position, with a diverse, talented, and experienced board, and we can't wait to continue our work into 2023."
The leadership of Baltic Creative is overseen by a group of experienced board members from the region's creative and digital community providing strategic advice and overseeing how generated funds are reinvested into the digital, creative and technology sector, while driving the business forward.
The appointment of Andrew Byrne and Ngunan Adamu brings the total number of board members to nine.