BA link between Manchester and 'Lego town' Billund to resume after two years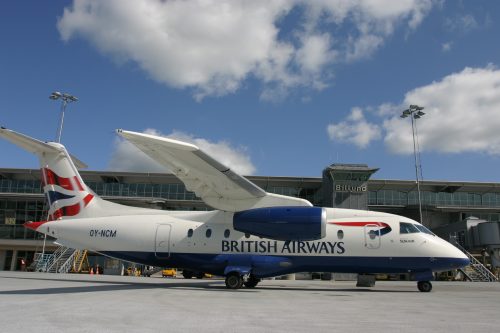 Following a gap of more than two years, British Airways is resuming its link between Manchester and Billund, in Denmark, at the end of this month.
The flight, operated by Danish airline SUN-AIR, will take off on October 31, re-establishing the air link following the pandemic.
The route will offer a five times a week service, flown on SUN-AIR's Dornier 328 Jet aircraft. Flights will operate on Monday mornings and in the evenings of the remaining weekdays.
Prior to the pandemic, the service operated for more than two decades and carried more than 460,000 passengers from Manchester to Billund.
The Danish city is popular with business travellers as a gateway to the wider Jutland region and is most famous as the home of Lego – the original Legoland theme park and factory are a short distance from the airport.
SUN-AIR has been a franchise partner of British Airways since 1996. It independently operates flights on aircraft bearing British Airways livery.
The airline suspended its scheduled flights in March 2020 but resumed in September 2022 with the reintroduction of flights between Billund and London City Airport, and will now restart its Manchester service.
Niels Sundberg, CEO of SUN-AIR, said: "We are incredibly pleased to restart this route from Billund and offer our passengers a direct connection to Manchester with our well known full-service product on behalf of British Airways.
"We'll monitor the route closely and will look to increase frequency if we achieve the support on this service that we saw pre-pandemic."
Chris Fordyce, head of alliances at British Airways, said: "As the aviation industry continues to recover from the pandemic, it's really encouraging to see SUN-AIR restarting routes that have been on hold. This route will offer even greater connectivity between Denmark and the UK, and we look forward to seeing its popularity return."
Manchester Airport managing director, Chris Woodroofe, said: "This is a very successful, long standing service, which plays a crucial role in connecting more than 22 million people in our wider catchment area, with six million people in mainland Denmark. I am sure that it will prove to be just as popular as it was prior to the pandemic."