People: H&H Land & Estates; The Progress Group; Texere Publishing; Community Energy England; Nexer Digital; EY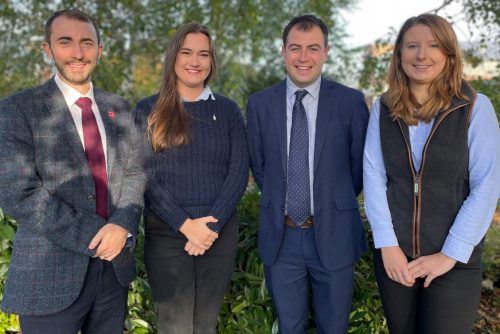 Carlisle-based property and land specialists H&H Land & Estates has announced the promotion of four members of the team to associate.
The four qualified Chartered Surveyors, Emma Smith and Jonathan Hird, based in the company's Carlisle office, Robert Jauneika based in the Durham Office and from the South Lakes office Helena White, will all now hold the title of associate and Chartered Surveyor. Helena, Emma, Robert, and Jonathan have all worked for the company for a number of years and this promotion is recognition of everything their achievements and an acknowledgement of their commitment to the H&H Group.
All of the new associates graduated with a BSc (Hons) in Rural Enterprise and Land Management from Harper Adams University. Since graduating they have become qualified members of the Royal Institution of Chartered Surveyors (RICS) and are all Fellows of the Central Association of Agricultural Valuers (CAAV). Already well known and highly respected by their industry peers, in their new leadership positions they will be taking on managerial duties.
Mark Johnson, managing director for H&H Land & Estates, said: "All four of the new associates have demonstrated their potential and value to the company and their dedication as members of the H&H Land & Estates team. This is the next step in their career progression with us and I am sure they will rise to the challenge of taking on additional managerial responsibilities. I look forward to seeing their future development with the business and their contribution in developing younger members of the team."
Emma Smith joined the team in 2014 as a student. Her key skills include valuations of rural properties and assets, property sales and acquisitions, subsidy, grant and stewardship applications and advice, and advising on landlord and tenant matters. She said: "I am really proud to have been made an associate. I started to work at H&H as a placement student in 2014, and since then I have enjoyed taking on more responsibilities and growing my career with the company."
Robert Jauneika has a rural background. He decided early on that he wanted a career in land agency and now specialises in valuation, land development, landlord and tenant matters, and asset management. In 2018 he won the Northumbria & Cumbria Association of Agricultural Valuers Branch award. He said: "Since joining H&H in early 2019, I have enjoyed developing my career at the company enormously and look forward to what the next few years bring, in an ever-changing business environment."
Jonathan Hird joined as a graduate surveyor in 2015. Due to his first hand experience in the farming industry Jonathan specialises in providing financial advice and completing loan and grant applications for the farming sector. He is also heavily involved in valuations and estate management. He said: "I am very much looking forward to getting stuck into the role and working with the excellent team at H&H, who have supported me from the start, when I was a placement student then graduate, to Chartered Surveyor and now associate."
Helena White specialises in valuations, estate management, sales and lettings, as well as renewables. She said: "It has been very rewarding to work closely with clients across the South Lakes and assist businesses to grow and develop in a changing industry."
::
Liverpool-based training and education specialist, The Progress Group, has appointment Charlotte Barton as managing director of Progress Schools and Paula Thompson as managing director of Progress Careers.
The business comprises six subsidiaries, each serving different industries and demographics. Collectively the group supports individuals aged 11 to 65 to access high quality training and education.
Progress Schools is a national alternative education provider with 14 independent secondary schools throughout England. Progress Careers operates a national Careers Education, Information, Advice, and Guidance (CEIAG) service to schools and educational institutions.
Both Charlotte and Paula previously held the role of interim managing director before the announcement. Each comes with a wealth of experience in their respective areas and is well equipped to support the group's expansion plans and ensure high quality service.
The strategic move comes as the group begins to double down on its growth plans, which see Progress Schools grow its national footprint in the sector and open several new alternative provision schools. Significant investment has been made to ensure the success of the plans.
Group CEO, Jayne Worthington, said: "Charlotte and Paula's appointments come during a pivotal transitional period for the group as they begin to explore new markets and make moves to become a household name in the training and education sector.
"We have huge plans at the group, but at the forefront of those plans is our people. Our colleagues are the driving force behind our success, and I am confident that Charlotte and Paula will excel in their roles and support us in levelling up our services to those who need them most."
Charlotte and Paula's appointments now bring the group's total of women in senior leadership positions to five.
::
Knutsford-based Texere Publishing has announced the promotion of Richard Hodson to the role of chief commercial officer.
Joining Texere as a publisher in May 2014, Richard oversaw the successful global launch of Texere's first pharmaceutical brand, The Medicine Maker. After five successful years, Hodson went on to be appointed commercial director with responsibility for the commercial, customer support, and project delivery teams for all sectors of Texere's business – healthcare, pharmaceutical, and science.
Coinciding with Texere's 10th anniversary, Hodson's appointment will expand his remit to include overall responsibility for all departments that are predominantly externally facing – namely, sales, commercial services, sales support, social media, and editorial.
Hodson said: "I am delighted to have the opportunity to play an even more senior role at Texere – and I do not take the trust and expectations placed upon me lightly. Fortunately, I work alongside a truly talented team – people who make the task ahead exciting rather than daunting. In 10 years, we have built several respected, established brands, with another two on the runway – and we don't plan on stopping."
Chief executive, Andy Davies, said: "Richard has already proven himself a natural and capable leader – and always rises to the challenge. I have no doubt that his unwavering passion for – and commitment to – delivering the best experience to both our audiences and commercial partners will only be further multiplied in his new role as chief commercial officer."
::
Electricity North West's Helen Seagrave will serve another term on the Community Energy England (CEE) board following her re-election.
Seagrave is Electricity North West's community energy manager and will also serve as interim-chair of the CEE board for the next 12 months.
Having joined the region's power network operator in 2017 as Electricity North West's first community energy manager, Seagrave has navigated a busy period for the business as the sector continues to grow.
This includes awarding more than £300,000 to groups and organisations who want to grow community energy in the region while also being responsible for leading an engagement and support programme for the community and local energy sector.
She said of her re-election: "It's an excellent opportunity as community energy continues to grow each year and becomes a part of everyday life.
"The North West has extremely ambitious targets to meet net zero and community energy can play a key role in that. Being a part of this national board, which focuses solely on community energy can only benefit the region as the support we provide around community energy increases."
Community energy refers to local and community-led projects or initiatives to reduce, manage, generate or purchase energy. This covers anything from providing energy-saving advice to installing solar panels, heat pumps and electric vehicle charging points.
Founded in 2014, CEE has a membership of more than 300 community energy organisations and a range of other stakeholder organisations.
::
Human-centred digital design and development agency, Nexer Digital, has strengthened its product and optimisation team with new appointments to embed strategic product management into its products and services.
The new team aims to solve problems and highlight opportunities for clients using data, business analysis and product management approaches.
Lee Emery, previously product manager at Macclesfield-based Nexer Digital and digital transformation manager at Stockport Council, has been appointed as product and optimisation team lead and will be helping clients to shape and articulate their product vision. She will also be working closely with the data team to track, measure and report on the success of this.
Lee said: "A key cause of product failure is that objectives are not specifically defined and there is no clear way to quantify what success looks like.
"Sometimes clients come to us with a problem, and we'll address that problem through user research, co-design and discovery to clearly define concepts, technology options and solutions. Other times, clients may have a well-defined solution in mind, so can help them ensure it aligns with and helps to deliver organisational goals."
In addition, Lee Valentine will be joining the product and optimisation team as a business analyst. Coming to the company from Gazprom Energy, Lee will bring expertise in product ownership and business analysis to the team to advise on digital strategy for Nexer Digital's clients.
Lee Emery added: "We deliver against outcomes as well as outputs.
"Yes, we can build a website to client specifications, and we can test to prove we've delivered that output to the highest quality, but I also want to track purpose.
"What clients often need is a digital touchpoint that makes something easy to do, whether that's finding more information about a service or making a donation."
::
EY in Manchester has recruited 104 new students – more than any of the firm's other UK offices outside London – including 84 graduates and a further 20 apprentices.
EY has welcomed a record 1,473 students into its UK business this year – up 35% compared with 2021 – as the firm continues to invest in young talent to support its future growth.
This year's student cohort included 1,269 graduates and 204 apprentices. Almost 40% will be based in EY's regional offices, with Manchester, Leeds, Newcastle, Birmingham, Edinburgh and Reading all seeing large intakes as the firm continues to strengthen its regional presence.
Of the new student hires in Manchester, 47% are women and 39% are from an ethnic minority background, of which four per cent identify as black or mixed-black.
Additionally, EY provided work experience, summer internship and industrial placements to more than 470 young people nationally. These programmes are designed to provide insights into EY, learning experiences and networking opportunities.
Hywel Ball, EY's UK chair, said: "These are record numbers for EY as we continue to invest in young talent to support our growth across the UK. We're continuing to see strong levels of client demand and continued investment across the firm, which is why we've increased our student intake year on year, over the last three years, and hired more than 3,600 students."
Stephen Church, EY's managing partner for Manchester, said: "We are exceptionally pleased to be able to welcome more than 100 talented graduates and apprentices to our Manchester office. At EY in Manchester, we strive to provide the very best advice and services across consulting, assurance, financial services, people services, tax, technology and strategy and transactions, and we're proud to be able to add further strength to our outstanding teams. We are both confident and optimistic that the careers we are offering our new people will provide them with exciting, varied and rewarding opportunities to help drive growth both for our clients and for our business."