Student accommodation group completes £65m refurbishment on Manchester sites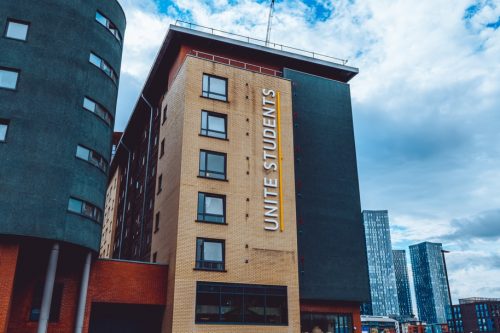 Student accommodation group, Unite Students, has invested £65m in the refurbishment of three of its Manchester properties.
Work on Parkway Gate, Kincardine Court and New Medlock House was completed in time for the start of the 2022/23 academic year.
The programme saw the addition of 137 new bedrooms, and improved sustainability throughout, including installation of air source heat pumps.
Parkway Gate was the first of the properties to be completed, with 754 bedrooms being refurbished, including the creation of 24 new bedrooms.
The £38m project includes full keyless functionality along with the installation of a new CCTV system.
Students also have a new reception space and a host of new amenities including a gym, cinema room, yoga room, karaoke room, games room and various study spaces. The courtyard space, which sits in the middle of the three blocks, has also undergone a complete makeover with new furniture, planting and audio system.
New Medlock House, which is located next to Parkway Gate on Chester Street, underwent an £11.2m refurbishment, adding 21 new bedrooms to now house 696 students.
Sustainability has been at the heart of all the refurbishments, with the installation of air source heat pumps on the roof of New Medlock House and a new supply pipework to feed all mains hot water to the flats.
There was previously a retail space under the building, which has been transformed to create a spacious new reception and amenity space including a live music room, dance studio and post room to store parcel deliveries.
At Kincardine Court, on Kincardine Road, there was a focus on creating flats for post-graduates.
The property saw a £12.1m 92-bed new build extension, as well as a £3.28m refurbishment of the existing property over 16 weeks.
All existing flats were upgraded to make them more suitable for post-graduates, including the revamp of ensuite bathrooms, and study areas as well as the installation of a new heating system. The kitchens were all fully replaced and now include a dishwasher.
The reception area was also remodelled, and common space was redesigned to give a spacious study area, with breakout rooms.
Tom Brewerton, group development director, said: "This refurbishment project in Manchester demonstrates our commitment to constantly improving the student experience, not only with the building of new properties but also by upgrading our existing portfolio.
"Sustainability has been at the heart of the work we have carried out to ensure a home for success for the future.
"Our residents' wellbeing is our priority, which is why these improvements were required. Students and staff alike will now reap the benefits of these fantastic new spaces, built to the highest specs."