With a new PM and the previous outlook (mostly) scrapped, opportunity awaits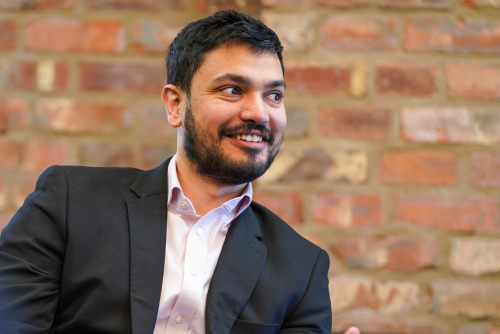 By Justin Minien, Head of Credit & Lending, Artorius
What then is the effect on borrowing rates in the UK?
The rise in retail mortgage rates has been well publicised in recent weeks – last week the average two-year fixed rate mortgage was 6.46% according to Moneyfacts, the highest since 2008.
The average five-year fixed rate was 6.28%.
A lot has been written about market expectations around the Bank of England base rate with the next Monetary Policy Committee meeting and decision due in early November.
Corporate debt has also risen at a similarly steep pace with quoted rates being higher than those of residential mortgages.
Is there Market Opportunity?
There are three areas to consider here:
1. The weak Pound
In recent weeks the US Dollar (USD), Euro or Renminbi/Yuan in overseas buyers' pockets is getting more in Sterling terms. Suggestions are that prime London property can be acquired by those buying in USD at a 30%+ discount to 2014 prices with USD adjusted values at their lowest point for over a decade. In September, USD buyers were paying 19% less on average than 12 months ago for a prime central London property, rising to almost 38% against peak prices seen in 2014. There are discounts for buyers buying in other major currencies as seen below.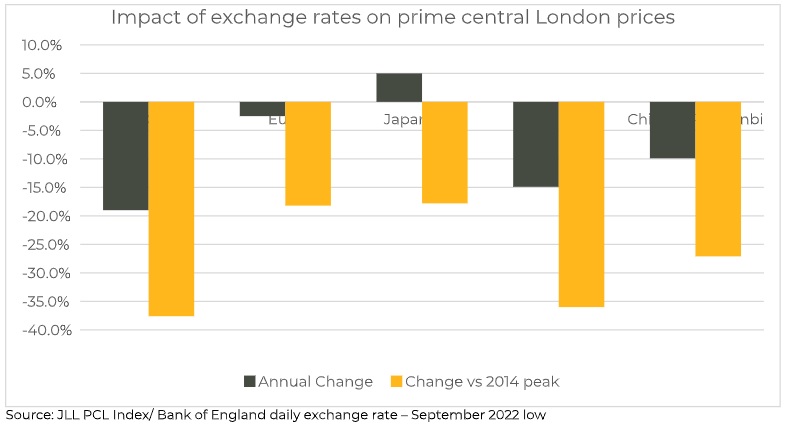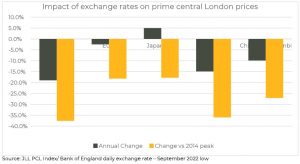 2. European interest rates
For clients with property in Europe, interest rates on the continent have not spiked with the same severity as they have in the UK. By way of a comparison, 3-month EURIBOR remains below 1.50% (as at 18 October 2022) which, even with a healthy bank margin added, potentially provides a source of funding lower than that available in the UK.
3. Potential price softening
If a decline in UK property prices comes to pass, further opportunities will be available. Future sellers and potential distressed sellers will be attractive to those with capital in place or those with lines of credit already established.
Access to Overseas Credit
At Artorius we have successfully sourced finance secured against overseas property and can assist in locations across Europe – the Balearics, France, Switzerland and Portugal – as well as further throughout the world, including the US and Caribbean territories.
Artorius can assist both UK clients buying international property and international buyers purchasing residential and investment property in the UK.
By understanding the needs of our clients and the various requirements of different private banks across the globe, we are able to look at different ways of raising finance at a time when liquidity and opportunity are two significant themes for our clients.
Capital can be used to engage in upcoming opportunities in either real estate or other investments in what could be a buyers' market. It could also be used to balance out rising debt costs in the UK as part of a holistic review.
CONTACT US – WHO IS ARTORIUS
Artorius is acting as a broker not a lender. Your assets will be utilised as security, full terms will be provided by the lender. Artorius is authorised and regulated by the Financial Conduct Authority.