Property round-up: Property Alliance Group; Consensus Workspace; Fourways; The Exchange; Montgomery Distribution; Regional Property Solutions

Property Alliance Group has secured two lettings totalling 46,500 sq ft at Northgate Business Park on the White Lund Industrial Estate in Morecambe.
The scheme, which is now fully let, was acquired by Alliance in 2020. Comprising three buildings, the site was refurbished and reconfigured to offer a Grade A office facility and two industrial units.
SCS Logistics has agreed a 10-year lease for a 26,500 sq ft industrial unit and Advanced Bacterial Sciences (ABS) has taken all 20,000 sq ft of office space on a 10-year lease.
ABS, which creates, manufactures and sells cost effective environmentally-friendly carbon reducing microbial solutions for a range of pollution and maintenance problems, is working with Alliance to create a bespoke research and development laboratory facility at the site, while providing Grade A office accommodation for up to 50 members of staff. The aim is to create a global centre of excellence and an innovation hub to attract other complementary start-ups to the area.
Ian Hunter, director at Alliance, said: "ABS will benefit from the site's accessible location and our ability to create a purpose-built space that meets their specific needs. Having worked with similar companies in the life sciences sector to create specialist laboratories within our schemes, we have the skills and experience to support ABS and its growth plans."
Gareth Hughes, executive chairman at ABS, said: "ABS currently has 16 scientists and is looking to increase this to 50 over the next 18-24 months. Our chief scientists obtained their PHDs at Lancaster University which has a strong environmental focus across a number of disciplines and attracts the scientific talent we are looking to hire. When we were looking where to locate our R&D HQ, this was an important consideration.
"We also continue to receive fantastic support from the Lancashire Enterprise Partnership and the East Lancashire Chamber of Commerce, and have received funding from RedCAT, the Lancashire Centre for Alternative Technologies, and Maven Capital Partners."
Duxburys Commercial and Robert Pinkus & Co advised Alliance on the two lettings.
The new tenants join Rentokil Initial which agreed a five-year lease in 2021 for a 7,000 sq ft industrial unit.
::
Consensus Workspace has helped Orega complete its fourth Manchester workspace, delivering flexible office interiors for its Balloon Street site, which has now officially opened.
The Altrincham-based office interiors specialist has worked with Orega a number of times now, having previously provided fit-outs for the national co-working office provider in Leeds, Glasgow, Bristol and London as well as Manchester.
The family businesses worked closely with the Orega team to complete the 26,000 sq ft flexible workspace, fitting more than 450 workstations over three floors, as well as creating open plan and private collaborative areas. The design style reflects nature throughout, with natural materials such as wood and stone, and earthy dark green and light beige colours used on the surfaces.
Extensive biophilia continues the theme of the outdoors to encourage a feeling of wellbeing for all users of the office space, which includes on-site shower and changing facilities, an outdoor roof terrace, secure bike storage and unlimited barista-quality coffee for its users.
Andy Plastow, director of Consensus Workspace, said: "Orega's workspace interiors are always sympathetic to their surrounding areas and this is no exception, with Balloon Street's offices reflecting a healthy approach to a city centre work-life balance and the new outdoor park close by."
Lynsey O'Keefe, chief operating officer of Orega, said: "Our new workspace in Manchester is designed to be a modern, flexible base for the city's booming tech, finance and creative businesses. We thank Consensus for their hard work and efficiency in meeting the brief for our design fit out, enabling us to deliver a high standard product ahead of schedule."
::
International real estate advisor Savills, on behalf of XLB & Pictet Alternative Advisors, has agreed four new leases which include Vega, the co-production agency, Outset Studio Group, Todd Architects and a digital agency at Fourways, in Manchester's Northern Quarter.
Vega has committed to 1,918 sq ft on the part fourth floor at £35 psf for a three-year term.
Todd Architects, an architectural firm working with clients across private and public sectors, will occupy part of the fifth floor comprising 990 sq ft at £33.50 psf for a term of five years. Todd Architects were represented by Sixteen Real Estate.
Outset Studio Group, a professional podcast recording group, has secured 770 sq ft of office space on the fourth floor for a three-year term at £32 psf.
A digital consultancy has agreed a new lease on part of the second floor, taking 3,218 sq ft of workspace at £37.50 psf to be delivered fully fitted, based on a three-year term.
Located on Hilton Street in the sought after Northern Quarter area of Manchester city centre, Fourways is a converted Grade II-listed brick building constructed in 1906 with very good in-use BREEAM rating. The property now provides characterful office accommodation over ground and five upper floors totalling 59,000 sq ft following completion of a substantial refurbishment of the atrium and communal space.
Stephen Wormald, associate partner at XLB, said: "The Northern Quarter continues to attract a wide range of occupiers who seek character space and surroundings with easy access to key transports links. These lettings prove the highly reversionary nature of this building which showcases best in class energy efficiency and character."
Daniel Barnes, director in the office agency team at Savills, said: "The new leases at Fourways show the high demand and desirability of this office building in a wide range of sectors set in the heart of the Northern Quarter. Fourways provides attractive, character workspace in an excellent desirable location and this is reflected in the good levels of interest for space that becomes available in this area."
CBRE are the joint agents on the building.
::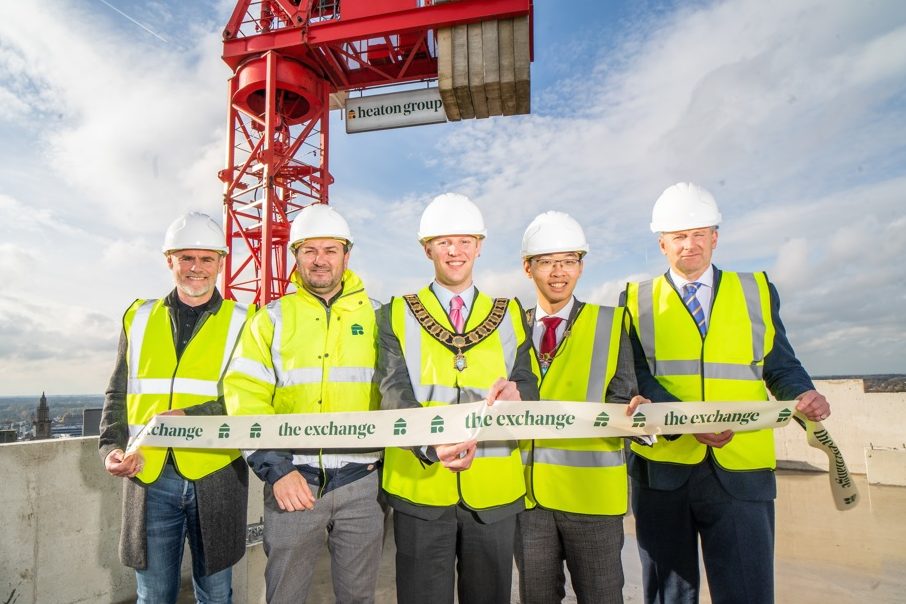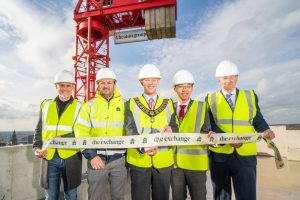 Contractors working on Preston's tallest residential block have hit a key milestone after reaching the highest point in the construction process.
Developer Heaton Group Developments, Heaton Group's contracting arm, celebrated the 'topping off' at the Exchange, in the centre of Preston.
Once completed the 16-storey apartment block will have 200 high specification one-, two- and three-bedroom units spread over three separate blocks, along with a host of on-site amenities for residents to enjoy including a gym, concierge service and a roof top garden.
The project team for The Exchange includes DAY Architectural, Brennan Consulting, QED, OFR Consultants and Red Acoustics.
John Heaton, managing director of The Heaton Group, said: "The Exchange is part of our four-year Preston Masterplan, along with our other completed development Bishopsgate Garden, and we couldn't be more pleased with the build so far.
"Preston is undergoing such a transformation at the moment and going from strength to strength, it really is the city to be in, and we're excited to be part of it."
The topping out ceremony was held to mark the placing of the last beam at the top of the structure during its construction. Along with Preston Council's chief executive Adrian Philips and Preston's Mayor, Cllr Neil Darby, Preston North End footballing hero Graham Alexander, also attended the ribbon cutting event.
The Exchange will deliver a high standard of city centre living, right in the heart of the city's newest emerging neighbourhood. As well as the residential units The Exchange will also have retail and office space available on the ground level.
The Exchange is scheduled for completion in the second quarter of 2023.
::
Freight and haulage specialist, Montgomery Distribution, has agreed a new 10-year lease on the Alpha Building at Four Oaks Road, Walton Summit, Preston, which it will occupy in addition to its existing facility on Green Place.
Montgomery Distribution will occupy the 131,486 sq ft unit which benefits from an eaves height of 8.3 metres, 27 dock level loading doors and a separate additional 0.86 acre yard.
Walton Summit Industrial Estate is an established industrial location given its proximity to junctions 29/30 of the M6, junction nine of the M61 and junction one of the M65, which provides easy access to the North West's key motorway networks.
The landlord, Harworth, was represented by JLL and Pinkus & Co.
Robert Kos, director at JLL, said: "Walton Summit is a popular location with a low turnover of tenants. Given the lack of available stock in the wider Central Lancashire we received a strong level of interest from the outset."
::
The popular shopping parade at Palatine Road Northenden continues to attract the locals with any available units attracting multiple enquiries.
328 Palatine Road was no exception and has been let to We Care Laundry. It has taken a six-year lease on the 726 sq ft unit at a rental of £15,000 per annum.
The established Vietnamese restaurant 'Viet Guy' at 336-338 Palatine Road, has also secured its future with the assignment of the Vietnam Food Ltd's lease to one of its directors to ensure the location of this successful business.
Daniel Lee, managing director, Regional Property Solutions, which manages this parade on behalf on the landlord Agrolodge, said: "The demand for this unit was high but we aim to retain the parade's balanced tenant mix and 'We Care Laundry' replaces the previous dry cleaning business."
The parade remains fully let to, amongst others, Costa Coffee, Nisa, Subway & Sun Market.